Bond university's #1 field is famous for the huge mound in its centre. That didn't stop a great crowd enjoying a festival of rugby starting with a win for University of Queensland in the AON uni 7,s. The  Queensland Red took out the Australian U16 Championship before the NRC game started. And the Under 15 final after.
The Match
The first half was a hard fought affair with Queensland Country's defence the difference. That defence came at a cost for both teams with Melbourne losing Siliva Siliva, Semisi Tupou and Kiotone Ratu to injuries and Queensland having both wingers in Filipo Daugunu and Eto Nabuli yellow carded for defensive indiscretions. Queensland scored two tough tries in the half. The first to Chris Feauai-Sautia when he powered through the middle to score next to the posts after a good build-up from the whole team. And the second to Filipo Daugunu who, frankly one scarily fast human,  scored relatively untouched in the corner. While Country finished the first half 14-0 in front they will start the second with 13 players and that score could change very quickly.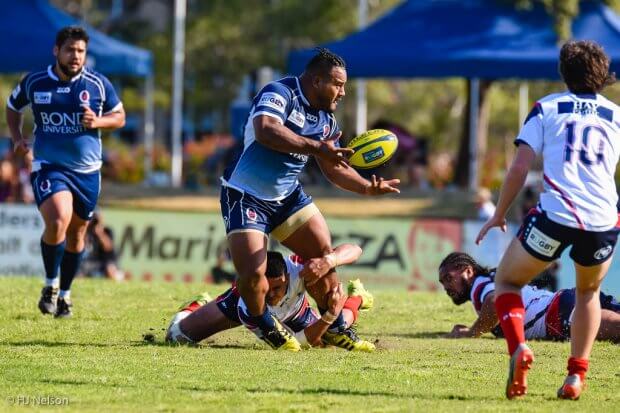 The first ten minutes of the second half was the highlight of the game for me. Down to 13 men for the first eight minutes and 14 for another two Queensland country dug deep and kept Melbourne scoreless and actually extended their lead with a seven pointer of their own. Melbourne hit back with a try but the floodgates had open and Queensland ran another five tries in the second half. The Rising scored a consolation try on the final whistle but it hardly put a dent in the tryfest we had just witnessed. And a tryfest it was with eight tries to Queensland and two to the Rising almost everyone walked away entertained. Even the Rising fans. Maybe?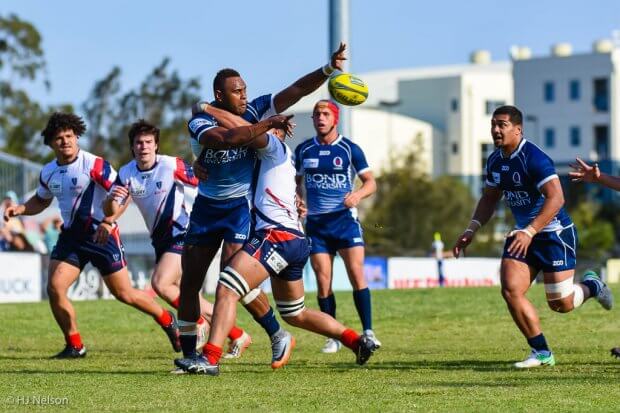 The final score of 54-12 was a fairly good indicator of how the went. The Rising had no answer to Queensland Country's defence and everything was built on that. The scrum was fairly even but Queensland got the better of the lineout.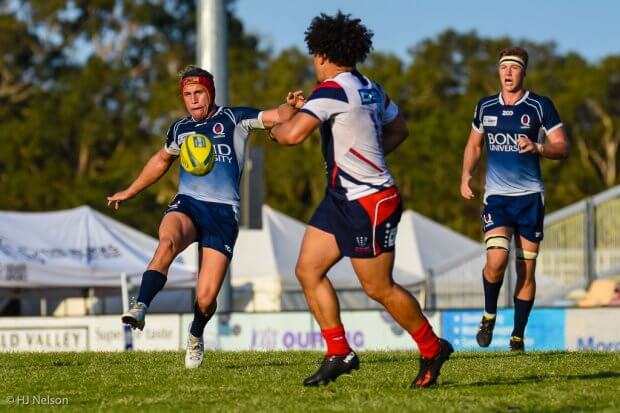 ---
[one_third last="no"]
The Game Changer
The defensive effort by Queensland Country while down to 13 men was amazing to watch. Hamish Stewart dropped back with Patrick James and they worked together in a dual fullback role covering territory like you wouldn't believe. The line speed in the middle was impressive shutting down almost everything the Rising threw at them. This was the basis of the tryfest that followed.  [/one_third]
[one_third last="no"]
The G&GR MOTM
There were a few guys putting their hands up for the MOTM but we've awarded it to Filipo Daugunu. Three tries, two conversions, a monster in defence and very very fast. Offset with a yellow card for knocking the ball down on purpose. I thought it was harsh.
[/one_third]
[one_third last="yes"]
Player  watch
The new Rob Simmons Harry Hocking had a good game and disrupted the Risings lineout well. James Tuttle, Hamish Stewart and Duncan Paia'aua are forming an impressive combination, all three were impressive. Feauai-Sautia looked good until being subbed at half time with what looked like hamstring problems…again. Tupoa, Timu I could just  keep naming players. For the Rising Hunter Paisami was their best, Robert Leota looked impressive and Vaauli Faamuausilla is a large human who knows how to run through people. [/one_third]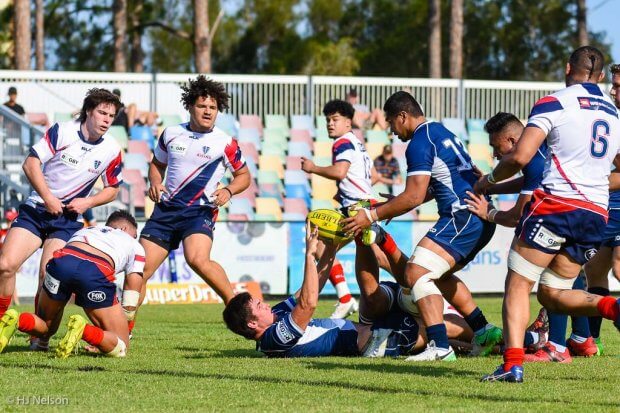 ---
The Details
Crowd:
Score & Scorers
[one_half last="no"]Queensland Country: 54
Tries: Chris FFeauai-Sautia, Filipo Daugunu 3, Taniela Tupou, Duncan Paia'aua, Teta Tela
Conversions: James Tuttle 4/4, Hamish Stewart 1/2, Filipo Daugunu 2/2
Penalties:[/one_half]
[one_half last="yes"]Melbourne Rising: 12 
Tries: Cameron Mapusa, Jason Havea
Conversions: Jack McGregor 1/2
Penalties: [/one_half]
Cards & citings
Filipo Daugunu YC, Eto Nabuli YC