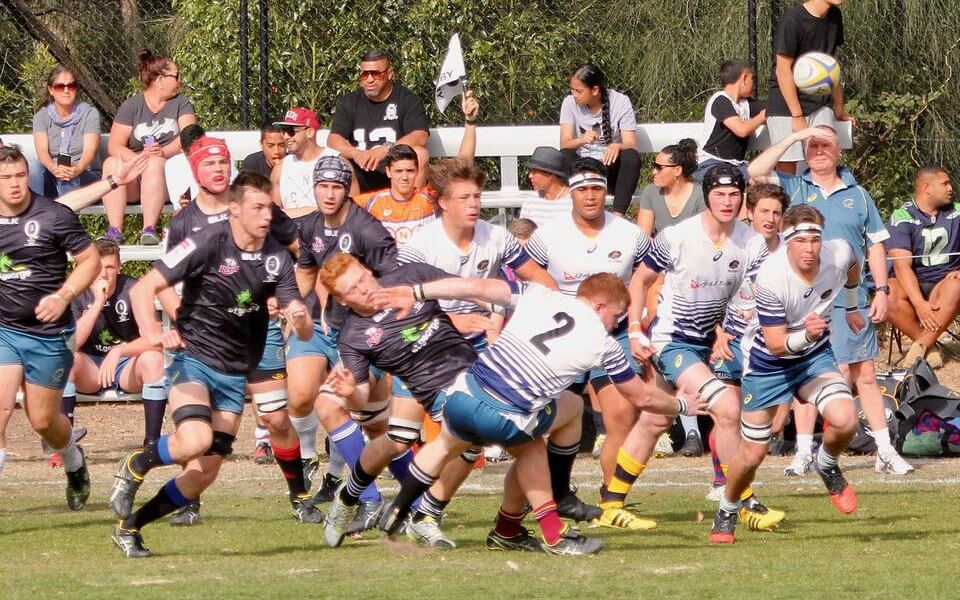 Two cracking games of international schoolboy rugby will be played this coming Monday and Saturday.
Monday's games, to be played at Knox Grammar School, will see the Australian Schools Barbarians take on New Zealand Schools at 1.00pm, followed by Australian Schools vs Fijian Schools at 3.00pm.
Next Saturday, at TG Milner, the Barbarians will meet Fiji at 11.00am and Australian and NZ Schools kick-off at 12.50pm. These matches will then be followed at 3.00pm by the NRC match between the Greater Sydney Rams and Fijian Drua.
All four sides played last week, in what provided a great opportunity to build combinations and momentum going into the remainder of the series.
NEW ZEALAND SCHOOLS 54 – 7 FIJIAN SCHOOLS
NZ and Fiji Schools played on Thursday and according to a report on the Australian Schools Rugby Union website, "NZ had over 75% of the possession and territory and were able to convert this into points – in spite of a monumental defensive effort by the Fijians".
The New Zealand selectors have chosen a very large backline and a powerful pack of forwards that will provide a big challenge for the Australian teams in the coming week.
Here is a link to two videos (from rugbydump.com) that showcase some of the key players selected for NZ Schools in the backs and forwards.
---
---
AUSTRALIAN SCHOOLS 44 – 19 AUSTRALIAN SCHOOLS BARBARIANS
The Australian Schoolboys and Barbarians played a warm-up match on Wednesday.
The Schoolboys played some high quality rugby and, at one stage, it looked like the score line could have really blown out. But the Barbarians hung in there and played some good footy as well in phases.
BMW Australia Schools Head Coach, Pat Langtry said: "Fiji Schools will present a difficult challenge for us tomorrow.
"Fijian players at all levels of Rugby will punish you if you make mistakes and can score tries from all over the field. We have to be disciplined and back our systems to ensure that we don't give them an opportunity to create space out wide.
"The squad is really looking forward to starting our International fixtures for 2017 and continuing the great tradition of the Australian Schoolboys in Sydney."
---
---
AUSTRALIAN SCHOOLS TO PLAY FIJI SCHOOLS
1. Angus Bell, Newington College
2. Lachlan Lonergan, Trinity Christian College
3. Darcy Breen, The Scots College
4. Trevor Hosea, Brisbane Boys College
5. Nicholas Frost, Knox Grammar School
6. Charlie Rorke, St Ignatius College, Riverview
7. Kohan Herbert, Downlands College
8. Lachlan Connors, St Patrick's College
9. Seamus Smith, Marist College Canberra
10. Will Harrsion (Captain), Marcellin College Randwick
11. Tristan Stanghon, Anglican Church Grammar School
12. Noah Lolesio, The Southport School
13. Jordan Petaia, Brisbane State High School
14. Albert Hopoate, St Augustine's College
15. Ben Donaldson, Waverley College
Reserves
16. Ciaran Loh, The King's School
17. Bo Abra, St Stanislaus College
18. Finn Wright, Waverley College
19. Harry Wilson, St Joseph's College, Gregory Terrace
20. Luca Moretti, Waverley College
21. Marco Bell, Waverley College
22. Tom Woodcock, Knox Grammar School
23. Will Lloyd, Barker College

AUSTRALIAN SCHOOLS BARBARIANS TO PLAY NEW ZEALAND SCHOOLS
1. Egan Siggs, The Southport School
2. Oliver Barden, Brighton Grammar School
3. Alex Sa'aga, Melbourne Grammar School
4. Max Douglas, St Augustine's College
5. Tom Iles, Marist College Canberra
6. Lachlan Osborne, Canberra Grammar School
7. Tom Kibble, Brisbane Boys College
8. Cullen Ngamanu, Brisbane Boys College
9. Phoenix Hunt, St Joseph's, Nudgee College
10.Campbell Parata, The Southport School
11.Max Dowd, The Southport School
12. Joey Walton, Wadalba Community High School
13. Lincoln Smith, Marist College, Canberra
14. Viliami Lea, Ipswich Grammar School
15. Brendan Jimenez, St Edmund's College
Reserves
16. Jack Winchester, Bishop Druitt College
17. Apenisa Driti, Griffith High School
18. Moses Alo-Emile, Brisbane State High School
19. Brody MacKaskill, Aranmore Catholic College
20. Wyll Holland, St Edmund's College, Canberra
21. Dylan Dowling, St Josephs College, Hunters Hill
22. William Goddard, Canberra Grammar School
23. Tom Yassmin, The Scots School

Note:
New Zealand and Fiji Schools team lists will be added to this article when available.
All four Tri-Nations Schoolboys games will be live streamed on rugby.com.au and facebook.
Saturday's 12.50pm clash between Australian and New Zealand Schools will also be televised live on Fox in Australia and Sky in NZ.