Here's another chance to win this excellent competition, and all you need to do is guess the score for Saturday's Tri Nations clash in Durban.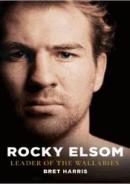 As a reminder, the prize is:
A complete Bob Dwyer Coaching Manual, RRP $230
Rocky Elsom: Leader of the Wallabies by Bret Harris, RRP $35
to whichever clever bastard gets closest to the score for each of the Tri Nations Wallaby tests in 2011 (so four sets of prizes in all).
To enter for this Saturday's game, just stick what you reckon the scoreline (RSA X – AUS Y) will be in a comment box below. Whoever puts the closest scoreline in first gets the prize. Entries will close at kick-off and the limit is one entry each.
Simple eh? So man up and get your numbers in.
Here's a bit of blurb about each of our fabulous prizes:
ROCKY ELSOM: LEADER OF THE WALLABIES is an insightful and revealing look into the rugby union career of one of Australia's greatest Wallabies, Rocky Elsom, as seen through the eyes of the key figures in his life, including family members, team-mates and coaches. From representing Australia at under 16s level to attaining cult status in Ireland and named as the best player in the world, Rocky has exerted the same talismanic influence on the Wallabies that Richie McCaw has had on New Zealand. A rugged individualist, Rocky's biggest task to date will be leading the Australian team for the World Cup in New Zealand in September 2011.
THE BOB DWYER COACHING MANUAL is a high quality, 200+ page step-by-step guide to rugby coaching. It will lead you through 77 specific practices, complete with key principles, diagrams and explanations. The application of these key principles will ensure quality execution of quality technique — the basis of ALL quality play.
Terms and conditions: Open to residents of Australia only. We reserve the right to alter the competition and prizes if necessary.