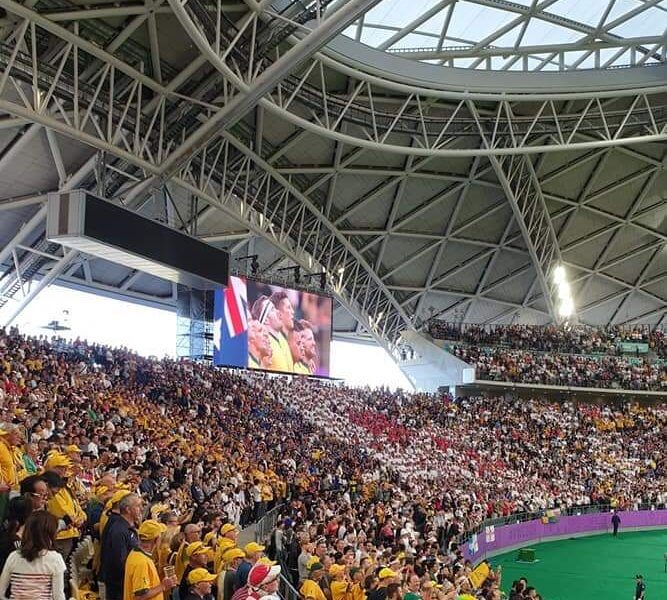 We have arrived at the pointy end of the tournament. Finals weekend one!
Wasn't it nice to see a fresh face in the quarters. I think we can all agree that Japan have played out of their skins with a fresh and exciting style of rugby. You can certainly see the finger prints of one Jamie Joseph all over that team and wasn't it great to see. Then we had the also rans – England, France, Ireland, New Zealand, South Africa, Wales and, and ……… what was that other team, um, geez, um, oh that's right, the Wallabies.
I had the fortune (or mis-fortune which ever way you look at it), to attend Quarter Final 1 – England vs Wallabies, and Quarter Final 3 – Wales vs France in Oita. So let me start from the begining.
Quarter Final 1 – England vs Wallabies
Anyone, have any talking points from this game? No? Didnt think so. OK, moving right along……..  I guess I should have a look at what notes I made during the game.
Now officially on tour, we had a three hour bus journey to the ground, escorted by one, Master Drew Mitchell.  He was good enough to give us an insight into what the team would have been doing that morning in preparation for the game. Interesting all the different personalities and pre-game rituals there have been.
It was hard to tell who had the larger crowd but the charriots were very soon released from the shed. You have no idea how much that song grates on my nerves. Actually a lot you you probably do….. Can any English person explain to me the significance of a slave song to the slave owners? I'll wait.
Putain d'arbitres français! Is it just me, or is everyone having issues working out how the hell there are four French referees at this tournament? I think that first half of rugby was one of the most painful I have sat through in a long time, and that includes many a match against the All Blacks in New Zealand.  This was not helped by the frequency the English front rowers took a knee to slow the game down. New law – the third time a front row player has to the "treated" by the trainers, they have to be subbed.
The Wallabies may have scored the first points, but when England snagged the first try I could already hear the smug gloating from an English friend across the opposite side of the ground. Oh dear this was going to be a long weekend……
I know I shouldn't pick on the way the players wear their national uniform, but Samu was rocking the Harry High-pants look. I know it is an optical illusion from the combination of the tucked in jersey and knee length skins….. but it gave me a giggle.
When Marika score the first try just after half time I thought our luck was on the turn. Ha! Most of my notes after that are sprinkled with various profanities and "sucks". Sigh. Beaten by the best temam on the day, yadda yadda yadda. Who is the next Wallabies Head Coach, and is it going to make a difference? (Answers in the comments of 3 words or less.)
Quarter Final 3 – Wales vs France
At least it was nice to watch a game of  rugby and have no real skin in the game. Go Wales! Or France…. Go Nick Berry!
The crowd seemed to be a pretty even mix of French and Welsh supporters, or that may have just been my perception sitting in between a block from each side. At least the French had a reason to cheer soon after kick off. It appeared that the right team had turned up, and boy, had they turned up to play. The hits from both sides were emense. Which ever team was playing next week was going to feel it.
Everything seemed to be going France's way in the first half. Particularly when Peyper pulled a Sherlock and sat Moriarty on the naughty step. (Sorry, but that is what I think everytime I hear Moriarty's name called.) But, something had to go wrong, and that wrong was a brain explosion by one of the French locks, Sebastien Vahaamahina. Putting aside any subsequent actions by the ref, I think that was the most valid red card of the tournament.
Cards aside, that was an excellent game of rugby. Both teams played with intent and it showed in the fact the it took pretty much the entire 30mins after the red card for Wales to claw themselves in front. Mores the pity, but I think they have played their final and the Springboks will be an entirely different prospect next weekend in Yokohama.
This is SFR signing off  for week. I am off to Hiroshima and have been allocated the Benn "Fat Cat" Robinson express. Having now joined an official tour for the finals these reports may become a little, um, messy. Fair warning.