THE BUILD-UP:
Not much build up to the game day experience as it was being viewed from the Perth on Foxtel, but the weeks lead up had every, mathematician loving life and spreadsheet equations, and rugby fans loving life and…rugby.
The simples among us, (okay me) have summarized it to:
1)         Vikings needing a win to stay alive.
2)         Spirit wanting a win to secure finals berth.
GAME SUMMARY:
A good game of see-saw rugby with both teams holding the lead, extending the lead and chasing the oppositions leads. Good set pieces from both sides until the Spirit scum began to assert dominance at Viking Park, Canberra in superb rugby playing conditions.
THE MATCH:
Both set pieces were put on display early with a solid scrum from both sides coming from a maul penalty affected by Brynard Stander and Pek Cowan, with several passages of play coming from both sides. Vikings opting for a couple of shorter line-outs to get in to the swing of things.
A hard break by 14, Eli Sinoti on the right wing for the Vikings down the his line gave the attacking team plenty of meters which set field position leading to the opening try to 11, Lausii Taliauli after 9 minutes which was converted 8-0 Vikings.
Continued ball movement and huge work from number 6, Jordan Smiler meant that the Vikings continued to push the accerlator and very quickly resulted in a try of his own to Eli in the other corner making it 16-0 and the Vikings looking to take to game early on.
After an opening 20mins where the Spirit were hardly in the game in any attacking fashion what so ever, they decided to move the ball about a bit more which allowed for better field position with 13, Billy Meakes and 14, Marcel Brache taking the ball in hand and attacking down the right hand side of the field.
A bit of grinding rugby later and a scrum to the Spirit allows 8, Brynard Stander to peel off the pack and charge under the posts for an easy kick and 16-8 Vikings.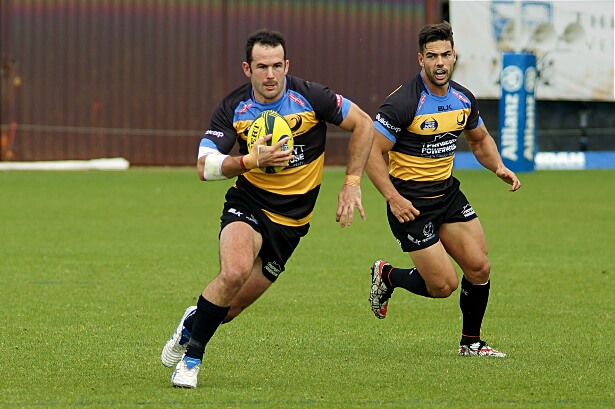 Jono Lance being asked to put in some huge open play kicks to keep the Vikings out of the Spirit half of the field, but everything was coming up Vikings at the minute. A good run by 7, Dan Penca toward the line set up an attacking lineout and the score increased to 22-8 Vikings.
The Commentators jumping on the Canberra bandwagon at this point, and that was in conjunction with a good old fashion finger pulling outtering with about 10mins in the half saw another try scored by the Spirit after some confusion at a lineout and rules being thrown everywhere, penalty Spirit, heaps of phases – try 11, Eric V – converted 22-16.
Half time, and a good game of rugby showing itself with the Canberra Vikings being in control for most of the opening 40 mins and being up 3 tries to 2. Both sets of Loosies getting through a mountain, with the Spirit scrum looking to have strengthen over the half.
Oranges packed away and Spirit kick it off with 4, Tom Staniforth being the first receiver of choice and putting in a fair showing for the afternoon.
It's a good start to the 2nd half with Rugby being played from both teams, but Spirit looking to raise the tempo and 9, Ryan Louwrens with an easy try off the back of a big scrum. Spirit into the lead for the first time in the game 24-22 nearly 50 mins gone.
More Rugby being played with the ball moving up and down the field a fair bit, but the Spirit looking to be in charge – especially at scrums – Brynard controlling the ball at the back of another dominant scrum and applying pressure for his second of the match.
From the next kick off, Viking did a bit of finger pulling themselves and got right back into it with Josh Mann-Rae bagging his second, but the conversion was off and the difference is 4 points with a couple minutes left in the game.
Solid build up in the closing stages, looking like the Spirit are mounting for another try, but a penalty awardrd within seconds of the end of the game to the Spirit, has become the first kick at poles for a penalty goal in over 2000 mins of rugby and converted to bring the final score to 42-36. SPIRIT WIN!!!! and are into the final.
In a competition where plenty of tries have been scored and score lines have blown out, this game has come down to kicks where 2 conversion attempts were missed by the Vikings and the penalty conversion sealed the game at the end.
Although 5 tries a piece the Spirit seemed to be far more in control of the game and a good result for the team from the West.
---
[one_third last="no"]
The Game Changer
A swinging game that was good fun to watch, no real individual moment that jumped out to say that's what tipped the game into a direction, but the Spirit scrum getting ascendancy over the course of the game made the difference.
[/one_third]
[one_third last="no"]
The G&GR MOTM
Brynard Stander – was involved in everything, assisted in everything, ran, carried, tackled, rucked, mauled and scored 2 tries – big game.  Jordan Smiler had a big first half and was looking to be the difference, with Eli Sinoti being very involved early and continuing to look for work throughout the game. Ryan Louwrens, Ian Prior, Billy Meakes shone in the backline, while the Spirit Front Rowers had a brilliant outing – all of them.
[/one_third]
[one_third last="yes"]
Oz Baabaa Watch
Eli Sinoti, from the Wests club, had a cracker opening to the match on the wing, being involved in the play and scoring early. He continued to look for work throughout the match. A massive head of hair being highly visible in strong ball carrying runs.  Laione Mulikihaamea, playing for Joondalup Brothers this season, came on and went to town against a largely Brumbies pack. Having played in the Perth Premiership Rugby Competition for a number of seasons, he looked every part the player enjoying his rugby at the next level today.
[/one_third]
---
 The Details
[one_half last="no"]
Canberra: 36

Tries: 5
Mann-Rae (2) 27', 63'
Taliauli 9'
Sinoti 17'
Thompson 78'

Conv: 3
Thompson (3/4) 10', 18', 79'
Horan (0/1)
[/one_half][one_half last="yes"]
Perth: 42

Tries: 5
Stander (2) 21', 55'
Vasukicakau 37'
Louwrens 48'
Meakes 66'

Conv: 5
Lance (1/1) 22'
Prior (3/3) 38', 49', 56'
Alatimu (1/1) 67'
[/one_half][one_half last="no"]Pens: 0

[/one_half][one_half last="yes"]Pens: 1
Alatimu (1/1) 80'
[/one_half][one_half last="no"]Cards:
n/a
[/one_half][one_half last="yes"]Cards:
n/a
[/one_half]Referee: Will Houston

Attendance: tbc
University of Canberra Vikings: 1. Sione Taula, 2. Josh Mann-Rea, 3. Ben Alexander, 4. Tom Staniforth, 5. Sam Carter, 6.Jordan Smiler, 7. Dan Penca, 8. Jarrad Butler (c); 9. Joe Powell, 10. Isaac Thompson, 11. Lausii Taliauli, 12. Jordan Jackson-Hope, 13. Andrew Smith, 14. Eli Sinoti, 15. Robbie Coleman. Replacements: 16. Robie Abel, 17. Faalelei Sione, 18. Ray Dobson, 19. Blake Enever, 20. Dean Oakman-Hunt, 21. Brent Hamlin, 22. Alex Horan, 23. Nick Jooste. Coach: Wayne Southwell.

Perth Spirit: 1. Pek Cowan, 2. Heath Tessmann (c), 3. Jermaine Ainsley, 4. Kieran Stringer, 5. Onehunga Havili, 6. Ross Haylett-Petty, 7. Richard Hardwick, 8. Brynard Stander; 9. Ian Prior, 10. Jono Lance, 11. Eric Vasukicakau, 12. Ben Tapuai, 13. Billy Meakes, 14. Marcel Brache, 15. Manihera Eden. Replacements: 16. Anaru Rangi, 17. Laione Mulikihaamea, 18. Shambeckler Vui, 19. Grayson Knapp, 20. Michael Ruru, 21. Ryan Louwrens, 22. AJ Alatimu, 23.Semisi Masierewa. Coach: Dwayne Nestor.