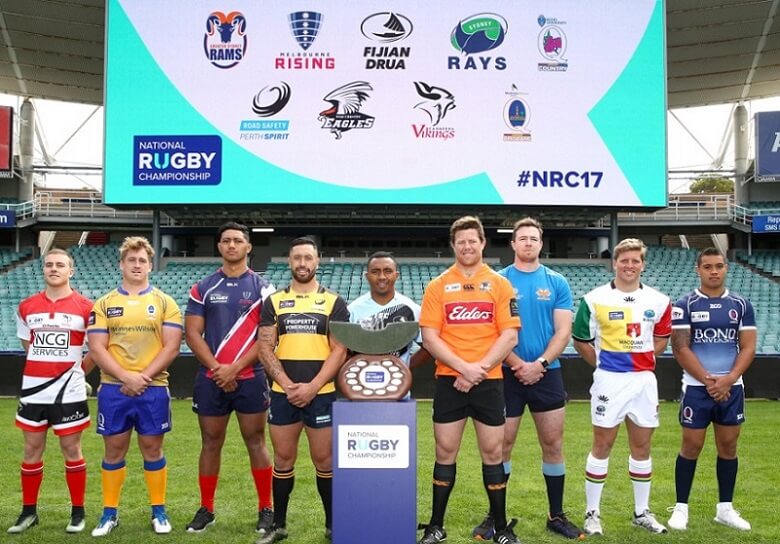 After a tough year for Australian Rugby, last weekend was one of the more positive experiences for fans of the game here. An excellent first run of the National Womens 7s series, a massive crowd at the Shute Shield and a Wallaby performance the likes we haven't seen since the 2015 RWC.
This weekend the focus is pretty much solely on the National Rugby Championship with bugger all rugby happening elsewhere. Let's hope the positive rugby vibe can continue with a show of force at all games. There's plenty to look forward to as we enter Round 1, so let's dive right in and have a look.
CANBERRA VIKINGS v QUEENSLAND COUNTRY (STREAMED VIA FOXSPORTS.COM.AU/LIVE)
Saturday 2 September at Viking Park (Canberra). KICK-OFF 3:00PM (LOCAL TIME)
REASONS NOT TO MISS THE MATCH:
Originally this match was due to kick-off at 1pm, meaning it would have been the first match of the season. However the Vikings put in a late request to push the kick-off back a couple of hours to better fit with the local Junior Finals Day. So to all those mums and dads and kids playing in or supporting at the Junior Finals, this games for you. Get down the Viking Park and support your new look Vikings. Keep an eye out for the Canberra Kookaburra heritage jersey the Vikings players will be wearing commemorating rugby in the nation's capital.
Australian Rugby is in an almost desperate need for a new breed of halves to come and shine. Queensland Country have two to keep an eye on in James Tuttle and Hamish Stewart. Tuttle made the Red's 9 jersey is own this season and must be close to Wallaby squad selection consideration. Stewart featured from the bench for the Reds this year after playing Aussie U20s at the Junior World Cup. The NRC will be invaluable high-level game time for him to continue his on field growth against high quality opposition.
Lolo Fakosilea moved to the Brumbies from the Reds this year looking for more opportunities, and perhaps a better development system, to fulfil his undoubted potential.  Limited game time prevented his progress and the NRC couldn't come at a better time for him. Australian rugby is looking for metre munching backrowers who like to tackle hard. Lolo can be that man and can use this year's competition to prove he can produce the type of form that Ita Vaea did for the Vikings just a couple of years ago.
Canberra Vikings:
1. Harry Lloyd 2. Robbie Abel 3. Les Leuluailii-Makin 4. Blake Enever (C) 5. Sam Carter 6. Ben Hyne 7. Angus Allen 8. Lolo Fakaosilea 9. Joe Powell 10. Wharenui Hawera 11. Ben Johnston 12. James Dargaville 13. Andrew Robinson 14. Andrew Muirhead 15. Tom Banks
16. Folau Faingaa 17. Joel Penders 18. Max Bode 19. Darcy Swain 20. Rob Valetini 21. Pedro Rolando 22. Liam Moseley 23. Len Ikitau
Queensland Country:
1 Sef Fa'agase, 2 Alex Mafi, 3 Fred Burke, 4 Izack Rodda, 5 Harry Hockings, 6 Angus Scott-Young, 7 Liam Wright, 8 Caleb Timu, 9 James Tuttle, 10 Hamish Stewart, 11 Eto Nabuli, 12 Duncan Paia'aua (C), 13 Chris Feauai-Sautia, 14 Izaia Perese, 15 Patrick James
16 Alex Casey, 17 Richie Asiata, 18 Taniela Tupou, 19 Angus Blyth, 20 Ted Postal, 21 Scott Malolua, 22 Teti Tela, 23 Veresa Mataitini
TIP:  Colour me Red(s) but I'm picking QLD Country on this one. If Coach Thorn can fire up the pack, the backs will run riot. Country by 6
BRISBANE CITY v FIJIAN DRUA (LIVE ON FOX SPORTS)
Saturday 2 September at Ballymore Stadium (Brisbane). KICK-OFF 3:00PM (LOCAL TIME)
REASONS NOT TO MISS THE MATCH:
The inclusion of a team from Fiji in this year's competition is one of the most anticipated elements of the new season. Not since the Super 6 in 1991 has Fiji been involved in a provincial rugby tournament in Australia and they are sure to provide both excitement on and off the field. Their natural attacking instincts seems conducive to the ethos of the NRC, while their passionate fans across Australia will bring the colour and noise to their away games.
Quade Cooper is back playing again. Quade has only featured in three NRC games, with his last outing being way back in 2014 when he orchestrated a 50 schmacking of the North Harbour Rays. This will be Quade's first bit of rugby since the Super season finished and he's got to be chomping at the bit to get back out and unleash his skills and with his old mate Samu Kerevi running around outside of him. It points to a fan friendly afternoon of footy.
Ballymore was pumping a couple of weeks ago for the Queensland Premier Rugby Grand Final between University of Queensland and GPS. The coaches of these two respective teams are now working together to lead Brisbane City, so one can only hope the clubbies copy suit and head out as well. Free entry, and the promise of some running rugby, should be all the encouragement they need to do so.
Brisbane City:
1 Laione Mulikihaamea, 2 Andrew Ready (C), 3 Sam Talakai, 4 Kane Douglas, 5 Lukhan Tui, 6 Adam Korcyzk, 7 Michael Gunn, 8 Reece Hewat, 9 Moses Sorovi, 10 Quade Cooper, 11 Lachlan Maranta, 12 AJ Alatimu, 13 Samu Kerevi, 14 Ed Fidow, 15 Jayden Ngamanu
16 Maile Ngauamo, 17 Markus Vanzati, 18 Feao Fotuaika, 19 Dan Gorman, 20 Pat Morrey, 21 Issak Fines-Leleiwasa, 22 Henry Taefu, 23 Maaloga Konelio
Fiji Drua:
1. Joeli Veitayaki Jnr, 2. Samu Suguturaga, 3. Kalivati Tawake, 4. Peni Naulago, 5. Apisai Tauyavuca, 6. Vasikali Mudu, 7. Mosese Voka, 8. Sakiusa Nadruku, 9. Frank Lomani, 10. Kini Douglas, 11. Apete Daveta, 12. Eroni Vasiteri, 13. John Stewart, 14. Aporosa Tabulawaki, 15. Peceli Nacebe
16. Ratu Naisa Nauma, 17. Eroni Mawi, 18. Mosese Ducivaki, 19. Samu Saqiwa, 20. Peni Raidre, 21. Seru Cavuilati, 22. Cyril Reece, 23. Eroni Sau
TIP:  It's not wall to wall Reds for Brisbane, but it's close. Fiji are an unknown quantity so an ambush is possible. I'll stick with Brisbane by 4
GREATER SYDNEY RAMS v NSW COUNTRY EAGLES (LIVE ON FOX SPORTS)
Sunday 3 September at TG Millner Oval (Sydney). KICK-OFF 3:00PM (LOCAL TIME)
REASONS NOT TO MISS THE MATCH:
Breaking news: The Greater Sydney Rams have thrown the challenge to the NSW Country Eagles to put the Horan-Little Shield up for grabs this weekend and the Eagles have accepted. The Eagles won the Shield in the last round of last year when they defeated the Rams 44-40 at Concord Oval
These were two of the fan favourites in 2016 on the back of strong supporter engagement and passionate on-field performances. The Rams started slowly and finished just a win out of the finals. The Eagles, on the other hand, went all the way and finished the season on top of the ladder before falling to the Perth Spirit in the Grand Final. As a NSW local derby, this is the first 'Battle of the Benn Robinson Bell' of the season – remember that? Check here for details.
Waratah hooker Tolu Latu used the NRC last year to propel himself into Wallaby colours, leapfrogging some more likely candidates in the process. With the Wallaby hooking spot still somewhat up for grabs, Latu has the chance to enhance his Wallaby credentials with a big NRC. The Eagles, and perhaps Wallaby selectors, will be looking for a high impact game including strong carries and turnovers as well as a rock solid set piece.
Big Taquele Naiyaravoro is one of the true weapons of Australian Rugby. Sure he may have some deficiencies in his game, but it's risky to overlook what he brings to the team in terms of attacking threats. Naiyaravoro played for the Rams back in the NRC's inaugural year including scoring a hat-trick against the Perth Spirit in Adelaide, of all places. Rams fans will be looking for more of the same this year against all combers.
Greater Sydney Rams:
1 Jed Gillespie, 2 Hugh Roach, 3 Rob Lagudi, 4 Adrian Hall, 5 Albert Tuisue, 6 Katoni Ale, 7 David Hickey, 8 Jed Holloway, 9 Josh Holmes, 10 Mack Mason, 11 Taqele Naiyaravoro, 12 Kevin Fuavao, 13 Denis Piligateau, 14 John Grant, 15 Cam Bailey
16 Mokani Fuavao, 17 Andrew Tuala, 18 Conor Young, 19 Fergus Lee-Warner, 20 Tevita Piukala, 21 Matt Gonzalez, 22 Ben Cotton, 23 Stu Dunbar
NSW Country Eagles:
1. Patrick Ryan, 2. Tolu Latu, 3. Cameron Beetham, 4. Timothy Buchanan, 5. Thomas Staniforth, 6. Nick Kellaway, 7. Maclean Jones, 8. Samuel Ward, 9. Mitchell Short, 10. Tayler Adams, 11. Andrew Kellaway, 12. Tom Hill, 13. Sebastian Wileman, 14. Alex Gibbon, 15. Alex Newsome
16. Brandon Paenga-Amosa, 17. Matt Gibbon, 18. Harry Johnson-Holmes, 19. Lachlan Swinton, 20. Rohan O'Regan, 21. Archie King, 22. Christian Kagiassis, 23. Henry Clunies-Ross
TIP:  The Rams have the edge in the 8-9-10 spine, but I think the Eagles will take this up front. Eagles by 6
PERTH SPIRIT v MELBOURNE RISING (STREAMED VIA FOXSPORTS.COM.AU/LIVE)
Sunday 3 September at McGillivray Oval (PERTH). KICK-OFF 3:00PM (LOCAL TIME)
REASONS NOT TO MISS THE MATCH:
Now this is a great match up. The 2017 NRC Champions up against the only team to have qualified for the finals in every year of the competition. With all that's been going on around cutting teams from Super Rugby, the Force and Rebels have formed an intangible link that is certain to be on show again at McGillivray Oval on Sunday arvo. Hopefully all those rugby fans who turned out for the Force rally last weekend can back up and make their voices heard at this match.
In a disappointing 2016 NRC campaign for Brisbane City, Isi Naisarani was an absolute stand out. The joy Queenslanders had for the emergence of a potential No 8 solution for the Reds was washed away by the announcement of Isi's signing by the Force. Naisarani moved into Super Rugby seemingly very simply and will enter his second NRC with extra confidence and a year of professional rugby conditioning under his belt. A scary prospect for opposition teams.
Back in 2014 the NRC was lit up by a Flying Fijian in the Rising team. What Sefa Naivalu produced back then is capable of being eclipsed this season by Marika Koroibete.  The former Storm wing has kinda done things in reverse in his rugby career – touring with the Wallabies, then playing Super Rugby and now finally getting his shot at NRC. This should have been where he started so hopefully we'll see his full attacking and defensive force for the Rising.
Perth Spirit:
1. Pek Cowan, 2. Anaru Rangi, 3. Tetera Faulkner, 4. Richard Arnold, 5. Matt Philip, 6. Richard Hardwick, 7. Kane Koteka, 8. Isi Naisarani, 9. Michael Ruru (C), 10. Jono Lance, 11. James Verity-Amm, 12. Bill Meakes, 13. Curtis Rona, 14. Chance Peni, 15. Marcel Brache
16. Sama Malolo, 17. Mees Erasmus, 18. Beau King, 19. Ben Grant, 20. Onehunga Havili, 21. Ian Prior, 22. Peter Grant, 23. Brendan Owen
Melbourne Rising:
1. Tom Moloney, 2. James Hanson, 3. Toby Smith, 4. Esei Haangana, 5. Steve Cummins, 6. Josh Fenner, 7. Mahe Vailanu, 8. Lopeti Timani, 9. Nic Stirzaker, 10. Jack McGregor, 11. Semisi Tupou, 12. Sione Tuipulotu, 13. Hunter Paisami, 14. Marika Koroibete, 15. Jack Maddocks
16. Jordan Uelese, 17. Rory O'Connor, 18. Fereti Sa'aga, 19. Emmanuel Latu-Meafou, 20. Lloyd Johansson, 21. Harrison Goddard, 22. Sione Taufa, 23. Kitione Ratu
TIP:  That Spirit side is almost a Super Rugby outfit making them bloody hard to tip against. Spirit by 16