Some significant and potentially valuable changes will be made to the 2018 GPS, CAS and ISA rugby fixtures.
GPS, CAS and ISA schools will continue to play one round intra-association comps at the end of the season.
The extended series of pre-season trial matches will be expanded to include all ISA, GPS and CAS schools.
The scheduling of trial matches will focus on 'grass roots' needs. These include ensuring more matches are played between teams of similar ability and enabling schools, where possible, to play most of their games at the one venue.
An 'inter-association comp' is not in the pipeline for the foreseeable future. This is due to the very high value still placed on the traditional intra-association competitions by the schools and old boys' networks.
ABOUT THIS ARTICLE
This article outlines the pros and cons of recent comp formats and the 2018 changes. The objective is to present a balanced view, address some of the key misconceptions and promote further constructive discussion. If you'd like to share your thoughts and perspective, make sure you post a comment at the end of this article.
---
I'd love a dollar for each time I heard someone say.."they've killed a perfectly good comp; why fix what wasn't broken". The recent 10 game, two round comp played by GPS and CAS, had plenty of fans. Key reasons were:
it made for a series of significant length, with many saying "this year's five game comps felt like they were over before they had even started"
it favoured tradition, by being played amongst schools that have (in many cases) battled it out on the rugby field for over a century, and
it made for some highly anticipated return clashes, where the opportunity to claim revenge for a first round loss was available.
---
But the 10 game format also had several significant shortcomings.
It wasn't a great format for schools (or teams within schools) who were getting beaten by big scores week-in-week-out. The prospect of a return clash against a team that had put 50 points on you the first time around was hardly motivating.
And it wasn't much chop for teams within schools who had to play each other (or the same teams from other schools) week after week, because the other schools didn't have the same depth in every age group.
Put simply, the 10 game format was great for players and supporters of the more successful teams and teams from schools that had a regular opponent of similar ability each week. But it was not a good arrangement for everyone else, and that was a lot of teams and players.
---
The 2017 changes to the GPS and CAS programs were an attempt to leverage many of the benefits of the intra-association competitions, while addressing some of the key shortcomings.
Tradition was retained, albeit in a truncated format, with one round five game intra-association GPA and CAS comps. And the opportunity to play games outside of the usual competitions was created through the scheduling of a series of trial games between the GPS schools and some of the stronger CAS schools.
But despite some noble intentions, the 2017 season missed meeting some of its key objectives. In particular, mismatches still occurred frequently and many schools still had to send multiple teams to multiple venues, making for logistical nightmares for those responsible for scheduling matches, transport arrangements and food for the boarders.
And in some extreme cases, some teams didn't get a game some Saturdays.
---
Like in 2017, the schools will again play a one round five game comp, within their own associations, at the end of the season. But before that, the trial games will be expanded to include schools from GPS, CAS and ISA.
Certain schools will be combined into 'one line' in the draw so they can compete, collectively, against a larger school or another collection of smaller schools. For example, it's anticipated that St Augustines and St Pius will combine their fixtures and play against larger schools (or other collections of other smaller schools).
The aggregating of schools and scheduling of matches will have a 'grass-roots' emphasis by focussing on the number of teams a school (or a combination of schools) can field, rather than just the standard of the school's 1st XV.
---
The anticipated benefits of this new format are it:
respects the desire for many schools to keep their traditional comps
gives boys in teams at ALL levels better and more varied games with teams of a similar standard, where mismatches will be (as far as possible) eliminated
enables schools to play (the majority at least) of their games at the one venue, and
assists the relatively smaller schools to develop their standards and increase player numbers because of the significantly better set of games their teams will experience.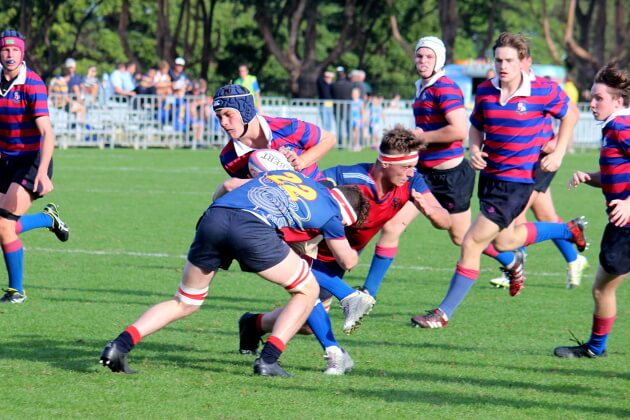 ---
This is currently not in scope and a key reason appears to be a broad-based reluctance within the schools (and the old boys networks) to expand competition games outside the traditional school associations.
However, if an inter-association comp were to be played before (or after) the five game intra-association comps, then tradition could be retained.
It would allow for more games of 'genuine consequence' and address a key criticism of the current model, which is that 7+ trial games is simply too many.
Also, if the aggregation/'playing two or more schools in the one line of the draw' model works well (and address mismatches and other 'grass roots' issues) then why couldn't those trial games become comp games?
For example, where two schools play in the one line, they could elect at the start of the season, that one school's 1st XV competes in the 1st XV comp and the other schools 1st XV in the 2nd XV comp, and so on. And it would be business as usual for the bigger schools.
It wouldn't be perfect, but at least the games would provide more than just bragging rights.
What do you think? Enter your comments below?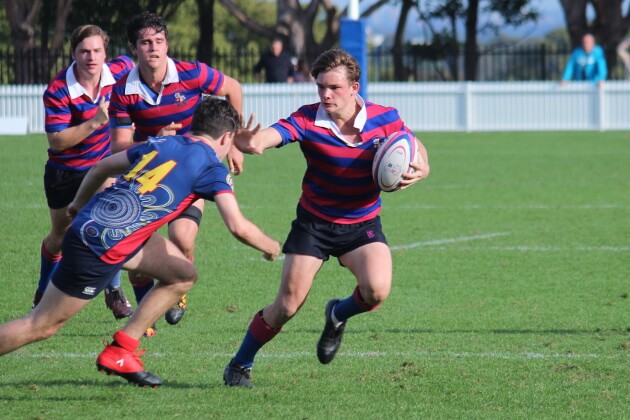 ---