Finally! It's that time again! The NSW Country Eagles came so close in 2016. Is 2017 the year the Country finally takes home the Toast Rack?
There is a real fierceness about rugby support in the country. Last year it was particularly notable that fans travelled a long way to see the Eagles play. I got to see them in their rescheduled game against Perth Spirit at Concord Oval, after Endeavour Oval in Orange was deemed unfit to play due to the rains, and when they played a few weeks later against the Rams during the Pacifika Round.
I myself am from country New South Wales originally, and I won't be afraid to admit that this team has been building something over the last few years. These guys are a bloody great team. The best performing New South Wales side so far in the history of the NRC, coach Darren Coleman returns this year for his fourth season in charge, and a large portion of last years squad returns with him.
Aside from their heart-breaking loss at the Grand Final in Tamworth last year, it was a good year all round for the Country Eagles. They became the first NSW team to finish the tournament as minor premiers and the first NSW team to make it to the Grand Final. They finished off the regular season by winning the Horan-Little Shield in their match against the Rams, and also became the first team to ring the Benn Robinson Bell, which was introduced last year as the new silverware that will be competed for between the three NSW teams. See our article on the bell to see how it works.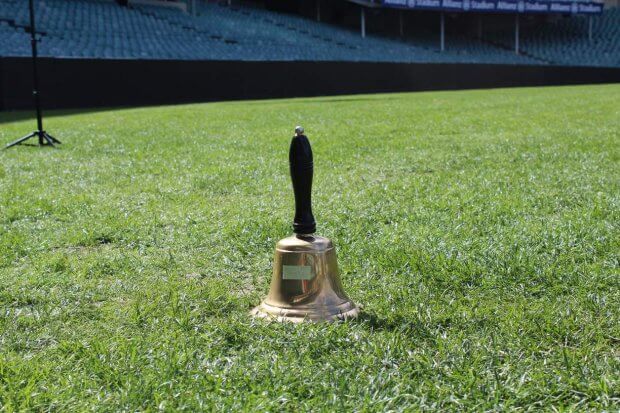 The only silverware they didn't pick up was that damn Toast Rack, falling at the final hurdle in a thrilling grand final against an outstanding Perth Spirit outfit. But I reckon the boys from the bush are in for a good shot to win it this year.
NRC History
2014 was a solid inaugural campaign for the Eagles. Finishing runners up in the regular season, the Eagles fell during the semi-finals, being knocked over by eventual champions Brisbane City in Gosford. But it was an encouraging showing for the club, going up against the likes of the Melbourne Rising and Brisbane City, who were stacked full of Super Rugby talent. It also saw the likes of many players throwing themselves into contention for Super Rugby positions, including Andrew Kellaway.
2015 saw a more mixed campaign for the Eagles, just missing out on the semi-finals for the first time. The season was filled with encouraging signs, such as wins over the Rays in Bathurst and the Stars in Tamworth, but losses such as against rivals Queensland Country proved to undo their season.
With the removal of the Stars from the competition at seasons end, their merging with NSW Country turned the Eagles into one of the most dangerous outfits in the game. 2016 solified that, with a nearly flawless regular season apart from one surprise loss to eventual wooden spooners Queensland Country in Toowoomba. As mentioned earlier, they picked up all the silverware that was up for grabs during the regular season, and knocked off the Rising in the semi-final in Newcastle. But, on a memorable night in Tamworth, the Eagles met their match against a determined Spirit side, which coach Darren Coleman acknowledged when I spoke to him at the NRC2017 launch.
"Obviously, the heartbreak of last years grand final, it was tough to take. We played a certain style and quality of footy the whole year, and we got to the final and the Perth mob just choked us and we couldn't play how we wanted to. You don't mind losing in a grand final if you have a good swing at it, but I thought we really choked that day and didn't get done what we needed to do."
While it was a frustrating end to the season, the Eagles are looking to bounce back stronger 2017, and hope to go one better this time round.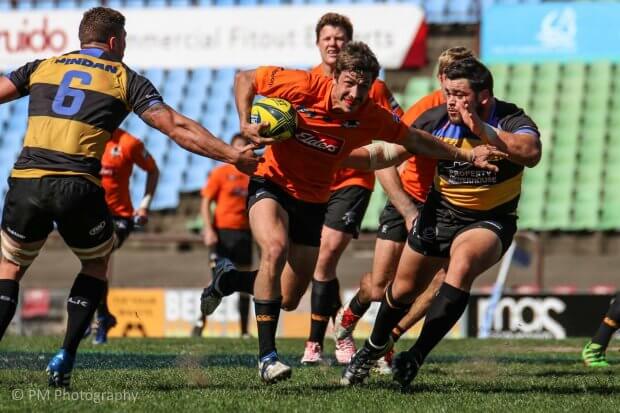 Coaching Staff
Darren Coleman returns for his fourth season as Head Coach, hot off a successful Shute Shield campaign as coach of the Warringah Rats. Their premiership victory saw Coleman be named the 2017 Shute Shield Coach of the Season. However, despite the success in Sydney, Coleman started his rugby career in the country, and is always proud to represent there.
"The beauty of it [the Country] is that while we may not at times draw crowds as big as what you might get in city games, our fans are passionate," he said.
"I'm from a small town, South West Rocks up on the coast. So when the country boys do get to go back to the bush, there's a heightened passion and following from the locals. For me, the best thing is what we do pre and post game: we mix in, we go to the local pubs and mix with the supporters. The boys love that."
Joining Coleman will be a new forwards coach & general manager in Andrew Blades. A former forwards coach for the Wallabies, Blades is a big signing for the club and will be sure to give the forward pack plenty of work to do.
Many of the coaching staff from previous seasons will also be returning to the Eagles, including Defence coach Shannon Fraser, who has been at the Eagles with Coleman since 2014, Attack Coach Dan Parks, who returns for his second season after making a huge impact to the Eagles attack last year, and Team Manager Pauli Taumoepeau. The coaching staff of the Eagles aims for consistency and building on what worked from previous seasons, which puts the club in good stead for bigger things in 2017.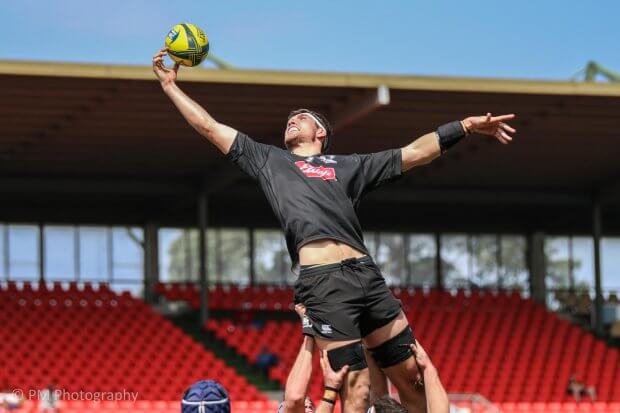 Squad
Speaking of consistency, many of the Eagles players who played last year will be making their return to the squad, and for Coleman, this will add a huge amount to the Eagles.
"I think we have nineteen of our thirty three from last year back again", he said.
"In my four years of NRC that's the highest squad retention we've had, so you like to think that drive and passion they had last year will be enough to go one better in a good portion of the group."
"The gap between NRC and Shute Shield is tighter this year, but we've been fortunate with the guys. As they've been knocked out during the Shute Shield, they've started to come in to the Eagles sessions. We will get the last couple of guys, the Rats boys, as well as all the Colts boys from Sydney Uni seconds who will join us, and we will pull it together quick. I guess our advantage is the Rats boys already know how we want our game to look so they'll slot in pretty well.
"But there's no excuses, every team has had a short prep."
Hookers
Connal McInerney (Australian Schoolboys/ACT & Combined States),  Brandon Paenga-Amosa (Southern Districts)
Props
Samuel Needs (Waratahs/Eastwood), Harry Johnson-Holmes (AusU20s/Sydney University/Cowra), Paddy Ryan – C (Waratahs/Sydney University/Tamworth), Cameron Betham (Southern Districts), Matt Gibbon (Southern Districts/Lismore)
Locks
Ryan McCauley (Waratahs/Eastern Suburbs), Lachlan Swinton (AusU20s/Sydney University), Tim Buchanan (Reds), Tom Staniforth (Brumbies/ACT & Southern NSW RU), Rohan O'Regan (Sydney University)
Backrowers
Nick Kellaway (Randwick), Pat McCutcheon (Waratahs/Sydney University/Narromine), Maclean Jones (Waratahs/University of Queensland/Darling Downs), Rowan Perry (Waratahs A/Eastern Suburbs/Wollongbar Alstonville), Sam Ward (Warringah)
Scrumhalves
Jake Gordon (Waratahs/Sydney University), Mitch Short (Western Force/Randwick)
Flyhalfs
Archie King (Eastern Suburbs), Tayler Adams (Southland), Kyle Godwin (Brumbies)
Centres/Outside Backs
Tom Hill (Eastwood), Seb Wileman (Warringah), Tyson Davis (AusU20s/Warringah), Alex Newsome (Western Force/AusU20s/Glen Innes), Lachie Anderson (AusU20s/Randwick), Andrew Kellaway (Waratahs/Randwick), Alex Gibbon (Southern Districts/Lismore), Christian Kagiassis (Sydney University), Henry Clunies-Ross (Waratahs/Sydney University)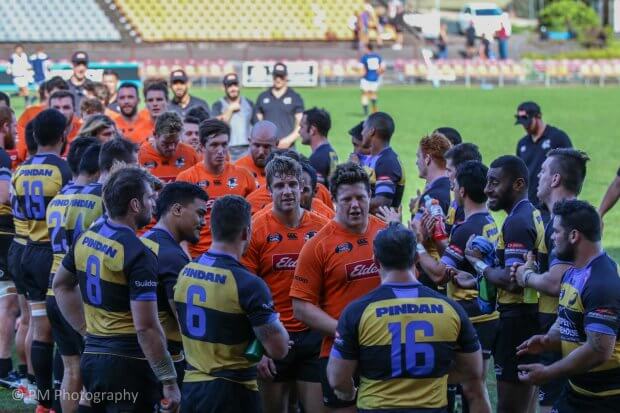 Potential XV
1. Samuel Needs
2. Brandon Paenga-Amosa
3. Paddy Ryan (c)
4. Tom Staniforth
5. Ryan McCauley
6. Pat McCutcheon
7. Rowan Perry
8. Sam Ward
9. Jake Gordon
10. Kyle Godwin
11. Alex Gibbon
12. Seb Wileman
13. Tyson Davis
14. Alex Newsome
15. Andrew Kellaway
Fixtures
The Eagles will have a lot of travelling to do during the opening couple of weeks of the NRC. They'll open their campaign with a grudge match against the Greater Sydney Rams at TG Millner, whom the Eagles won the Horan-Little Shield from last year. For Coleman, he hopes to really spice up the NSW derbies, particularly with the Benn Robinson Bell up for grabs this year between all the NSW teams.
"Something that we are really proud of is that in the last three years of the NRC, we're still undefeated against the other NSW teams", said Coleman.
"It's a record that I'm proud of and I know the boys are too. We definitely want to stay the top dog in New South Wales, we want to spike up those rivalries and those derbies, and it starts this weekend against the Rams, which should be a good one."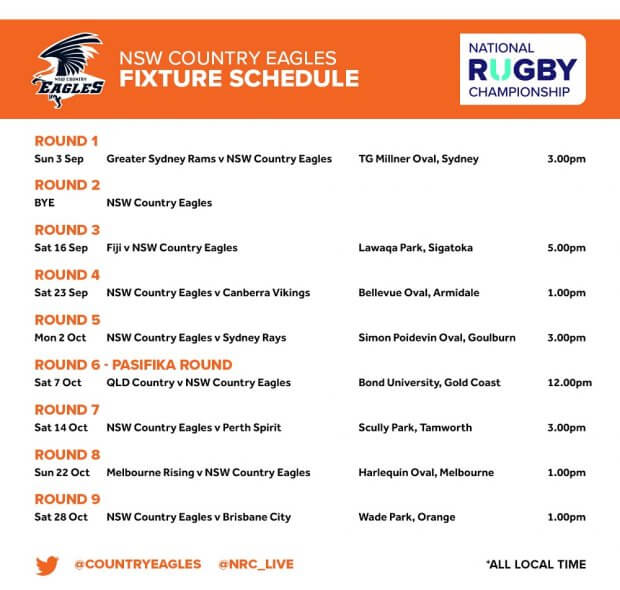 Following their opening clash against the Rams, the Eagles will enjoy the bye before they make history by being the first NRC team to travel overseas when they play the Fiji Drua in Sigatoka. They then will enjoy their first two home games against the Rays and Vikings.
However, the Eagles may run into more of challenging schedule in the final few weeks of the round. Surprisingly, they do not have a good record against Queensland Country, having dropped their previous two matches against their country rivals. This will be followed by a grand final rematch at Scully Park against Perth Spirit, before a tough final two rounds against Melbourne Rising and Brisbane City, two of the more traditionally Super Rugby-heavy sides.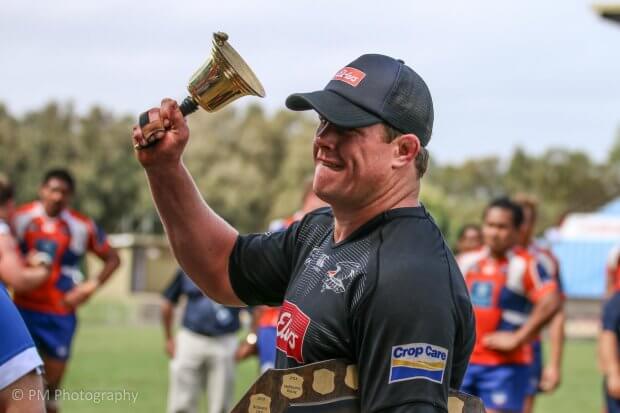 Prediction
If the Eagles can start of their season well this weekend and win those matches leading up to Round Six, then their form should be good enough to see them through to a semi final berth. I know this is a squad that can win the Toast Rack: when these guys get their tails up, they are absolutely unstoppable. They showed it last year.
But this year looks tough. It's the setting for what will be an awesome tournament. But come semi-finals berth, I expect the boys from the bush of New South Wales to be there.
Up the Eagles!