After crushing the competition in the first two years of the NRC, Brisbane City came crashing back to earth via a terrible 2016 campaign. An impressive title win in 2014 was followed by an undefeated season in 2015 to defend their inaugural title.
Unfortunately in 2016 it all fell apart and Brisbane finished with the season at 2nd bottom on the table with, in the biggest contrast from previous years,  the lowest points for stats of the competition.  An equally bad defensive performance, where they let in the 2nd most points, at least showed that Brisbane had a well rounded game…
This year has seem some minor changes to the squad and significant changes to the coaching team in an effort to recapture past glories (glories).
NRC History:
2014 – Brisbane had to overcome a few obstacles to win the inaugural NRC title. A record loss to the Melbourne Rising (79-18 at Ballymore) and an away Semi Final against NSW Country were factors to overcome.  The myth that it was an all-star squad was just that as the team revolved around future Reds Jake McIntyre, Andrew Ready, Sam Talakai and Sef Fa'agase; Solid club performers in Toby White, Jack Mullins and Marco Kotze alongside established Reds, Liam Gill, Nick Frisby and Jake Schatz.
2015 – Brisbane stepped it up a gear the next year with a completely dominant performance.  They rolled everyone that came before them in winning the title undefeated through their powerful defence and brilliant attack.  The maturity of the likes of Ready, Talakai and Kerevi took them to a new level while Karmichael Hunt and Cadeyrn Neville were star signings. Standouts of the season though were the flying Junior Laloifi and the Wallaby-neglected Liam Gill.
2016 – When incumbent coach Nick Stiles got the call up to the Reds, it provided the chance for club coaches Rob Seib, Shane Arnold and Anthony Mathison to take up the coaching gig. Unfortunately City were under the pump from the beginning as Hunt, Gill, Kerevi and Laloifi (among others) missed most of the season. Bouncing back from a 1st round loss to eventual Grand Finalists, NSW Country, Brisbane defeated the Rams in Round 2 but would not enjoy success again until a last round win over QLD Country. It was a far cry from the success of previous years and the team would miss their first finals campaign ever.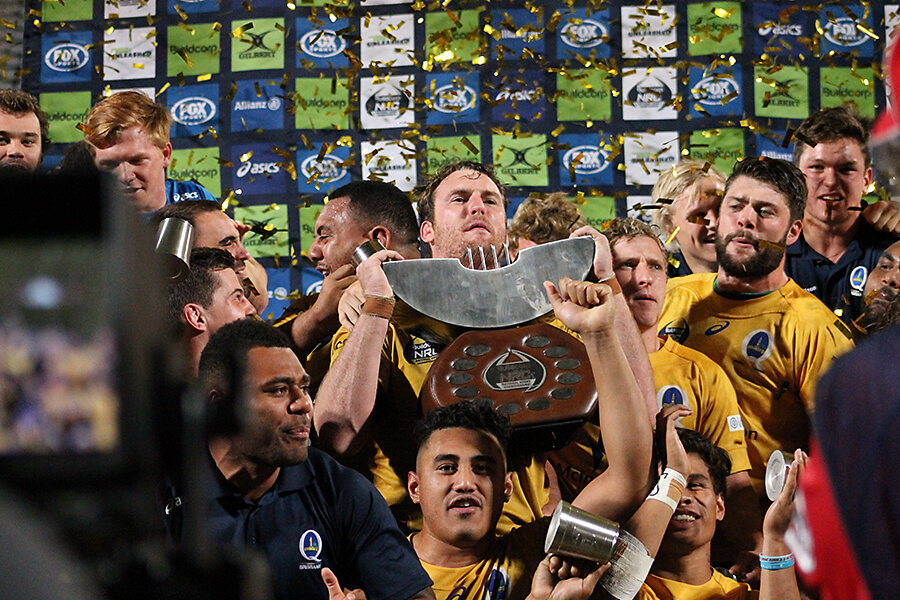 Coaching Staff:
There's been a complete turnover of coaching staff this year although the emphasis on providing development opportunities from clubland remains. Veteran University of Queensland coach, Mick Heenan, takes on the Head Coach role fresh from leading his team to their fourth Premiership under his stewardship.
Assisting Heenan will be the Assistant Coach from UQ's Grand Final opponents, Elwee Prinsloo from GPS. Prinsloo has already had a some coaching experience at NRC level having been involved with the Perth Spirit outfit over recent years before moving to Brisbane this season.
Squad:
This Brisbane City squad has a core of recognisable players from previous years. Injury and Wallaby call-ups will play a big factor in just how much we see of the likes of Quade Cooper, Karmichael Hunt, Samu Kerevi and Lukhan Tui.
There is a healthy dose of new blood in the squad with Prinsloo's influence recognised in the selection of former Spirit players Laione Mulikihaamea, AJ Alatimu and Maalonga Konelio all of whom had excellent seasons for GPS. The other face of note from the west is former Force front rower Salesi Manu who is back in Australia after time with Benneton and the Honda Heat.
Consistent club form has seen rewarding selection provided to the likes of Pat Morrey (UQ), Mitch King (GPS), Michael Richards (GPS), James Dalgleish (UQ), Issack Fines-Leleiwasa (Sunnybank), Ed Fiddow (Wests) and Jeremiah Lynch (Wests).
Andrew Ready follows in the footsteps of Dave McDuling, Liam Gill and Sam Talakai as the Brisbane City captain for the season. There is no denying his abilities, and leadership potential, so perhaps this is an appointment to challenge him to raise his game following some indifferent performances during the Super Rugby season.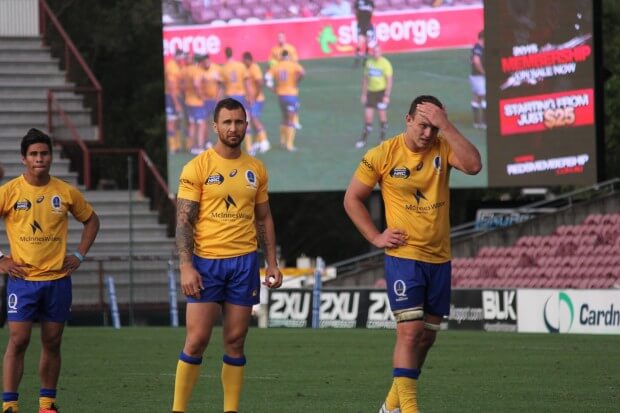 Hookers:
Tonga Ma'afu (Norths), Andrew Ready – C (Easts), Maile Ngauamo (Souths)
Props:
Markus Vanzati (Souths), Sam Talakai (Brothers), Laione Mulikihaamea (GPS), Salesi Manu (Bond Uni), Feao Fotuaika (Sunnybank)
Locks:
Kane Douglas (Norths), Lukhan Tui (Souths), Daniel Gorman (GPS), Michael Richards (GPS)
Backrow:
Adam Korczyk (Uni of QLD), Michael Gunn (Easts), Reece Hewat (Norths), Jeremiah Lynch (Wests), Mitch King (GPS), Pat Morrey (Uni of QLD), Jack De Guingand (Uni of QLD)
Scrumhalf:
Nick Frisby (GPS), Moses Sorovi (Uni of QLD), Issak Fines-Leleiwasa (Sunnybank)
Flyhalf:
Quade Cooper (Souths), James Dalgleish (Uni of QLD), AJ Alatimu (GPS)
Centres:
Alex Horan (Uni of QLD), Henry Taefu (Sunnybank), Samu Kerevi (Souths)
Outside Backs:
Karmichael Hunt (Norths), Maalonga Konelio (GPS), Chris Kuridrani (GPS), Jayden Ngamanu (Souths), Lachlan Maranta (Wests), Ed Fidow (Wests), Junior Laloifi (Sunnybank)
Potential XV:
15 Karmichael Hunt, 14 Junior Laloifi, 13 Lachlan Maranta, 12 Samu Kerevi, 11 Ed Fidow, 10 Quade Cooper, 9 Nick Frisby, 8 Reece Hewat, Michael Gunn, 6, Adam Korczyk, 5 Kane Douglas, 4 Lukhan Tui, 3 Sam Talakai, 2 Andrew Ready, 1 Markus Vanzati
16 Maile Ngauamo, 17 Laione Mulikihaamea, 18 Salesi Manu, 19 Jeremiah Lynch, 20 Jack De Guingand, 21 Moses Sorovi, 22 AJ Alatimu, 23 Jayden Ngamanu
Fixtures:
There's not a lot of travel for the City Slickers early on this season, with the Round 5 clash away against traditional rivals, Perth City, their first plane trip. I've got a feeling that first match against Fiji at Ballymore may be a bit of an ambush, but that's as much because there is so much uncertainty on both sides.
Keep an eye out for the two home matches in club land when Brisbane take matches to UQ and Wests, while a 2nd round clash with QLD Country in Noosa is not a bad way to spend a weekend either.
Congratulations to Brisbane City who, along with most teams in the NRC it would seem, has decided all their home matches will be free of charge. If you haven't been to a NRC game as yet, then this is just one less obstacle to you doing so.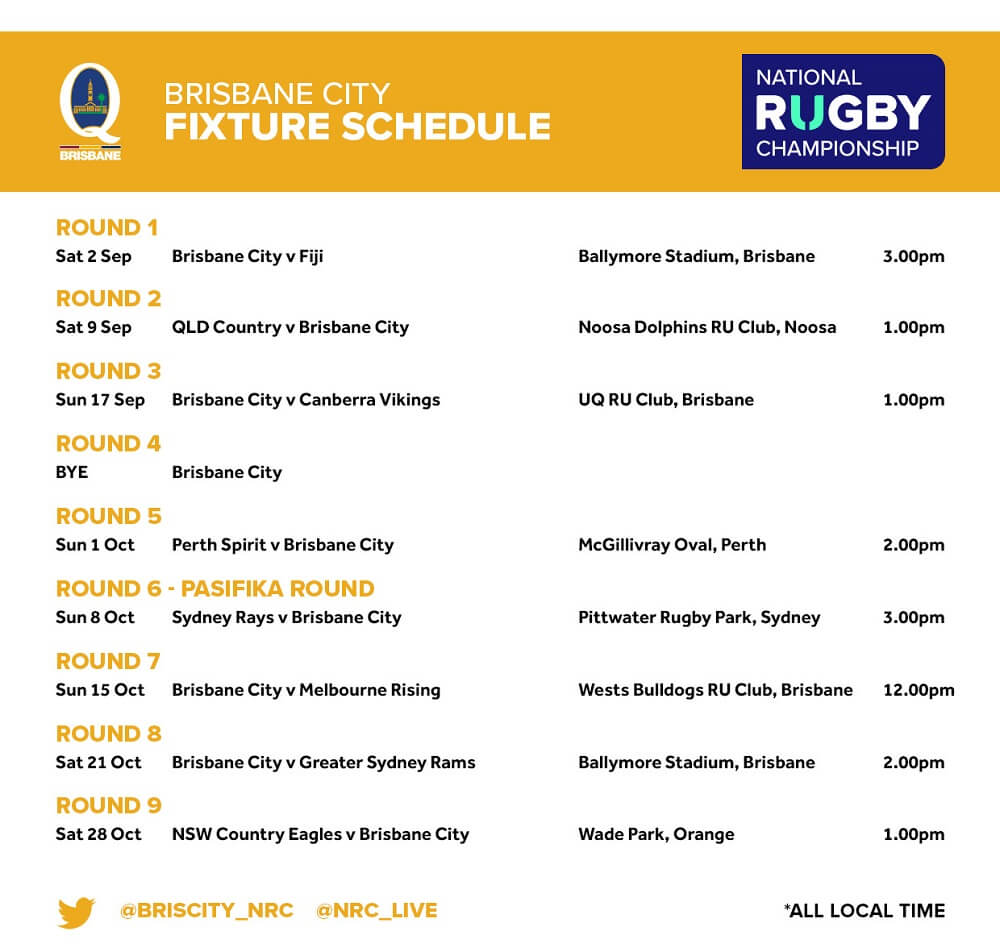 Predictions
I don't have enough certainty to be too ballsy here. The impact of those Wallaby players mentioned above is significant. If our national team's performances continue as they have then you'd think Hunt and perhaps Cooper will be back in the test team soon enough. I'll say we will finish just outside the top 4 as the team combinations struggle to click through high turnover of players.