It was a day of rugby celebration down at North Sydney Oval, and the sight of an unbelievable contest as Warringah and Northern Suburbs made it a grand final for the ages to round off the Shute Shield. 
The writing was on the cards for this to be a special grand final. The vibe was there. From the moment people started coming through the gates, there was something to it. Eventually, when something close to 20,000 were in the gates (honestly, I think it might've even been more), the Shield was delivered via chopper, and the Rats and Shoreman came on the field.
---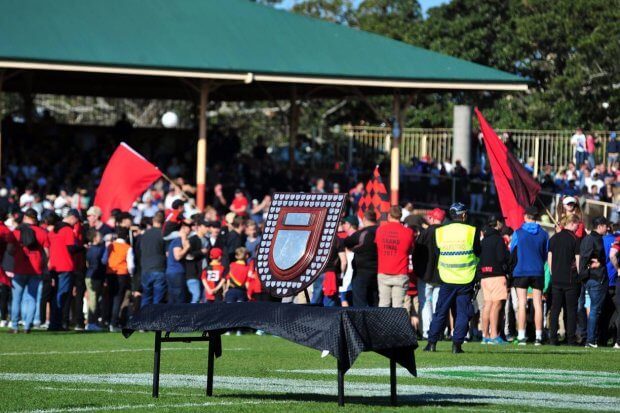 The Match
It was an emotional afternoon for the Rats fans. The fact they were here, their first Grand Final in 12 years, after suffering such loss earlier this year really is a testament to the community strength of the club, and the tenacity of the players to do the club proud. And it was the Rats that got on the board first, courtesy of some outstanding work from their forward pack that finished in a try to Rory O'Connor. 
But if that try got the crowd on their feet, then the next try to Sam Ward, as he brushed off Norths defenders to score next to the sticks had them in tears. The Ward family has gone through so much this year, and how appropriate that it was Sam scoring the try.
But the game wasn't going away. Northern Suburbs had kicked several penalties to stay in touch early on. But they were on their home turf, and they were not going to lie down. Their forwards returned fire when Ezra Luxton barged over to get the Shoreman back in front. This proved to be a pivotal moment as they headed to the sheds for the oranges.
Halftime Score: Warringah 12 – 13 Northern Suburbs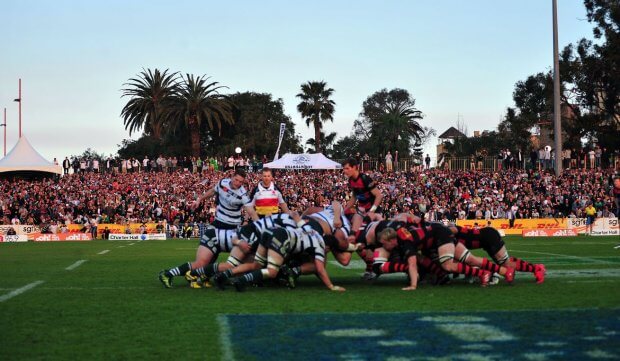 Warringah could've lied down, but what won the game for them was how they reacted when Norths returned fire. Their attitude, which had shone through so much of the season, was on full display. When they scooped up loose ball and put Harry Jones away for his first of two tries, the game was back in their favour.
But just when many thought Warringah might be pulling away from it, the Norths boys came roaring back, when some excellent build up work by their potent backline led to Connor Vest crashing over to put the Shoreman back in front. The crowd were going nuts! This is what we watch rugby for!
The Rats attitude won out again, and Harry Jones pulled off an outstanding solo effort to score again in the left-hand corner. A converted try separated the two teams, and it soon was reduced to just two points when Norths winger Lachlan Creagh finished off a champagne backline move from the Shoreman. But the Rats managed to salvage one last penalty to get the lead margin out to five, and that was where it remained.
Fulltime Score: Warringah 30 – 25 Northern Suburbs
A month or so ago, I mentioned of great moments that I'm going to think of when I look back on this year. Matty Hodgson kicking the penalty with his Dad looking on in the Force's final match was one of those moments. Another was the sight of Sam Ward in tears, being helped by Rats club officials as that final siren went and they booted it into touch. That was something special. That is why we love club rugby and the Shute Shield.
Here's all the highlights from the game, courtesy of 7Two.
It wasn't to be for the Shoreman, but god they made a match of it! They put in everything. Their forwards held their own. Their backs turned it on. Their attitude was focused. It's reflected in how close the game was.
But the Rats were on another level. Their attitude was outstanding. They wouldn't go away. They wouldn't lie down. They answered fire with fire with everything Norths threw at them. And god, did they deserve it! And after a year filled with such loss, the rugby gods were smiling on them this afternoon. And I think Lachie was too. What an afternoon for club rugby!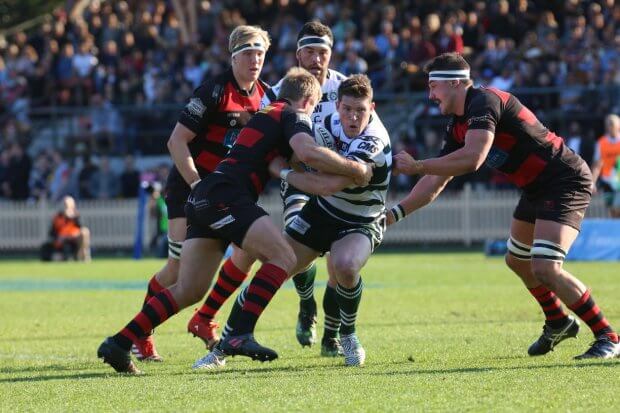 ---
THE DETAILS
Crowd: 18,000 – 20,000
SCORE & SCORERS
Warringah: 30
Tries: O'Connor, Ward, Jones 2
Conversions: Angus 2/4
Penalties: Angus 1/1 Dorrian 1/1
Northern Suburbs: 25
Tries: Luxton, Vest, Creagh
Conversions: Sinclair 2/3
Penalties: Sinclair 2/2
CARDS & CITINGS
None
---
Final Thoughts
It's been a long season, but what a way for it to end. Add in the fact that we were wowed by an awesome Wallaby performance later that night, and it was a good day to be a rugby fan. The heart was on show, and it's days like this which serve as a reminder for why we love this game.
Of course, the rugby isn't over. With the NRC starting this week and the Rugby Championship continuing with matches against the Boks and Pumas, expect plenty more. I'm glad the Sydney Rays will have the bye in the first week, because after the performance on Saturday, Julian Huxley will have a tough time picking a team from so many awesome performances this weekend! When they step out onto the field against the Rams in Week Two at Macquarie Uni, I reckon we're going to see something special from this side.
But what a season of the Shute Shield! I'll admit it – Green & Gold Rugby were pretty late to the party covering this season. But we'd like to thank all the lads at Club Rugby TV, the Shute Shield and 7Two for their continued support to the game, but also the players, fans, and volunteers who turned up week-in week-out to support the clubs. Many have been calling for us to #makeclubrugbygreatagain, but in my honest opinion, after the performance on the weekend, I'd say we don't have to make club rugby great again: it already is.
See you all next year, and congratulations to the Warringah Rats – the 2017 Shute Shield Winners!