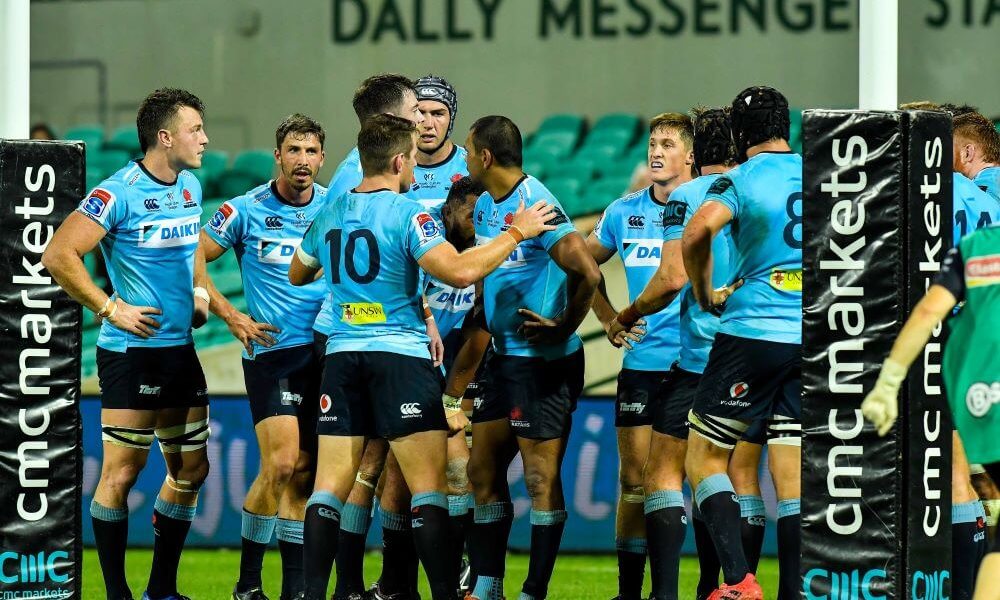 New South Wales fans haven't had a lot to cheer about since 2014, but following a semi-promising season last year which saw the Waratahs make it to the Super Rugby semi-final, there was a sense that, with new talent coming through and a game structure that looked to be finally coming good, 2019 might see the Waratahs go further. The season started promisingly with a close loss to competition heavyweights the Hurricanes, followed by wins against the Sunwolves, Reds and most notably, the Crusaders. And then, everything went to hell with a loss to the Sunwolves in Newcastle, a winless tour of South Africa, and 0/3 at Western Sydney Stadium. Despite grabbing two wins against both the Reds and Rebels, by seasons end the Waratahs crashed out embarrassingly in New Zealand with a 49-12 defeat to the Highlanders. The end of 2019 sees a flurry of players leaving, as well as Simon Cron and notably, Darryl Gibson, setting the stage for a complete revamp in 2020.
Our producer Nick Wasiliev, along with stalwarts Nathan Williamson and Oliver Lembke sat down to give the lowdown on another disappointing Waratah season.
SEASON RATING:
Nick: D- Harsh, but in my opinion, earned. Many GAGR Folks who follow me know that I'm a Brumbies supporter, but the truth is (other than for eighty minutes whenever they square off twice a year), I genuinely want the Waratahs to do well. They are a key team in Aussie rugby, and if they are performing well, that is positive for the game nationally.  And in truth, this was a team that, with the amount of talent at their disposal (and the potential they showed last year), underperformed hugely. They went backwards, were outmuscled in key games, and by season's end, despite somehow still being in contention, looked totally rudderless. I feel for Tahs' fans, because this season seemed to summarise all the problems they've had over the last few years: so much potential, for little result.
Nathan: D It's tough to grade a side that was in finals contention until the final match with wins over the Crusaders and doing the double over the Rebels and the Reds. However with all the talent in that side and their performances comparative to last year, a D seems fitting. When you have 15 players with international experience, going 6-10 is unacceptable from a fans perspective regardless of all the drama and disruptions that have faced the club over the past 12 months.
Oliver: D- For a team that finished 2018 one game short of the grand final and started 2019 with a very similar roster it's hard to rate them any higher than a D.  Tahs fans can blame the Izzy Folau debacle for derailing their season but ultimately NSW never really looked like title contenders even before Super Rugby's leading try scorer opened his Instagram account.
SEASON LOW POINT:
Nick: This is a tough one. I know that Israel Folau is going to probably be mentioned in all of our responses, and I really don't want to talk about that. The fact, however, that Nick Phipps came out on June 9 and basically said that the distractions off-field with Folau cost them a finals place, despite the fact THEY WERE STILL IN CONTENTION AT THE TIME, was even more frustrating. It suggests to me that off the field this year was effectively a mess, and that the team was not focused on playing each game, week in, week out. In their mind, their season was already over, and as a team of professional athletes that is not good enough. And, low and behold, that mentality showed when they rolled over and let the Highlanders demolish them. These off-field problems were amplified by my low point of the year, the departure of Simon Cron overseas (who has been touted as a major coaching prospect for the Tahs for years). I genuinely believe that Cron was the bloke who could rebuild this Tahs outfit, except now, they're basically rebuilding the team from the ground up with no lead coach who's been in the organisation for a while. I'll be prepared to be proven wrong, but considering his passion and the amount of time he has been in the NSW system, I was hoping that Cron would be the man to lead the Tahs forward.
Oliver: In a season with numerous low points, the one that immediately stands out is the loss at home to the Sunwolves. While the Super Rugby perennial cellar dwellers were indeed stronger in 2019, the way the Tahs were comprehensively outplayed in front of a dismal crowd in the first ever Super Rugby game in country NSW seemed like the beginning of the end of their season.
Nathan: I'm going to stray away from the obvious answer of the Israel Folau saga since we had 3 wins from 7 gamesbefore his social media post. What I consider to be the low point was our adventures against the South African Conference. This period started with all the hope and optimism that comes with playing at a new stadium before crashing down to earth with three straight losses. This stretch was particularly heartbreaking for myself as I witnessed back-to-back losses in the last 5 minutes against the Bulls and Lions in the late hours of Saturday evening/Sunday morning, crushing any good fortune and spirit that I had left for the season.
SEASON HIGH POINT:
Oliver: What makes the loss in Newcastle such a low point is perhaps what occurred the weekend prior. The Tahs became the first team to defeat the Crusaders in 18 games, in what was by far their most complete performance at the SCG. The forwards stood up to their more fancied opposition, while the backs clicked into gear leading to tries to Cam Clark and he who shall not be named.
Nick: The Crusaders win was stellar, but I'm going to go with their wins over the Reds and Rebels. Right now, from a mental perspective, the Tahs really look to have an edge over both those Aussie counterparts, and these clean sweeps effectively was what kept them in finals contention. It's a pity they weren't able to apply this mental dominance and bring it to other games they should have won, such as against the Sharks. Against nearly all other teams, it felt like from the get-go, the Tahs were on the back foot mentally, and it showed in the results.
Nathan: Hard to go past the win over the Crusaders at the SCG. Every one of the Waratahs big guns put in world-class performances, especially Folau and Foley and the forward pack resembled a brick wall in defence. That was one of the best performances that I have seen out of the Waratahs since the 2014 Grand Final and really built hopes that we could pull off something special this season. How wrong I was.
PLAYER OF THE YEAR:
Nick: I always appreciate growth in players, and for me, the player who showed that the most was Harry Johnson-Holmes. In a year where the Tahs forwards were routinely outplayed, this young red-headed prop progressed astronomically, and over the course of the year, turned into a legitimate attacking weapon that gave the forward pack some much needed go-forward. The fact he got some much needed games under his belt showed, and I hope the Tahs give him more of a chance to play on a more regular week in, week out basis in future seasons. This is a guy you need to watch.
Nathan: Michael Hooper was the stand out for the Waratahs across the year. In every match he played, Hooper was immense, often covering at least two of his fellow team-mates in defence. His performances over the year have pretty much ended any debate about his exclusion from the Wallabies starting line up. Special mentions to Kurtley Beale who looked reinvigorated during the second half of the season at fullback and Rob Simmons who was consistently solid throughout the year.
Oliver: This was a tough one to pick. Before the season, the Waratahs backs were labelled the "the Rolls Royce of backlines", looking back on it no one stood up and put together a career-best year. Beale was solid at fullback, Hunt had a couple of outstanding games, Foley was again hot and cold, while Phipps only just did enough to start ahead of Gordon week on week. Youngsters Cam Clark and Alex Newsome look set for long careers in Sky Blue but hardly set the world alight.   It was actually in the forwards where we saw higher individual performances week on week. Micheal Hooper was as always a rock, and Harry Johnson-Holmes was a significant presence covering for the injured Tom Robertson. Veteran Sekope Kepu was solid without being spectacular, and the promising Jack Dempsey looked good but only strung together eight games. Perhaps the biggest shock was the form of Rob Simmons. His lineout ability was predictably world-class, as was his work rate, and he seemed to be hitting harder and getting over the advantage line more so than ever. This is going to be a controversial selection, and I expect to cop it in the comments, but I'm going to go Simmons over Hooper for 2019 player of the year.
ROOKIE OF THE YEAR:
Nathan: The majority of the Waratahs new additions either only played 2-3 games as a result of the Wallabies resting period or had featured for other clubs in previous years,such as Tom Staniforth and Will Miller. The standout rookie was Lachie Swinton, who added some much needed grunt and aggression to the Waratahs back-row in Jack Dempsey's absence (for the majority of the season). Swinton played in 13 of the side's 16 games and he was one of the few bright spots of the Waratahs' year, establishing himself as a promising player for years to come.
Nick: Must admit, I agree with Nathan here. Lachie Swinton had been hanging on the edge of breaking into Super Rugby for years, and to see him do so in emphatic fashion was really great to see. The other standout for me was Will Miller in the few games he played. He's a player that deserves higher honours, and for me it's a matter of when, not if, he achieves them.
Oliver: Rookie of the year was a more straight forward selection, Lachie Swinton create plenty of damage with his aggressive abrasive nature. I suspect the 22-year-old will have a significant role to play over the next few years for the men from NSW.
WHAT DO YOU WANT TO SEE MORE OF IN 2019:
Nathan: MORE ATTACKING RUGBY. The Waratahs seemed to go through phases of throwing the ball around and making line breaks and periods of wasteful and aimless kicking. The side looked promising when they kept ball in hand, with the back three of Clark, Beale and Rona looking damaging in periods of play across 2019. In 2020, there needs to be a consensus effort to further experiment with ball and hand in and take some risks instead of playing a game plan geared around kicking and territory, which most other Super Rugby clubs evidently can play better than us.
Nick: It was most telling for me when the Tahs played first the Sharks, then the Brumbies at Parramatta that what they desperately needed was more structure in the forward pack in 2020. There were moments throughout the season where the Tahs forward pack was straight up bullied in some games, and they really lacked the aggression that was needed to set a platform to unleash the backline. For me, it was a key weakness that, in the end, they struggled with all season.
Oliver: 2020 is set to bring a new dawn for the Waratahs. The old firm of Phipps, Foley, Kepu and Folau would have all moved on and the glory days of 2014 will be all but a distant memory. A new coach (hopefully Scott Wisemental) will inherit a team that is very much rebuilding but has the foundations to be a real force in 2-3 years' time. Let's hope 2020 brings continued improvement from the blokes nearing the peak of their career i.e Dempsey, Hanigan, Gordon, Newsome and Clark as well as unearthing some more diamonds in the elk of Johnson-Holmes and Swinton.
WHAT NEEDS TO BE FIXED NEXT YEAR:
Nick: Ahhh, such a tough question to answer so quickly. I know it, Nathan and Oli know it, and you, dear reader, probably know it too: this year was a basket case, on and off the field. The season was absolute bollocks, and the sooner they put it behind them, the better. 2019 was not good enough, and I'm sick of saying that! And I don't even support this team! This is a team that needs drastic change. From the forward pack to a restructure of the game plan, everything needs to be revamped. Frankly, I think Gibson stepping aside might honestly not be a bad thing. Gibson leaves after four seasons, with a 46% winning record and only one semi-final finish to show for it. While I was hoping Cron would stick around as an anchor to rebuild the squad, at this point, it probably is time for a fresh approach and some new blood, for both the players and coaching staff. For whoever takes the reins next year, (my money is on Chris Whittaker, as much as I think he's done nothing to prove he's got the chops to make it) they are going to have their work cut out revamping this team. Honestly though, I'm open to something new. What's the worst than can happen? *nervous laugh*
Oliver: To be honest, there is a lot that will need to be fixed next year if the Tahs are to return to the top of the Aussie conference. The issue that stands out the most is some hard-nosed monster forwards who are prepared to do the tough stuff, think Jaques Poitgetier circa 2014. The other main concern will be where the tries are going to come from. With Folau and Foley no longer around the Tahs will need a new architect, as well as a consistent, try scorer to fill the void left from the two Super Rugby title winners.
Nathan: There are so many things that need to be fixed after this nightmare season, however, the main thing I wish for is a stable season free of drama and controversy.  There were so many issues and distractions that Netflix has already shot two series of a documentary dedicated to the side titled "Days of our Waratahs".  Hopefully next season can get back to focusing on the rugby, rather than rubbish, with the main area of concern coming with shoring up the scrum and finding ways to close out matches.