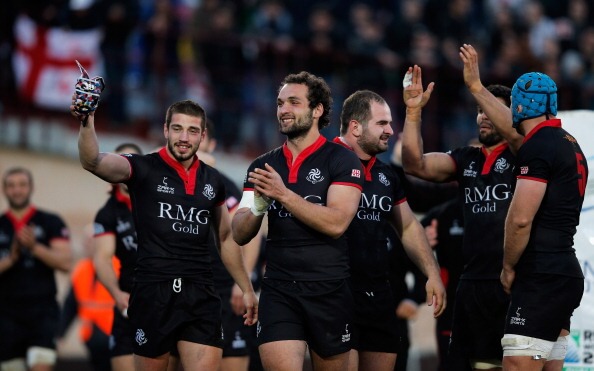 It's November, the time for some midnight Wallaby action. How will they think of ways to waste our time with needless red cards this year? Answers on a postcard please.
This November I think I'm going to hedge my bets and come at this 3-5 week international break as a neutral. And by that, I mean I'll keep up to date on all the other games happening, between teams you only see at the World Cup – and some you haven't heard of.
I genuinely enjoy this time of year; it's interesting for me to see the results and some highlights of the other international teams, to see how they're improving or regressing, or just what's going on. And obviously it's a nice time to choose the next ship to jump to when the SS ARU sinks.
Technically, the 3 week international window starts this weekend. Sometimes it can start one week earlier and last one week longer. So you could say I'm late, but whatever I'm going to rifle through the games this weekend and try to add some of my uninformed opinions to each team just for fun.
What Happened Last Week
The All Blacks, who had stayed in Japan another week, put out a second string but still belted the Brave Blossoms 69-31. 31's still a huge score to put against the Kiwis, even though there were eight debutants for the Darkness. One of them was Melbourne-raised Tyrel Lomax – guess he's not coming back now.
Wales beat Scotland in Cardiff, 21-10. This was just a random test match the two nations put together for some reason – it wasn't attached to the Six Nations at all. There was a bit of dismay in parts, because a Welsh club team was playing a Scottish club team in an important club match on the same weekend. Proof that deliberate fixture overlapping isn't something unique to Australian rugby!
But what's important is that Wales is now the second best team in Europe – and the competition is much stronger than when they were the best team 6 years ago. Scotland aren't at all a bad side. Wales won't be easy beats on Saturday.
England beat South Africa 12-11 in a game I didn't see, while Ireland thumped Italy 54-7. People are saying Italy is getting better but what the hell have their union been doing since they got admitted into the Five Nations in 2000? They're now ranked 14th, behind Fiji, Japan, Tonga and Georgia.
The Games This Weekend
Wallabies
They're playing Wales. The Wallabies have won all games between the two, going back to 543 BC or something.
However, Wales are getting better and Warren Gatland is beginning to add something to their attack other crashballs. Gatland coached the Lions to victory against the All Blacks 3 years ago – is he finally beginning to adapt?
This Welsh team game second in the Six Nations this year. Ireland grand-slammed (5 wins from 5), while Scotland tied the Welsh for 3 wins (Wales beat Scotland who beat England who beat Wales). So they're no one to sneer at.
Check out Shane's preview here.
England vs All Blacks
As discussed on the pod, Hugh is quite right that this is half the game that it would have been 18 months ago when England were on top.
Since then, the cart has wobbled quite a bit. They were beaten by Scotland 25-13 this year, which would be very funny if the Wallabies hadn't been. England also had a massive panic when Italy deliberately stopped engaging the ruck in their 2017 game.
Hopefully this game won't be the ABs running away with it.
Italy vs Georgia – GAME OF THE WEEK
After the Six Nations is the Rugby Europe International Championships, which Georgia have won about the last 10 times in a row. So they'll be salivating like Homer Simpson to take on perennial sixth-placed Italy of the Six Nations to show everyone that the Six Nations should expand. (It won't though, for money reasons).
If you haven't caught any of Georgia's games in the past couple of years, you've missed out. They have national obsession with the scrum; the buffet industry must be booming in Tbilisi. Check out their squad list, and you'll see Toulon, Wasps, Racing Metro (Paris) and other Top 14 clubs there, and the Sunwolves, next to many of their forwards.
If you look at their backline only three players – centre Tamaz Mchedlidze (Agen) and 22 year-old scrumhalf Vasil Lobzhanidze (Brive) – have got some game time at tier 1 clubs. And even then, Lobzhanidze has only played 20 games. However. they're slowly accepting that backs are an important part of the game and their play is beginning to show for it. Just check out this try from last year:
Another sign of their growing power is the u20 Georgian side overpowering the u20 Irish earlier this year in the u20 World Cup.
Italy on the other hand, are Italy. They were trounced by a 1.5 string Irish team in Chicago and will be facing a Georgian side eager to prove themselves.
The Italians are, like Georgia, slowly getting better. Their two teams, Benetton and Treviso, are managing to snap a couple of wins in the Pro 14, probably helped by the inclusion of the woeful Kings and Cheetahs (who both sit bottom of their respective conferences).
But, while Scotland, Wales and Ireland have all zoomed off in front of them, Italy still remain far far behind. They're getting a bit skittish, or justifiably annoyed however you want t0 look at it, about the upcoming game and talk of a 7 Nations with Italy coach Conor O'Shea (4 wins in 22) calling the talk 'tripe' and 'rubbish'.
Either way, should be a cracker.
Other Big Games
France will be playing South Africa 3 hours after the Wallabies game. I don't know what to expect from France, but after their recent improvements against All Blacks and disappointment against England the Boks will be hoping for an easy win. It'd be so good if France were good again, but their club culture is a bigger obstacle to the FFR than the state thing is to the ARU.
Ireland's playing Argentina. The Pumas are definitely back on the path towards being a solid side under Mario "Mendoza" Ledesma, after Daniel Hourcade's reign fizzled them out. However, Ireland are as good as the Kiwis now so it really should be an easy win for them.
Meanwhile, Scotland's doing their bit for international rugby, playing Fiji at Murrayfield. USA is playing Samoa in Spain, not sure why but it is what it is. The ancestral homeland of half of the Wallabies squad Tonga is also playing the French Barbarians in Bordeaux.
World Cup Qualifying
The repechage tournament – in other words, the wild card competition – is also on this weekend.
Canada, Germany, Hong Kong and Kenya will play a round robin over the next three weeks, in Marseille, to decide who will go to Japan.
First up, Hong Kong is playing Germany before Canada takes to Kenya. The Canadians, despite being ranked lower than Hong Kong (23rd vs 21st) will be favourites to win, but lately their standing has fallen considerably.
The really interesting story from this is Germany (ranked 29th). I've already written how they Steven Bradbury'd their way into the repechage tournament. The short version is, every team but Georgia and Russia and Germany were disqualified for playing ineligible players. Germany finished rock bottom, after their billionaire benefactor pulled all funding – and all the good players – from the German union.
Now, the benefactor (Hans-Peter Wild) and the union have made up, and Germany's going to give it a red crack. If they don't succeed, well then everyone will probably lose their jobs.
It'd also be great to see an East African nation like Kenya get more involved in rugby, as their 7s side has always been a joy to watch. They're ranked higher than Germany (28th), so hopefully the rankings will foreshadow a close contest.and
Other Small Games
Russia is taking on Namibia in Russia (both teams will be at the RWC next year), while Brazil is taking on the Maori All Blacks. The MABs played and beat the Americans in America last week, so they'll no doubt prefer having this holiday than playing NPC or whatever it is they do.
Main fixtures
NSW/Vic/ACT/Tas
SA
Qld
NT
WA

Italy

Georgia

1am

1230am

12am

1130pm

10pm

Scotland

Fiji

130am

1am

1230am

12am

1030pm

England

New Zealand

2am

130am

1am

1230am

11pm

French BaaBaas

Tonga

2am

130am

1am

1230am

11pm

Wales
Australia
420am
350am
320am
250am
120am
USA

Samoa

430am

400am

330am

300am

130am

Ireland

Argentina

530am

500am

430am

400am

230am

France

South Africa

700am

630am

600am

530am

400am