Greetings from windy sunny rainy Melbourne! Well, what a curious set of results we've had from the weekend down here. Some games were tighter than KB's wallet in a pub and some games looser than Hoss's morals at a Uni O-week. There were big hits aplenty, plenty of tries scored (we won't count the Ponies v Blues second half) and more Magnums consumed than I can count (fuqing 32 degree weather FFS. Winter sport my left nut.).
Anyway, we'll wrap up the action from the weekend, some winners and losers based on my live viewing, some news from the Welsh unions (EP, more info if you can), my boozy lunch with Eddie Jones and the Rugby Club of Victoria/Classic Wallabies and the rugby world delighting in Ardie's threat to smash a halfback (or up in arms at his threat of violence).
SUPER ROUND IN MELBOURNE
Crusaders def Highlanders – report here
Hurricanes def Rebels – report here
Chiefs def Moana Pasifika – report here
Waratahs def Drua – report here
Brumbies def Blues – report here
Reds def Force – report here
Wallaby winners: Nick Frost, Cadeyrn Neville, Pete Samu, Ryan Lonergan, Tom Wright, Andy Muirhead, Langi Gleeson, Izzy Perese, Ben Donaldson, Jordan Petaia, Tom Lynagh, Josh Flook, Fraser McReight, Harry Wilson (did he get a cheese?), Carter Gordon, Stacey Ili.
Honourable mention of Tim Sampson, the former Farce coach. He was sacked as he wasn't the man to take them forwards. How exactly is that working out for you now? 🤦‍♂️
Wallaby losers: the Force (sorry, Rob Hill), Nos Lonergan's last few throws, Suli cramping up after his whinge in the news this week. Bet Rennie is chuckling about that one because I was. What a turkey.
Brumbies – I'd probably say an eight and a half out of ten for the Ponies. The main criticism would be the rugby IQ moments. Letting the Blues hold possession, AND SCORE(!), when down to 13 men was absolutely criminal. I'd have thought an attempt for the three at the end to potentially deny the Blues a bonus point would have been a good decision, too. Then again, a win is a sweet moment!
Waratahs – Did the job. I admit I was doubting at the 25th minute of their game. Then again, I was sitting with about 10k Fijians who were cheering every tackle so I may have had some Drua-coloured glasses on! To survive the onslaught then ice the Fijians was good.
Rebels – Looked like they'd shit the bed against the Hurricanes until Dane Coles decided to cause some shitfuqery which ended with Ardie getting a bollocking from his old man. The frustrating thing about the Rabble is the telegraphed way they play. I called the match as over two minutes before the Canes turned the ball over and raced away to score. They're too predictable.
Reds – Bloody solid effort to keep going and to take the frustration from week one out on the hapless Farce Force.
Force – Cactus. Enough said.
Points scored – the average points scored in each game across Super Round was 69.8. Not a bad effort!
Random thought – interesting how, even after two rounds, we are looking very similar to what the gaol ballers looked like a few seasons ago. There are the fit and ready teams, then there's the rest. It could well be a long season for some sides.
Once again, I've been left quite disappointed in the Super Round. This is a real shame as, despite some blowout scorelines, the rugby was often quite good.
Now, for once, Rugby Australia takes little of the blame. This is all on SANZAAR and TEG Sports. This Kiwi company is taking the absolute piss, seemingly happy to take the money while providing sweet fuq all in return and paying Kiwi sides $300k for the privilege. Though I'm sure there was some form of backhand "deal for the boyz" involved, this is the second year in a row where there has been an abject failure of organising a professional sporting event. The best example I can give is that the half-time 'entertainment' was the exact same skit for every fuqing game. About the only improvement based upon last year's shemozzle was having shorter breaks between games and some music pumping.
An incredible anecdote from Mick Byrne, the Fijian coach, who said that they lost a player to a failed HIA because he was asked question in English despite not speaking the language. What sort of competition doesn't acknowledge that this is a possibility, let alone cater for the bloody obvious!?
Does Melbourne deserve the super round? It could. Does it deserve a joke of a Kiwi company employed by a useless organisation? Absolutely not. Once again, rugby is shooting itself in the foot and, consequently, doing the entire game a complete disservice.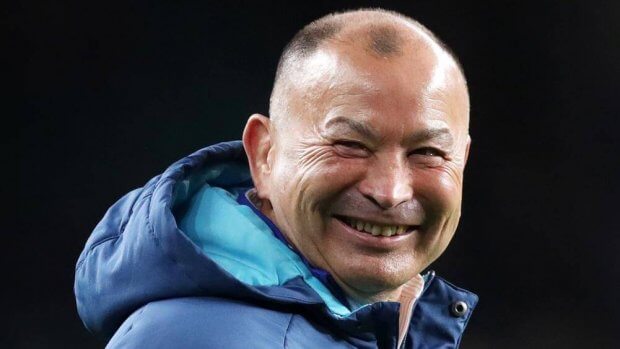 EDDIE JONES AND A BOOZY LUNCH
Thanks to the Classic Wallabies and the Rugby Club of Victoria, I was able to spend my RDO on Friday at the Bell's Hotel in South Melbourne with 150 other rugby-mad Victorians listening to Eddie Jones. As it stood, by the time Keith sent out his Friday text to show us how fantastic retirement is with a bevvie in hand, he was already five or so behind!
A summary of the key points:
Bring back the enthusiasm and the winning.
We have the talent but it comes down to finding the players who will be able to use their brains.
Need a tough side and a smart side.
Players who ought to be the ball players are 8/9/10/15.
Most talent AND who works the hardest will win.
Will bring back Wallabies in the community prior to tests. Players have to understand that this is where their pay cheque comes from.
The beauty in rugby is that there are so many ways to win. Even better, a team has to be able to win in multiple ways.
Criticism of rugby as 'boring' is invalid. Sometimes the game is 'boring' is because that's what it takes. But one man's boring is another man's glory.
The Wallabies are the Pink Panther of the Bill, no one thinks we can win so here goes!
Role of the Wallaroos, this is the most amazing transformation of sport. There is the opportunity for girls to play AND the desire to do so. The women can express themselves in sports and they're not afraid to do so.
What does it mean to be the Wobs coach? It's the greatest honour and privilege to take rugby back to where it belongs.
Perception from overseas was that we didn't 'dig in' when games were tough.
Anecdotes:
"I haven't worked a day in my life since I turned 36. Where else can you walk around in shorts, a t-shirt and with a whistle?! This is where Cheik has it wrong, he has four jobs. Who's he kidding?!
When I played, the coaches were absolutely shithouse. My Dad said, "pretend to listen". Bob Dwyer was way ahead of the game, especially in metabolic training. We had to go as hard as we could for 45 seconds. Ella would lie on the ground the whole time!
When talking about trainings, "the Japanese team used to train three times a day because that was what they grew up with and was expected of. When I told Rob Leota, he almost shit himself with fear! The Japs would train harder under Jamie Joseph than they did with me. The English less so, then they stopped trying!
Morgs: "you got rapturous applause when the crowd spotted you in Sydney. Why do you think that was?" Eddie: "We haven't played a game yet, maaaate".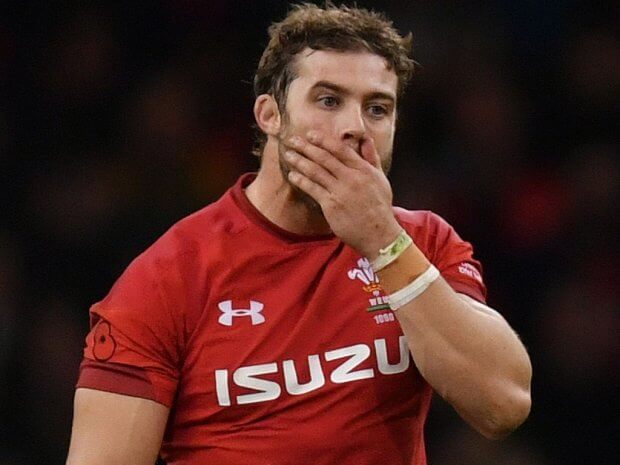 WELSH REGIONS IN DIRE STRAITS
It seems that the proverbial fan is still sending shite flying everywhere in Wales, with more heartbreaking news coming out every day. Indeed, the PRB chair, Malcolm Wall, has threatened to walk away, if the proposed changes are not accepted by 75% of the Welsh clubs. Furthermore, he has hinted that major sponsors, like Principality Building Society who have the naming rights to the Millennium Stadium, will walk away, causing devastating consequences for the regions.
Worryingly, all of the CVC investment nest egg is being wasted on consultancy work to tell them how to spend their own money. It's laughable that the WRU does not have any staff who have the ability to work out what they need to do! And I thought RA was poorly run.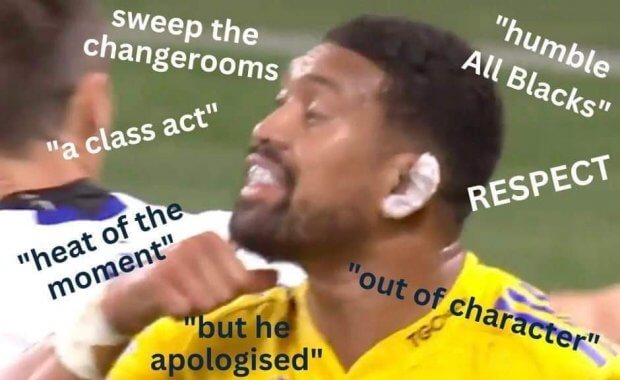 ARDIE SAVEA IN HOT WATER
Now, there will be three groups of people here. Some may do a bit of a Venn diagram in terms of where they sit. The groups are:
outraged
"Leave Ardie Alone-ers"
Those that CGAF and thought it was about time that someone put the fear of God into a halfback and that it's brilliant to see some real character and emotion in a game of rugby.
Personally, I sit in 3 with only a splash of one and two. Sure, it might not have been the best visual look for the game; however, it definitely got the crowd going and the Rebels finally got their shit together as well! Even though he's been cited, I'd be more than happy with a proverbial slap on the wrist. I mean, if there's one bloke who Ardie sounds shit scared of himself, it is his old man. I wouldn't want to be in his shoes when he is back in Wellington.
Have a happy Monday, folks. Here's looking forward to a 'Super Saturday' next weekend, with four straight games, including the Saders heading to Fiji. We have a Six Nations next weekend so it's only fair the good and proper states have a Labour Day long weekend next Monday 😁