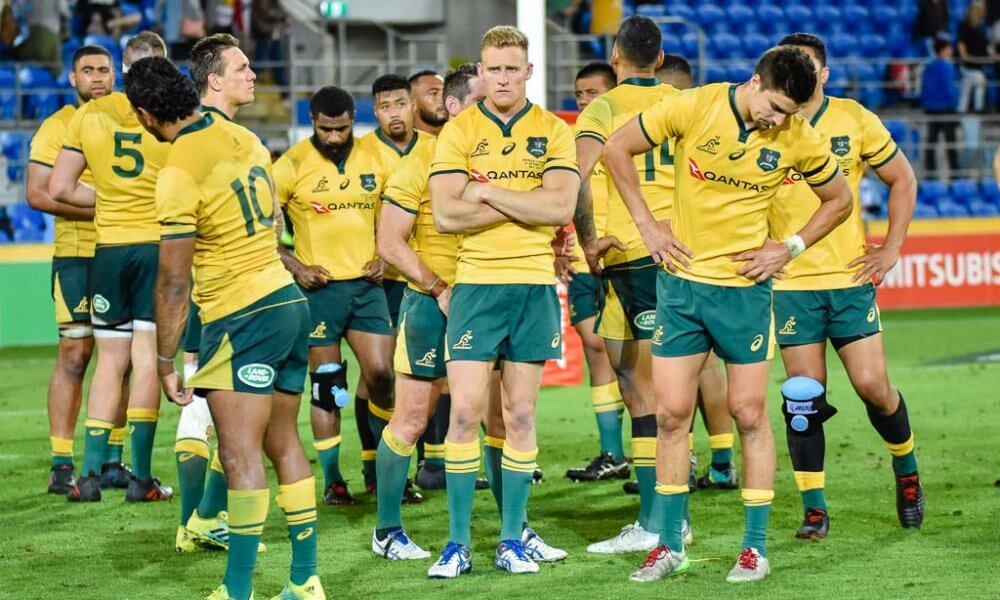 Monday's Rugby News looks at the ups and downs from our national teams, former Wallabies lashes out at a contentious decision and a wrap-up of all the rugby around (and near) the country.
---
Wobblies
The Wallabies have stumbled in their opening Rugby Championship campaign, going down 35-17 to the Springboks.
The side was hampered by poor execution and discipline in crucial moments of the match, which saw two bombed tries and a yellow card to Taniela Tupou (We'll get to that later in the news).
For a more in-depth account of the game, please check out Steve's review here.
Coach Michael Cheika was still pleased with the showing from his side despite the loss, stating that their were still positives despite their lack of execution.
"I believe we showed a lot of good signs tonight, I know that people may not see that in the result but for us, compared to, for what we've been building on, it's the first time we've put some of the things we're doing out on the field, and I know that the commitment to playing that way, both in attack and defence is there and that it will build as the season goes on," Cheika said.
"I suppose the No. 1 thing for us now is to get ready and get back to our home ground in Brisbane where we've got a great opportunity to go out there to build on what we did today."
"Perhaps not give away simple opportunities we gave away and convert some more of our own."
Cheika especially singled out halfback Nic White for praise, impressed with his kicking and control of the game.
"I thought White was very good, he marshalled the troops well," Cheika said.
"We had a lot of quick ball, which he was arranging pretty well with the forwards and making good passing choices. I really rated the way he played the game, he had a couple of nice kicks and also a lot of pressure in defence, put a lot of pressure from where he defended."
In the other game in the Rugby Championship, the All Blacks were able to hold off a valiant Pumas 20-16 in an error-riddled contest.
The understrength All Blacks raced to a 20-9 half-time lead through tries to Ngani Laumape and Brodie Retallick.
However, the Pumas kept in the contest thanks to Emiliano Boffelli, who plucked a bomb out of Ben Smith's hands to bring the margin back to 4 points.
The All Blacks were able to survive the nervous final minutes to continue their dominance over the Argentinians, who have not beaten the kiwis in 24 years.
Hamilton smashin' every expectation
Wallaroos captain Grace Hamilton has cemented her status as one of the best players in the world, scoring a hat trick in the Wallaroos 46-3 win over Japan at North Sydney Oval.
Hamilton defied her namesake Alexander, proving an imperfect person (jury's still out) can deliver a perfect performance to earn back-to-back Player of the match awards.
She opened the scoring for the Wallaroos with a barnstorming run, with her efforts and a double to Mahalia Murphy setting the tone for a dominating half, giving the Aussies a 27-3 lead at half time.
The Japanese would fight back after Lori Cramer was yellow-carded, but the Wallaroos held strong and two further tries to Hamilton and Millie Boyle secured the result.
For a more in-depth review, check out Sully's review here.
Wallaroos head coach Dwayne Nestor was proud of the effort put in by his troops, believing that the win has set them up perfectly for their test series against the Black Ferns.
"That was pretty good," Nestor said. "Once again we got good go-forward through our carriers and we were able to capitalise on that. In the change room before we came out the girls said let's make a statement, and I think they did."
"That was great preparation for us. Really good preparation. You look at last year and you wish we'd had the same preparation before we went to the Black Ferns last year but to have that this year is awesome, and the program going forward next year is even better. Which is really good."
Captain Hamilton was modest after her 3 tries, 200m performance, giving full credit to the girls for their work and dominance at the ruck.
"No, it's a complete team effort as I have said before. I am just getting the ball off one of the other girls who has done the hard work," Hamilton said.
"I was lucky, I was just in the right place at the right time. You know what? We set the platform, we had a little bit of handling errors but in the end, we had momentum and that's what we wanted to keep, momentum through the whole game."
Kearns savages referee
From an Australian perspective, the main talking point from that test match was the yellow carding of replacement prop Taniela Tupou at the start of the second half.
Tupou was deemed to have entered into a tackle with no arms after referee Paul Williams had called for a penalty, resulting in his sin-binning for the illegal shot.
This has outraged Fox Sports commentator Phil Kearns, who called Williams disgraceful and out of his depth.
"I just think it was a disgraceful decision," Kearns said on Fox Sports' post-match coverage. "So many times we put referees that are out of their depth into these games."
"We've all talked privately about the World Cup referees and there's a whole bunch of guys there that are totally out of their depth. And big games like that — that is a game-changing moment."
Fellow commentator and former Wallabies halfback George Gregan agreed with his assessment, believing that it had a significant outcome on the result of the game.
"Those decisions have a big impact on the game because you're a man down, 10 minutes against a really good side, it's 14-10 and all of a sudden there's two converted tries," Gregan said.
"The Test match has changed from those two scores."
This was echoed in coach Michael Cheika's post-match press conference, who tried to argue that the yellow card should've gone the other way for a shoulder charge.
"I make it as the wrong call," Cheika said. "The other guy (Springbok) should have been sent to the sin-bin for a shoulder charge."
"The fourth official (should have) focused on the green guy who came in with a shoulder charge and then Taniela came in after that to get him, with his arms wrapped at the right height."
"I'm not sure if big contact is a penalty these days but that's the wrong decision."
Rugby Wrap
We start out looking our eye over our fellow Pool C competitors Fiji, who stumbled against a New Zealand Maori side, losing 26-17.
Fiji took this encounter to trial out new players and combinations after their crushing win last week and the Maori side made them pay for it, running in four tries to tie the two-test series 1-1.
Whilst the scoreline was locked at 7-7 at halftime, the New Zealand Maori dominated the encounter after the break, with tries to Rob Thompson, Alex Nankivell and lock Isaia Walker-Leawere securing the win.
Back in Australia, we start in Western Australia in the premier division where Associates accounted for Wanneroo 29-12, Wests outgunned UWA 45-31 and Nedlands and Cottesloe were dead-locked at 19-19 in the top of the table close.
The championship division saw Curtin Uni defeat Southern Lions 25-5, Kalamunda overcame Bayswater 35-26, ARKs held off Coastal Cavaliers 35-29 and Palmyra destroyed Joondalup 64-8.
In the Cooper's Premier in SA, Port Adelaide molly whopped Barossa 88-0, Old Collegians pumped Southern Suburbs 64-19, Onkaparinga destroyed Woodville 75-10, Adelaide Uni outgunned Elizabeth 86-10 and Burnside upset Brighton 23-20.
The Dewar Shield saw Harlequins outgun Melbourne Uni 40-13, Power House account for Footscray 46-5, Box Hill upset Melbourne 24-21 for their first loss of the year and Moorabbin held off Endeavour Hills 31-24.
Round 16 of the John I Dent Cup witnessed Royals hold off Gungahlin 25-22, Vikings pump Wests 63-14 and Queanbeyan held off a valiant Easts 27-20.
The Shute Shield witnessed Easts overcame Randwick 33-24, Gordon outgunned Norths 42-34, Sydney Uni continued their strong run with a 47-24 win over Southern Districts, Eastwood survived a scare against West Harbour winning 30-17 and Warringah won the battle of the north over Manly 28-23.
Finally, in the sunshine state, the Hospital Challenge Cup saw Wests outgun Souths 43-31 in Jordan Petaia's return to the game from injury, Bond Uni overcame Norths 31-15, Easts upset Sunnybank 29-13 and GPS won the battle of the ladder leaders defeating Brothers 43-36.