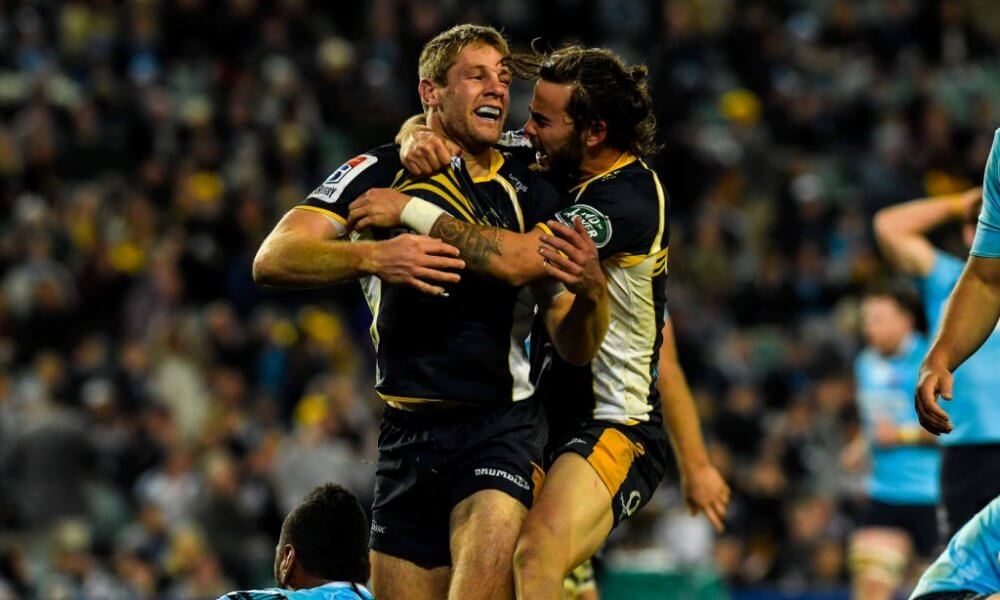 Monday's rugby news wraps up the weekend locally and internationally, SA look to shake up eligibility rules and maybe rugby isn't for all shapes and sizes.
---
Super Rugby Round Two
With the Reds playing Friday night, super Rugby has officially started.

Do I make that statement in response to ALL 15 teams have now taken the field or is it a reference to the fact they my team has finally played?  I'll let you decide.

Reds vs Highlanders-Much has been made of the Red renewal (Rednewal?) we're to witness and this was the first time we got a look at it.

Things got off to a shaky start with the 'Landers crossing within the first 7 minutes to take an early lead, the Reds fought their way back into the contest, even leading with less than 10 minutes to go courtesy of a try to off-season hard work story, Feao Fotuaika.

Alas, the Reds have a solitary bonus point to show their efforts even if there were a lot of positives.

Sucker for Red went into a bunch more detail in their full review.

A mountain of matches, well, four were played on Saturday.  The Waratahs scraped past the Sunwolves by the narrowest margin, Matt Dunning's biggest fan watched it closely and you can read their thoughts here.  The win was soured by Tolu Latu's citing.

Up next was the defending champion Crusaders at home to their cousins from the capital, the former extending their winning streak to 17 with a 38-22 win over the Hurricanes.

Closer to home, the Brumbies relegated the Chiefs to their second loss of the season.  While early in the year, a defeat of a NZ team is always welcomed and the expansive, daring attack of the Brums was a sight to behold.  Don't take my word for it, read it from the only GAGR who likes living in CBR.  (I have no way to back that up, but I don't think I could handle the cold)

Natal hosted the last match of the day and despite dominating nearly every statistic the Blues fell 26-7 thanks to the Shorks.

Two more matches Sunday, the Jaguares were too good for the Bulls and the Stormers took 87 minutes to dispatch the Lions in an all-time (over-time?) classic in Cape Town.

Super W kicked off this weekend as well, the Tahs defeated the Brumbies and the Reds crushed the Rebels.  We have far more comprehensive discussion already up the site for you.
Six Nations Starts to get Serious, like, Proper Serious
After a week's hiatus the opposite hemisphere's heavyweights resumed their antics.

France, searching for their first win welcomed Scotland, who had managed one victory and one loss in the opening two weeks.

The hosts were first on the board.  Their sole first half try and successful penalty all coming within the first twenty minutes being their only points in the opening stanza, luckily for them the visitors could only register a paltry penalty leaving it 10-3 at oranges.

France scored almost immediately after the break and as the match was coming to a close, they crossed again giving them unassailable lead and a sniff of bonus point.  The late try seemed to spark something of a frenzy as Scotland replied with their own try in the 77th minute before France controlled possession well after the final siren to score their fourth try in the 87th minute, earning them the bonus point.

Final score- France 27 Scotland 10

To Principality Stadium and Wales rolled out the red carpet for the in-form England who must have mistaken the Welsh jerseys for the red carpet as they seemed intent on run over the top of their opponents, although, try as they may, neither team could really gain any ascendancy for long periods of play.

A brutal, and aside from a try to Englishman Tom Curry, extremely tight first half again saw the score at the half 10-3.

After a quick break, hostilities, big hits and the tactical kicking duel restarted neither team seemed to gain any real edge.  Wales did close the gap to 1 point thanks to Anscombe's accuracy but it was soon back out to four as Farrell slotted his chance.  Cue Dan Biggar coming onto the field and Wales lay on two tries within ten minutes to run out winners, extend their test-match winning streak to 12 and are the only undefeated team remaining in the Six Nations.

Final score- Wales 21 England 13

Obviously no-one told Italy and Ireland that it's supposed to be 10-3 at half time as they went off script and courtesy of two meaties each, a couple of conversions and a penalty it was instead, surprisingly, 16-12 to Italy after 40 minutes.

Whatever was behind Italy's strong first half gave way in the second term as Ireland piled on another two touchdowns and kept the home side scoreless, ensuring that Italy languish at the bottom of the ladder without a point and keeping themselves in contact with the top of the ladder and a potential tilt at the championship.

Final score-Italy 16 Ireland 26
Bokke Giteau-law Changes
The drain on local (read: SANZAAR) talent from the cashed-up northern hemisphere competitions has been an issue for governing bodies since the game turned professional.

Some unions have responded to this by implementing things like Australia's "Giteau's Law", allowing players who have paid their dues to chase some retirement savings and still be eligible for test rugby.

The Springboks have their version of it which allows selection of foreign-based players if they've racked up 30 caps, however, in a bold new plan, this might all fall away as the Springboks look to protect their strong international team and (they say) look after their players better financially.

Two key parts of the plan are World Rugby's regulation 9, which sets mandatory windows where players must be made available for test duties. South Africa will be strictly enforcing the availability of its players from overseas clubs and those that continue to play in South Africa will have top-up payments added to their salary.  The second part will be a merit list of players with incentives tied to rankings.  This should give SARU a wider group of players to select for tests and spread out the payments to higher-ranked players should they choose to stay.

Director of Rugby at Rugby SA Rassie Erasmus explained their idea, "We've got to deal with the practical realities and stay focused on our objective, which is to field the best available 23 players who really want to play for the Springboks, and who are prepared to make sacrifices, whether they are playing here or overseas.

"We only have a limited budget to do that, but we have many players who have the potential to become Springboks. This way, we can give them that message in a practical way.

"They will know that there is a future for them with the Springboks, and that they can move up the succession ladder if their play merits it."

What impact will this have on Super Rugby, Currie Cup and the Springboks remains to be seen.
All Shapes and Sizes
There are tens, nay, hundreds of sayings about the game we all love.

"A game for all shapes and sizes" is a popular one, or as someone once described it (Simon Poidevin maybe?) "in rugby, you need piano movers and piano players".

There's another saying that sort of goes with that, "A good big man will beat a good small man".

Rugby is a contact sport, scrap that, rugby is a collision sport and whether we like it or not, size plays a roll.  For professional players this is just part of their job.  A 75kg scrum half attempting to tackle a 120kg prop is just part of the job description.  For the clubs around the nation, built upon generations of players, who are looking to grow their juniors a 45kg weight difference with inexperienced, less skilful players could spell danger.  In fact, the mandatory assessment guidelines for under 15s have a weight differential of 46kg.  (If player A is below 45kg and 158cm and player B is above 91kg and 188cm they both will be further assessed)

A year after the program launched it's being hailed a success allowing players to play the game against others of a similar size and more importantly, skill level.

Now, please hold comments decrying "rugby going soft" or that one time the Narrabri Blue Bulls substituted a John Deere tractor on at tight head, only a handful of players have been moved.

Out of 246 thousand registered rugby players, 65 were moved down and 126 were moved up.

I'll leave you with a quote from Rugby Australia's community rugby general manager, James Selby-

"Australia is a big country, regardless of where you live, we want to make the rugby experience is as good as possible"

It might not be George Gregan tackling Jonah Lomu, but that sounds pretty good to me.