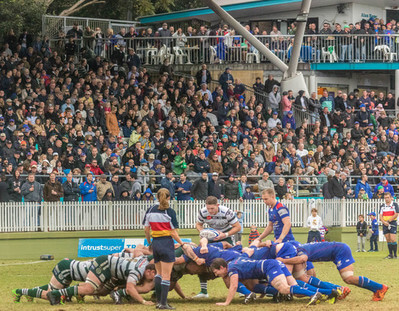 While test rugby is getting underway on weekend, it is important to remember the awesome club rugby competition that is the Intrust Super Shute Shield, which has entered into Round 11. While our coverage of the competition has been (to our shame) fairly minimal this year, all that is about to change. Here is our preview for Round 11 of the Intrust Super Shute Shield.
The Table
The Previews
Free-to-Air Broadcast Match: Eastern Suburbs vs Southern Districts, McKay Oval (Centennial Park). Kick off: Saturday 3:10pm,

LIVE on 7TWO

in NSW and the ACT, replay in QLD

.
The broadcast match sees Eastern Suburbs host Southern Districts in a must win clash, and both sides look to kick start their run to the finals after having mixed starts to the season. Both sides come into this game off the back of wins last week, and will look to carry momentum forward into this round.
The Beasties currently sit in eigth on the leaderboard, however have won three of their last five matches, and drawing one against the Rats and losing against last years Champions Northern Suburbs. However, this week sees a notable omission of fly-half Mack Mason, who is currently on Wallaby squad duty during the June Series.
Souths meanwhile sit precariously in the last slot of the top six, but are currently being chased by the likes of Sydney Uni, Eastern Suburbs and Gordon. Their performances have been mixed over the last five rounds, with wins against West Harbour and Parramatta, and losses to the Students, the Woodies and the Rats. A win here would not only consolidate their position, but also help them chase down the leading back. They will be blostered by the return of Dewet Roos, who has been released by the Brumbies last week.
Prediction: Form is with the Beasties, but Mason is a big loss. However, I see them overcoming Souths in a close encounter. Eastern Suburbs by 4. 
Eastwood vs Gordon, T G Millner Field. Kick off: Saturday 3:00pm.
The Woodies are currently on an impressive three match winning streak, and following the Marlins loss to the Rats in the battle of the beach last week, a big win here would see them make up some much needed ground on their North Shore rivals at the top of the leaderboard.
By comparison, The Highlanders have had a topsy-turvy last few rounds. They managed to pull off an outstanding one point upset last week over champions Northern Suburbs in Chatswood, however in previous weeks have struggled against Randwick, Manly and Eastern Suburbs. They will need to pull off a strong showing away from home to keep this form going.
Prediction: I expect the Highlanders to make a game of it, but you'd be a fool not to back the Woodies at home. Eastwood by 10. 
Penrith vs Northern Suburbs, Nepean Rugby Park. Kick off: Saturday 3:00pm
The Emus have shown moments of good attacking flair over the last few rounds, particularly against the likes of the toughest teams in the competition in Manly and Randwick. However, defence has been a key problem for the men from the west, impacting on them getting that elusive first win of the season. They will have to ensure that is up to scratch when they take on an out-of-sorts Northern Suburbs side.
Penrith may sniff an upset, but the Shoremen will be keen for a big win after their shock loss to Gordon last week. Having lost their last four in a row, last years champions will be looking to get the monkey off their back and win big here. They can't afford to lose another one.
Prediction: The Emus have got some fight in them, but I think their defence will kill them again today. Northern Suburbs by 25. 
Manly vs West Harbour, Manly Oval. Kick off: Saturday 3:00pm.
After their shock loss to the Rats in the battle of the beach, the Marlins will be looking to get their season back on track when they host West Harbour. Aside from last week, the men from the Northern beaches have barely put a foot wrong so far this year, and a big win here will do much to their confidence going into the latter half of the season.
Confidence is certainly lacking for the Pirates at the moment, as they currently sit on a two match losing streak after losing to Eastern Suburbs last week and Parramatta the week before. They are nine points off the top six at the moment, so really, it's do or die for them now.
Prediction: Manly have been (nearly) unstoppable at home this season, and expect that continue this weekend. Manly by 14. 
Sydney University vs Parramatta, University Football Ground. Kick off: Saturday 3:00pm.
A loss last week against Eastwood knocked the Students out of the top six, so they will be hungry to get back into the winners circle. Their form has been inconsistent (to put it mildly), with away losses to Eastwood and West Harbour and wins against Southern Districts, Warringah and Penrith. They will sense a big win could be theirs this weekend if they turn up against Parramatta.
This year has been one to forget so far for the Two Blues, sitting at the bottom of the table off the back of a 59-24 drubbing last week at the hands of Southern Districts. Aside from two bright moments in wins against Penrith and West Harbour, the man from Parramatta have been out of sorts this year, and the Students look a tough ask.
Prediction: With a good crowd, the Students should see this one home. Sydney University by 15. 
Warringah vs Randwick, Pittwater Rugby Park. Kick off: Saturday 7:00pm.
Finally, rounding out the round is the battle of the Greens. The Rats took a famous victory last week, winning at Manly Oval for the first time in ten years. The victory has put them equal in table points with third place Randwick, and a win this weekend could see them potentially move up to second place.
The Galloping Greens however have been in outstanding form of late, putting seventy points past both Penrith and Gordon in recent weeks, and taking a rare away win against Northern Suburbs. Rat Park is a notoriously difficult place to win, but it's hard to stop the Galloping Greens when their tale is up.
Prediction: This, along with Beasties-Souths match on 7TWO, has the potential to be the match of the round. It's gonna be a close one by I predict The Rats should have enough to see them home. Warringah by 2. 
Titled Image Credit: Alex McDonald