The last round of the trials for GPS Schools were held yesterday but they didn't make the forecasts any easier.
Going by results and who beat whom, and where, and by how many, five teams could make a case for favouritism.
Read on to find out how the six teams played in the last trial.
Riverview v Joeys
By "Armchair Selector"
Riverview and Joeys have a good-natured rivalry. Allegedly this was a trial, but you wouldn't have known it.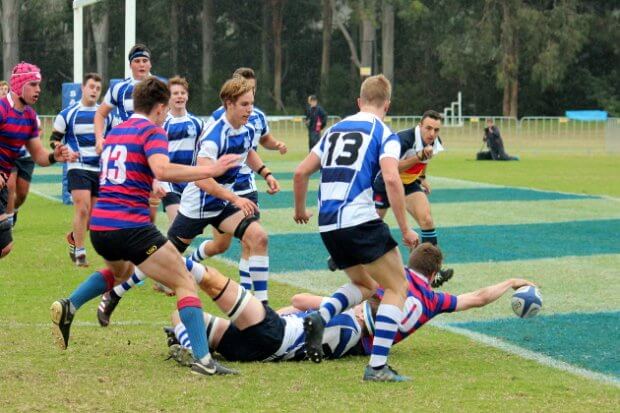 First half
Eight minutes in, near Riverview's 22, Joeys #10 Vincent Creagh wrong-footed his opposite number. In space he backed himself diving at the line to score. #8 Jack Quinn converted; Joeys 7 – 0.
The battle was building in the midfield. Bone-jarring defence by the Joeys' props Jansen and Heaven forced errors at the breakdown.
Both forward packs were prepared to test their mettle. Riverview captain, #6 Charles Rorke, spotted a gap from the ruck on the Joeys' 10-metre line. A solo run, veering, hitting and spinning culminated in Rorke touching down in the corner to the delight of the home crowd. #15 Macintyre Bird converted. 7-all.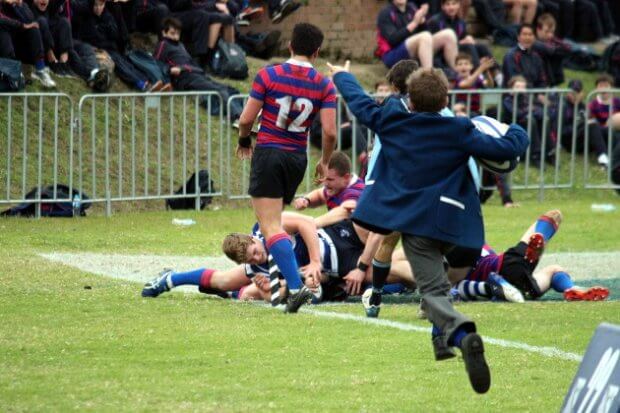 Mid-half, lineout ball to Joeys produced a succession of well-structured pick and drives finished perfectly by Joeys #2 James Bourchier: Quinn adding the extras. Joeys 14–7.
A line break by Riverview #9 William Grant had the back line on attack in space. Scrambling defence arrived too late. Grant being on the spot to take the final pass to score near touch. Joeys 14 – View 12.
A quick tap from a short arm scrum penalty on the stroke of half time, had the Joeys backs on attack stepping through fragile defence. #14 Xavier Ryan finishing near the posts. Quinn's conversion successful.
Half-time score: Joeys 21 – Riveriew 7.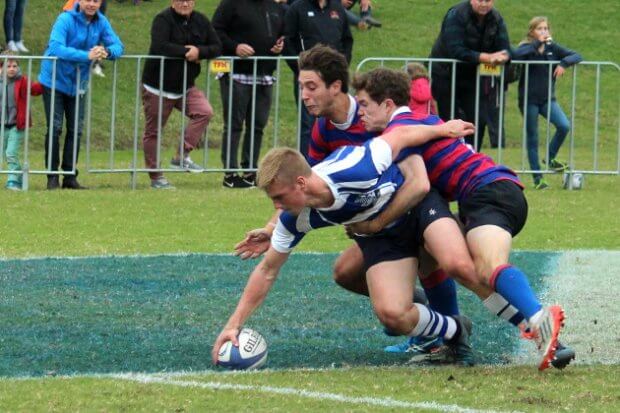 Second half
Joeys were unrelenting, prepared to roll the dice and attack from anywhere, either in the forwards or backs.
Riverview's Rorke was dangerous at the ruck contest ably assisted by #8 Max Moore. The two kept the Riverview forwards in the match against a Joey's forward pack showing their fitness and skill.
16 minutes into the second half. Joeys #16 Liam Scolari put the after-burners on, surprising the View centres with his pace, offloading deftly to #6 Houston who took the honours near the posts. Quinn adding to his tally. Joeys 28 – View 12.
Riverview looked dangerous in the backs, especially #13 Angus Bell and #14 Mat Dutaillis. Scrambling defence from Joeys managed to hold View out, albeit sometimes only just.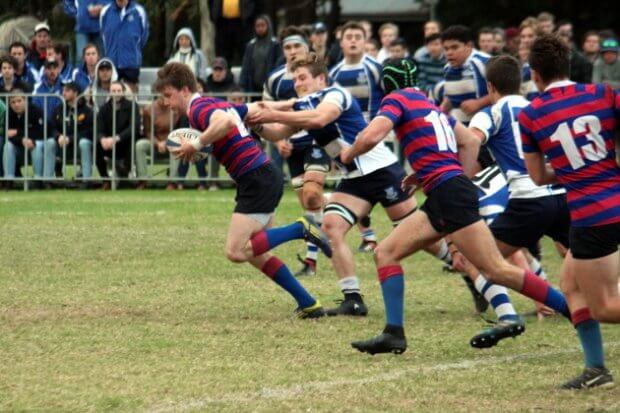 Jack Quinn has moved from the centres to the forwards this year. Testimony to his form—a line break ten metres on the View side of halfway. Showing his customary strength and agility, he stepped the View #15 and scored near the posts. Converting his own try. Joeys 35 – View 12.
View never gave up, #8 Max Moore opportunistically pilfered loose ball at the back of the Joeys ruck. Reward for his match efforts. Joeys 35 – View 17.
Last honours were to go to View #10 Edward Rennie. The conversion by Bird giving the final score greater respectability.
Final score: Joeys 35 – Riverview 24.
The game was played in an excellent spirit. Full credit to Joeys, they were deserved winners through a strong platform set in the forwards and finished in the backs. Riverview never gave up and showed patches of potential.

Best Players
Joeys forwards #8 Quinn, #1 Jansen
Joeys backs #10 Vincent Creagh, #12 Zack Carey
Riverview forwards #6 Charles Rorke, #8 Max Moore
Riverview backs #9 William Grant, #13 Angus Bell

The scoring
Joeys 35 (V. Creagh, J. Bouchier, X. Ryan, B, Houston, J. Quinn tries; Quinn 5 cons.) beat Riverview 24 (C. Rorke, W. Grant, M. Moore, E. Rennie tries; Rennie 2 cons.)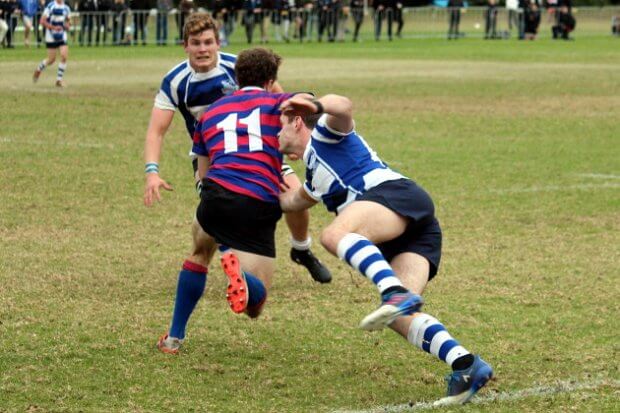 ---
Scots v Shore
By "Crackerjack"
The Shoremen were so late for kick-off that they missed the traditional pre-match line-ups and handshakes. This gave barely a glimpse of the portent of things to come for Bellevue Hill's visitors.
First Half
After an even tussle to start, Scots were first across the stripe 10 minutes in; Charlie Baker(12) scoring off a deft inside ball from skipper Billy Smith(13). Straight after, Baker(12) slipped into Shore's backfield like a thief in the night, popping a ball to brother, Ben Baker(15), first to juggle, then freakishly hang on to, to score.
Scots scored another brace either side of 20 minutes. Hooker Ben Joseph crashed over from the back of a rolling maul, set up and managed by lock and attacking line-out specialist, Nelson Bours(5).

Then C. Baker,  again slipped through Shore's D-line to hand off to a scarpering left-wing Fred Tricks. Conversions from fly-half Charlie Savala (10) followed, and in a blink, Scots were up 24-0.
Scots' blanket defense was nullifying all Shore had, and Scots' pack was ascendant. They closed the half when opensider Ben Robson was the last to receive some slick, short-passing amongst Scots' big men, constantly backing up, and stamping their authority over the lighter Shore pack.
Half-time score: Scots 31 – Shore 0
Second Half
Shore's benefit from the stiff southerly, now at their backs, lasted only two minutes into the second term with Joseph repeating his first half attacking line-out, rolling maul, performance. Same actors, same result. Scots 36-0.
For Shoremen Rugby though, "down" definitely does not mean "out".
Their best on the day, Ben Wilkins(5), opened Shore's account from a pick 'n drive series after an attacking line-out, then he burrowed over for another in heavy Gold traffic.

But notions of a stirring Shoremen comeback were finally put paid to when Scots' Baker, C.(12) snaffled an moon-ball intercept close to Shore's line with ten minutes to go, and it was 'game over' at 43-10.
Further Scots' tries to Sub(20) and stand-in right-wing Charles Burnett(14), finished Scots' scoring, but Shore treated the crowd to a glimpse of their potential with a last hurrah frolic down the right wing between Alex Fisher(14) and custodian Blake Rixon(15), who finished off in style.
Full time score: Scots 57 – Shore 17
The Wrap-up
Scots' ended their trials in fine form. Their forwards look a well-drilled unit, and their backs are able to make merry with sharp, accurate passing creating attacking space.
Shore played well in parts, more than holding their own for periods, but they struggled to contain the heavier Scots' pack in the set piece, or sufficiently restrict attacks from Scots' outside backs.
The Players:
Scots:
Ben Joseph(2) – dynamic game.
Nelson Bours(5) – orchestral in keeping his brother piggies 'on song'.
Billy Smith(13) – 'owned' the captaincy with flair in attack and Hadrian's Wall-like defending.
Charlie Baker(12) – Scots' Eveready Bunny.
Shore:
Ben Wilkins(5) – busiest Shoreman afield; rewarded with his brace of tries.
Luke Edwards(1) – inspirational in the heavy lifting.
Blake Rixon(15) – speed to burn; sparkled even with limited opportunities.
Scoring
Scots 57 (Joseph 2, C.Baker 2, B.Baker, F.Tricks, B.Robson, Sub (20), C.Burnett tries; C.Savala 6 cons.) def. Shore 17 (Wilkins 2, B. Rixon tries; Sinclair con.)
---
Newington v Kings
By "Quick Hands"
Kings took the early initiative and an early penalty by fullback Simson in front gave them a 3-0 lead. Kings went straight back on to the attack from the ensuing kick-off and after a line out win the ball was swiftly transferred from fly half Connolly to lock Williams, for a try in the scoreboard corner. Kings 8-0.
Newington seemed to awake from a slumber and from nowhere conjured a try from their first incursion into the Kings 22 by no 5 Foley. Conversion successful by Caputo and Kings led by only 8-7.

Kings again took control of the game, aided by some pacey line speed in defence by the Kingsmen and some disjointed Newington backline play. After some pressure on the Newington line, Kings scored a tough try near the posts to flanker Brown who was driven over the line by some of his team mates while dragging defenders over with him also.
It seemed that this would be the half time score as Newington were struggling in attack, but just on half time Newington made their second visit to the Kings 22 and Lynch scored a try from a driving maul. Conversion successful.
Half-time score: Kings 15 – Newington 14.
Kings were immediately in control after the break and scored a nice backline try when classy centre Poolman received a pass some 60 metres out near the sideline and outsprinted the Newington cover to score in the corner for a Kings' 20-14 lead. Then they attacked again and after a period in the Newington 22, Peper crashed over near the posts for a nice team try. Converted ; Kings led 27-14.
Then followed a fairly dour, mistake ridden period in which both teams made plenty of forced and unforced errors and the pace of the game slowed to a crawl.

While Newington kept trying in attack, nothing was really working. The backline was quite disjointed and were easy pickings for the Kings defence and while the forwards were effective with some pick and go work, they were unable to sustain enough pressure to score.
Kings then went back on to the attack and scored two tries in quick succession to Brown and Peper for the final score of 39-14.
Kings showed some good attacking skills during the game, but at times allowed the game to drift. Inside centre Poolman was strong in attack and defence and breakaways Brown and Peper were strong.
Newington looked a little lost in attack, particularly in the backline, while Lynch and Foley were solid performers in the forwards. One suspects that both teams were down on personnel and will look forward to the weeks break for the Queen's Birthday.