Friday's Rugby News sees the matches for the weekends, our weekly edition of club corner, Slipper being stood down and crises at Foxtel and the Brumbies.
---
[one_half last="no"]
Backin' the Boys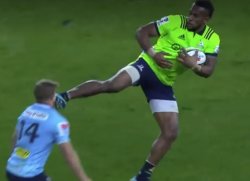 Yes, ladies and gents, it's that time of the week again, so without further ado, here be the squads:
The Rebels kick off festivities down at AAMI Park when they face a resurgent Moon Dogs outfit who has knocked off the Reds and Stormers in as many weeks.
The Rebels themselves have come off a bye after their win against the Brumbies in Canberra, and are welcoming back the likes of Dane Haylett-Petty and Jordan Uelese  returning to the squad, Reece Hodge moving to 10 and prop Pone Fa'amausili and five-eighth Tayler Adams named on the bench.
Rebels Squad: Dane Haylett-Petty, Jack Maddocks, Tom English, Billy Meakes, Marika Koroibete, Reece Hodge, Michael Ruru, Amanaki Mafi, Colby Fainga'a, Angus Cottrell, Adam Coleman (c), Matt Philip, Sam Talakai, Anaru Rangi, Fereti Sa'aga. Reserves: Jordan Uelese, Ben Daley, Pone Fa'amausili, Geoff Parling, Lopeti Timani, Harrison Goddard, Tayler Adams, Sefa Naivalu.
There's a lot of questions around this squad.  Naming Hodge at 10 is a big risk, but after being on the wing for so long maybe a return to this position might be exactly what the Rebels need. But I'm personally not convinced. The Moon Dogs have been looking good the last fortnight and look to be building some consistency, so I'm actually going to back them for this one. Sunwolves by 5.
Next up, the Waratahs head back across the ditch to face the Chiefs at the Tron in Waikato, hot off their big win against the Highlanders last weekend. Gibbo has stuck with only one change to the starting squad, with Nick Phipps coming in to replace Jake Gordon. Also, Paddy Ryan and loose forward Brad Wilkin will be the only other additions to the bench.
Waratahs Squad: Israel Folau, Cam Clark, Curtis Rona, Kurtley Beale, Taqele Naiyaravoro, Bernard Foley, Nick Phipps, Michael Wells, Michael Hooper (c), Will Miller, Rob Simmons, Tom Staniforth, Sekope Kepu, Damien Fitzpatrick, Tom Robertson. Reserves: Tolu Latu, Harry Johnson-Holmes, Paddy Ryan, Jed Holloway, Brad Wilkin, Jake Gordon, Lalakai Foketi, Bryce Hegarty.
The Tahs have been impressive the last few weeks against Kiwi opposition, with results having the potential to fall either way. The Chiefs have been a bit hit and miss themselves the last three weeks, so I reckon we've got a close match on our hands. Still backing the home team though. Chiefs by 7.
It's been an utter shitshow up at the Reds, and this weekend they head into a match against the Highlanders amidst a whirlwind of controversy regarding James Slipper. As a result, there will be a few shuffles around in the pack, with Harry Hockings pairing up in with Izack Rodda, while Izaia Perese returns back onto the wing.
Reds Squad: Hamish Stewart, Izaia Perese, Samu Kerevi, Duncan Paia'aua, Jordan Petaia, Jono Lance, Ben Lucas, Scott Higginbotham (c), George Smith, Angus Scott-Young, Harry Hockings, Izack Rodda, Taniela Tupou, Brandon Paenga-Amosa, JP Smith. Reserves: Andrew Ready, Sef Fa'agase, Ruan Smith, Kane Douglas, Caleb Timu, Liam Wright, Moses Sorovi, Aidan Toua
The Highlanders will be keen to make amends after last weekend, and the Reds will be determined to put in a big performance. I think it should be an interesting match, but I do think the visitors will run away with it in the end. Highlanders by 10.
And lastly, the Brumbies head up to Pretoria to face the Bulls, after coming off their loss to the Lions. Their squad is still to be named, so once it is I'll add it to the comments and make my prediction.
The other matches of the round will see the Crusaders and Hurricanes go head to head (this'll be the match of the round IMO), the Jags will play the Sharks in Buenos Aires, and the Stormers will host the Lions.
Enjoy your weekend of rugby folks. And if you don't want to watch Super Rugby, head over to…
[/one_half]
[one_half last="yes"]
Club Corner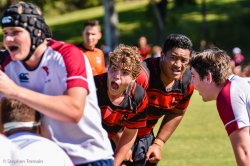 The club season rolls on, so without further ado, lets kick this off too.
Starting in Sydney, round seven of the Shute Shield saw Southern Districts hammer Gordon 61-17, Eastern Suburbs went down to the Students 19-27, Manly beat Warringah 34-24 in an entertaining battle of the beach, The Shoreman hammered Parramatta 44-18, and the Woodies nearly pulled off a big surprise win over an inform West Harbour, eventually going down 24-27.
Round Eight Fixtures:
Randwick v Manly 
Parramatta v West Harbour 
Sydney University v Southern Districts 
Warringah v Eastern Suburbs 
Gordon v Northern Suburbs
The Dewar Shield saw a surprising number of close matches in round five, with Footscray and Endeavour Hills playing out a 12-12 draw, Melbourne Rugby Club dug deep to beat the Harlequins 29-26, Uni went down 20-36 to Moorabbin, and Power House hung on to beat Box Hill 26-24.
Round Six Fixtures:
Box Hill v Endeavour Hills 
Footscray v Power House 
Harlequins v Melbourne Uni
Moorabbin v Melbourne Rugby Club
Over in South Australia, Round Four of the Coopers Premier Grade saw Woodville go down to Old Collegians 20-45. Onkaparinga pick up an important away win against Burnside 32-41, and Brighton defeated Souths 36-27.
Round Five Fixtures:
Onkaparinga v Brighton
Souths Suburbs v Old Collegians 
Burnside v Woodville 
We're nearly into the halfway point of the season in the Hospital Challenge Cup in Brisbane. Last round saw Norths upset Brothers 21-17, Souths go down 22-27 to Sunnybank, Uni knocked over GPS away from home 17-28, and Easts came away with the chocolates against Wests 27-34.
Round Nine Fixtures:
University of Queensland v Souths 
Easts v GPS 
Bond University v Norths 
Brothers v Wests
Sunnybank will have the bye.
Over in WA, the Fortescue Premier Grade headed into round seven, with UWA smashing Palmyra 22-50, Joondalup beat Wests 13-24, Nedlands drew 17-17 with Kalamunda, Associates pumped Cottlesloe 43-16, the Cavaliers went down in a thriller to Wanneroo 39-41, and defence well and truly went out the window in the ARKs-Southern Lions match, with the visitors winning 45-50.
Round Eight Fixtures:
Joondalup v Palmyra 
Kalamunda v Wests Scarborough
Cottesloe v Nedlands  
Associates v ARKs 
Perth Bayswater v Coastal Cavaliers
Wanneroo Districts v Southern Lions
UWA will have the bye.
And finally, we head to the nation's capital for round seven of the John I Dent Cup, which saw Gungahlin fall to Easts 18-24, Queanbeyan go down to Royals 20-28, and Wests got the monkey off their back with a 13-31 win over Uni-Norths
Round Eight Fixtures:
Gungahlin v Queanbeyan 
Tuggeranong v Royals
Easts, Uni-Norths and Wests will all have the bye this weekend. Someone please explain to me how that works.
Enjoy your rugby this weekend folks.
[/one_half]
[one_half last="no"]
Stood Down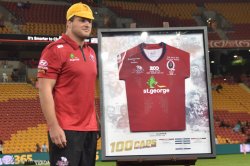 The Reds have stood down Karmichael Hunt on cocaine charges, and many had thought that would be the end of issues at the club as they'd look to rebuild both on and off the field.
Well, yesterday one of the clubs most senior players, James Slipper, tested positive for cocaine tests in both February and May this year.
Rugby Australia's Illicit Drugs policy meant the first result was kept confidential, however if a second result occurs the infringement is made public and the player is punished based on the level of infringement.
James Slipper has reportedly been struggling with mental health issues for some time now, and RA took that into consideration when handing down his punishment.
Regardless, rugby.com.au confirmed yesterday that he will be slapped with a two month ban and $27,500 fine.
"We are extremely disappointed to be in this position today, with one of our most senior international players having submitted two positive tests for cocaine," RA boss Raelene Castle said.
"We are fully aware that James is dealing with very significant personal issues and we have been working with him since February on these matters.
"We are ensuring that James is receiving full help and support including specialist medical treatment.
"James has expressed his sincere remorse for his actions and for placing himself, Rugby Australia and the Reds in this very difficult situation."
"I think the time period has become news to us throughout this situation and that's one of the things about depression, if anyone's done any background research and reading on this particular subject is people work really hard to hide any mental health or depression challenges they have themselves for a very long time before they're prepared to front it."
James himself released a statement in regards to his situation, which was read out by RUPA boss Ross Xenos to the  press.
"Speaking with James quite a lot over the course of the last week, his first expression and his first emotion when he found out about the situation was relief," Xenos added.
"I think that's an indication of some of the demons that he has been battling over the course of the last little while that he now has some time to get himself right away from the daily grind of professional rugby and clearly he's going to be well supported by rehabilitation plan and also medical experts working with him."
"Unfortunately I am unfit to personally address these issues today," said Slipper's statement.
"I'm well aware that I will need to address these issues publicly and the questions associated with this and will do so as soon as I am fit and ready.
"I have been suffering wellness issues, including depression, for a year and have been receiving professional assistance for the last few months. the advice is that I will make a speedy and total recovery.
"In no way do my personal circumstances excuse my actions but I recognise now that I was not coping and that I need to properly address these wellness issues.
"Recently, I breached the Illicit drugs policy of Rugby Australia and as a consequence have been stood down from playing rugby for a two-month period and have also received a fine.
"I take full responsibility for my actions and apologise unreservedly to my family, the Queensland Rugby Union, Rugby Australia, my teammates, coaches and all rugby supporters."
You can read his full statement here. 
[/one_half]
[one_half last="yes"]
This is a Crisis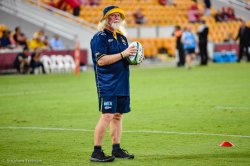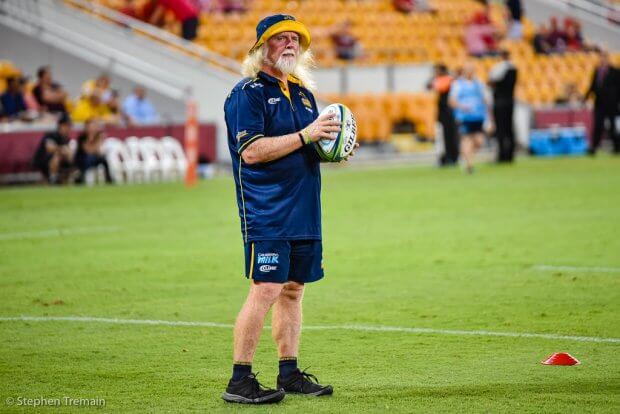 The streak might be over for the time being, but there's a long way to go for Aussie rugby to be out of the woods yet.
Our first weekly crisis is down in Canberra, where the Brumbies implored fans to come and support the team this weekend for their match against the Sunwolves.
After only a man and his dog saw the Rebels derby match, the Ponies admitted that if club attendance continues to decline, the club could be a risk of folding.
Chief Pony and club chief executive Michael Thomson explained that the declining numbers were due to the team's woeful on-field performance, troubles within Super Rugby, and the awkward location and ageing Canberra Stadium.
However, they hope that they can get 15,000 through the gates on the weekend. If they do, they've promised to donate $5000 to three Canberra-based charities.
"We know you want rugby to thrive in this region and, in part, to achieve this, we need a successful side playing in front of big crowds," Thomson wrote in an email to fans. 
"The funds attendance at games enables us to invest back into our programs … and without your support and those funds the Brumbies may no longer exist."
"Scheduling is a challenge but if we play the right football, we play entertaining and continue to connect with our community we're confident people will come."
"If you look at the history of sporting teams in Canberra, sometimes they turn quickly and we're confident if we continue to do the right things people will come back."
It's fair to say, if there's any indicator of the need to look after the community over the professional, then this is it. Without connecting to the grassroots community, a Super Rugby club cannot exist.
And finally, out second crisis shows that Fox Sports should be doing more to help the game. And that has pissed off Fox Sports.
Consultant Colin Smith, from Global Media & Sports, revealed to the Sydney Morning Herald that from his own results and analysis, Foxtel has caused considerable damage to Super Rugby as a brand in Australia, and to the game in general.
"Right now, one would suggest Foxtel has its hands off the tiller," Smith said.
"One of the things broadcasters are generally good at in other genres is that they are actively involved in managing and producing the most attractive product to attract the most viewers.
"Rugby Australia can't do this on their own, they need the expertise of Foxtel in leading what is going to make Super Rugby more attractive for people watching on television. That includes having more people attend games live because we know there's a direct relationship between TV ratings and attendances."
Read more on what Smith had to say here. 
Yeah, it's kind of a 'no shit' scenario, but at least the consultant agrees with what we all already knew.
However, Foxtel Boss Patrick Delany fired back, calling bullshit on Smith and his consultancy. 
"The issues that rugby faces are issues for those who run the game, and that is not us," Delany said through gritted teeth.
"Fox Sports is a broadcaster. We do not run sports. To suggest we should grab anyone else's tiller is inappropriate. We are here to support our partners and will of course, respond if asked for advice."
"We provide the platform and the megaphone for the game. The level of expertise of our commentary and our magazine shows, combined with our innovations in how the game is broadcast, reinforces our commitment to sport."
What are our thoughts on this GAGRs?
[/one_half]