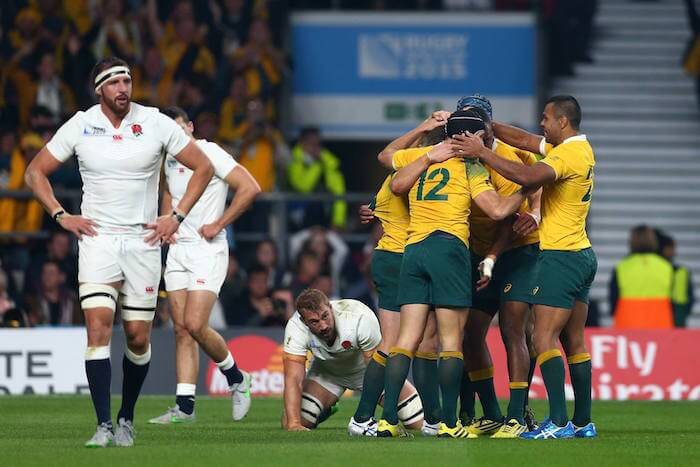 Google Bob Dwyer, and the first result you'll see is a story about his comments on Michael Hooper from all the way back in mid-April. Both ESPN's Sam Bruce and the SMH's Paul Cully this very Monday scaffolded their weekend wrap-ups with Dwyer's comments, with both pieces also cheekily suggesting that the World Cup winning coach had managed to provoke Hooper into form.
Well it only turns out that mind games is what Dwyer's all about; he reckons that psychological barbs are going to be a massive part of the coming Australia-England series. He's got plenty more to say, though; talking to GAGR's cap'n Matt Rowley, Dwyer also discussed all things current and future Wallabies, the quality of Australian Super rugby and yes, there's a bit about Hooper too.
His interview starts at 22:35 or you can read on for more.
Cook Cup
It'll be a very exciting series both on and off the field. He reckons Eddie Jones is a "bloody master at mind games", although he's quick to say that Cheika ain't too bad at them himself. Expect to see mind games coming out from the England camp, though, as "Cheik tends to play them within the squad". Either way, Dwyer says, "it'll be a heck of a lot of fun off the field" during this series.
(What's more, is that while Cheika is bringing English-based players back home, Jones is hoovering up Australian coaches, with Glen Ella – who according to Dwyer went to kindergarten, school and Randwick with Jones – joining the England set up. Talking of Randwick: Cheika, Jones, Ella, McKenzie – wait, what? – and Dwyer are all former Wicks.)
How can we expect England to play?
"There seems to be an opinion in Australia," Dwyer begins, "that all they do in Europe is kick the ball. In some games that's the case, but in the two semi-finals of the Aviva Premiership, particularly in the Saracens v Leicester game, there was a massive amount of attacking play. In fact, it was almost non-stop attack.
"I certainly expect to see an England team that will attack with the ball-in-hand."
Delving deeper, Dwyer expands on that thought, saying that Jones has evolved from favouring a conservative approach to the game to favouring a "non-structured shape to his game" as was seen at his tenures with Suntory Sungoliath, the Japanese national team, and what's been seen so far with his England.
Further to that, the word on the Dwyer's grapevine is that "the players feel that under Eddie they've got the chance to be themselves."
The Wallabies squad
Big Kev's attitude to life is haunting Dwyer here, as the former Wallabies coach is very excited about near future of the Wallabies' playing stocks.
The best Australian players are playing well – more on that in a second – with Dwyer particularly positive about the depth of Australian rugby at the moment, with some quality players having to miss out a good sign.
On the topic of those players who were selected, Dwyer is again equally optimistic about the current crop, as well as those returning and those up-and-coming.
What's Hot?
In short, the backs are good, the forwards are good. He reserves special shout-outs to Karmichael Hunt ("genuine quality"), calling his ability to draw defenders and make space for support play, a characteristic Dwyer admires, "the best in Australia".  Noting the "massive versatility" of the Wallaby outside backline, Samu Kerevi, Teviti Kuridrani, Karmichael Hunt, Israel Folau and Rob Horne also get a high-five from Dwyer.
According to Dwyer, the worst problem is that the utility of the Wallaby backs gives the coach a selection headache – "as a selector, it's a lot better if they have no versatility, you can just pick the best blokes in the position!"
Up front, Dwyer's smiling at the return of Sekope Kepu and the form of Greg Holmes ("[he] continues to play better, he's playing the best of his career"). Tighthead is sorted, as well as hooker, with mentions going out to the youngsters "in the Reds and in the Force" – presumably Dwyer's refererring to Andrew Ready and Harry Scoble.  The Wallabies are ok at the moment with Scott Sio and James Slipper, reckons Dwyer, but he's excited about Allan Alaa'alatoa and Tom Robertson coming through the ranks even though "it'd be nice if we could get his brother (Michael back from the Crusaders".
He's also raging for Lopeti Timani ("He's really starting to grow into the huge talent that he possesses. I know every player that plays against him says "once he hits you, you stay hit"), Robertson, and is pleased to see Leroy Houston ("outstanding" during his time in England, "a good player when he went away, and a better player even now") and Taqele Naiyaravoro (also "outstanding" during his Scottish sojourn) back from Europe.
What's Not?
Even on the possible mystery marks surrounding the Wallabies squad – namely 2nd row, wing, Joe Powell, and inside centre – Dwyer is all thumbs up.
"Wing and 2nd row have proved to be difficult, but with the case of 2nd row we've got 5 or 6 younger players in second row that could become really good players, and it wouldn't surprise if Cheika introduced one of them into the team for the England tests…wing's mainly a problem due to injuries to Adam Ashley-Cooper and Drew Mitchell"
What about Joe Powell? "I'm sure he's a very good player, and that there was a fair amount of discussion with Stephen Larkham about that selection, so they must have a hell of a lot of faith in him."
With inside centre, Dwyer isn't so sure that whoever's wearing the #12 has to have good ball skills. Pointing out the versatility of the other backs, Dwyer also opines that "I'm the last person to say you don't need ball skills but…Tim Horan is Australia's best ever inside centre, and he didn't have those skills".
Super & Michael Hooper
Despite some wobbles earlier in the season, the form has returned to comfortable levels. That's basically what Dwyer thinks of both Australian Super teams as well as Hooper this season.
"The Tahs have been building [towards form], the consensus within the camp that it's taken the team time to adjust to entirely different personality of their new coach Daryl Gibson…who presents himself entirely differently to Michael Cheika. So it's been a thought that it's taken the team time to adjust to that." Dwyer also says their showing against the Chiefs was "a big effort, [in a] tough, tough game, full of physicality, pace and skill, and I thought it was a great performance."
On the other teams, Dwyer says there's lately been "really good performances" from the Reds, while the Brumbies have been "a little bit up-and-down" their best performances have been good. "The Rebels and Force game", adds Dwyer, "I thought was also really good game, and to a high standard."
And finally, the one you've probably been waiting for: what do you think of Hooper, Bob? "He was absolutely outstanding," in the Chiefs game, according to Dwyer, "as good as I've seen him play…I'll give him full marks now, he's back to form." The former Wallabies coach, who was called out by Stephen Moore for his comments way back when, also singled out Hooper's attacking ability, tackle count and work over the ball.