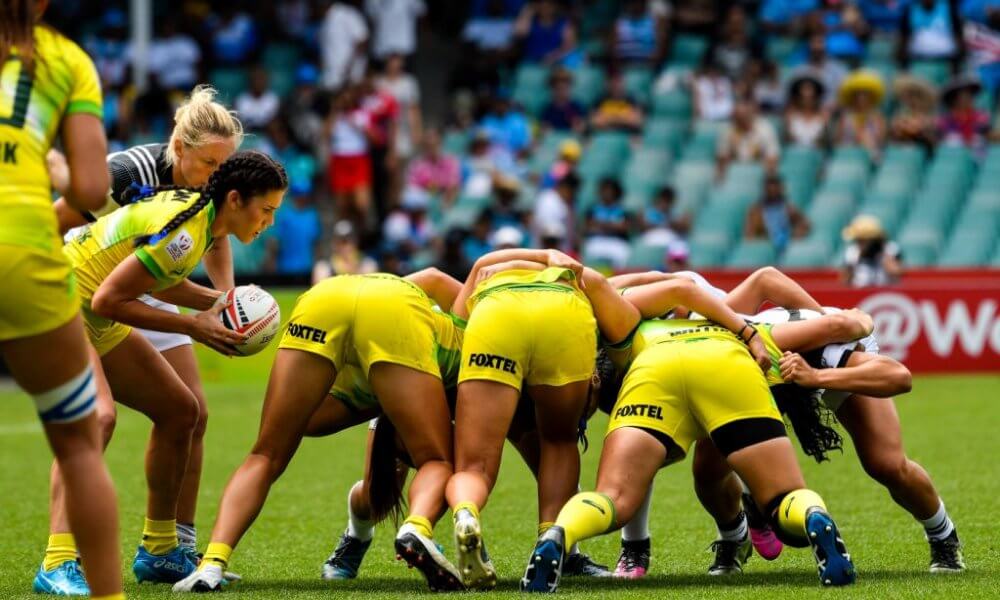 Welcome to Green & Gold Rugby's coverage of Day One of the 2018 Commonwealth Games Rugby Sevens tournament.
Australia's women play two pool matches today, against Wales at 5:37pm AEST, and England in the final match of the day concluding at 8:30pm AEST.
Stay tuned for a full match report and photographs from GC local Stephen Tremain.
Other results from Day One:
4:31pm: Canada 29 defeated South Africa 0
4:53pm: New Zealand 45 defeated Kenya 0
5:15pm: England 17 defeated Fiji 5
5:37pm: Australia 34 defeated Wales 5
BREAK
7:11pm: Canada 24 defeated Kenya 12
7:33pm: New Zealand 41 defeated South Africa 0
7:55pm: Fiji 29 defeated Wales 7
8:17pm: Australia v England
Australia v England, 8:17pm AEST
The Australian Womens Sevens outfit endured their toughest test of the Commonwealth Games thus far, pushing through to defeat rivals England 29-12 with a late flurry of points.
Australia's confidence may have been shaken through the first half as the powerful Englishwomen made a habit of striding out of tackles.
An absolute belter of a try to crowd favourite Ellia Green brought the mojo crashing back as halftime approached, while a rousing stadium-wide half-time chorus of 'You're the Voice' helped Australia lift into a second gear as the match drew on.
England's breakdown presence frustrated the home side heroes throughout the match, punishing any failure to offer timely support to an isolated ballcarrier.
Australia opened the scoring after several shots missed their mark, crossing eventually through winger Emma Tonnegato. A trademark show-and-go split the defence but pure speed proved the killer for England.
English skipper Abigail Brown put her side on her back, powering through a tackle on halfway before showing off a clean pair of heels to score an equaliser.
A second try, executing a simple overlap, pushed England further ahead 12-5 as half-time drew near, until Ellia Green struck.
The two-try hero from Australia's previous match this evening had the crowd on their feet before even catching the pass. Speeding outside a first defender, Green swerved on a dime to split the retreating defence and score between the posts to tie the match at halftime, sending her devoted audience into raptures.
Buoyed by the intensity of a raucous crowd, Australia grew an extra leg as the second half continued on.
Tries to Emma Sykes and Vani Pelite (second of the tournament) lifted Australia out of danger, but it was one final effort from Cassie Staples that broadcast the mindset of the group best.
Sykes, cornered by the English defence, launched a grubber kick behind the line for Staples to chase as full-time sounded.
Kicked with far too much venom, Staples pinned her ears back and channeled fellow indigenous sprinter Cathy Freeman to chase down and score a try that even the staunchest Gold Coast Titan would approve – trapping the ball below her as momentum sent her flying over the top of it and out of bounds.
The 29-12 victory showcased the fierce spirit of the group, of which any Australian can be proud.
Having braved their sternest opposition yet, all eyes turn to tomorrow's final pool match against dangerous Fiji (7:21pm AEST Saturday), and then the finals on Sunday.
Australia v Wales, 5:37pm AEST
The Australian Women's Rugby Sevens team have opened their 2018 Gold Coast Commonwealth Games campaign in furious fashion, slamming six tries through a porous Welsh defence to win their opening match 34-5.
It was the beginning of the end for coach Tim Walsh's Olympic-winning reign with the team, but the team have given him the perfect parting gift with a near-perfect start.
It was Australia's game from beginning to end, showcasing deadly decision-making and finishing to record a comprehensive victory.
Queensland locals Evania Pelite, Emilee Cherry, Charlotte Caslick and Emma Sykes featured prominently, while Fijian-born winger Elia Green made her long-awaited return from injury to score two tries.
Australia showcased their class from the game's opening moment, winning a lineout against the throw before finding Emilee Cherry bursting through the line, linking with Emma Tonnegato to score the opener.
To a pumping crowd's delight Australia showed no signs of slowing down as teenager Sykes skipped around multiple tacklers before putting away Pelite for the score.
Australia made what would be their only error of the night soon after as an errant pass missed the open target of Alicia Quirk.
Elia Green soon entered the fray, whizzing past the Welsh defence on the right wing to score Australia's third try.
Green's impact would be felt again immediately, delivering a thumping tackle to help force a turnover from the kick-off.
Australia spread wide and soon enough, a hard line from Sharni Williams carried the co-captain over to score on the half-time buzzer.
Former World Rugby player of the year Charlotte Caslick split the defence through the middle on a 60m run to christen the second half, only to lose the ball in the try-saving tackle of Welsh scrumhalf Jasmine Joyce over the try-line.
Australia's forwards went to work, winning the ball back from the scrum and sending winger Green over for her second from short range.
Wales would return serve halfway through the second half, batting down an Australian pass and scoring on counter-attack through Joyce.
The Australians showed patience and soon found space down the right wing for fellow substitute Dominique du Toit, scoring in the final minute to seal an impressive win.
There can be little critique offered for this side after a strong first showing; though the goal-kicking performance from Emma Sykes (2/6) was far from her best.
The Australians have little under 2.5 hours until a potentially pool-deciding clash with England.
Australia 34 (Tries: Tonnegato, Pelite, Green (2), Williams, du Toit; Cons: Sykes (2/6) defeated Wales 5 (Tries: Joyce)