On a glorious sunny August Saturday, the CAS season finished with Knox remaining undefeated, and being the deserved CAS Champions and winners of the Henry Plume Shield for 2015.
They started out as warm favourites and soon showed why this favouritism was warranted. They were the dominant side, but there were other worthy teams that could compete with them.
It is a moot point whether the home and away format of the CAS completion is ideal, but the fact that five out of six schools have won the completion in recent times, does show there is some life in CAS Rugby.
The 2015 competition was surprisingly tight, with various sides gaining or losing form. Injuries also played a part, especially with those schools with lesser depth.
It took Cranbrook half the season to develop form due to earlier injuries. Trinity was rarely at full strength and were a different side with just two or three players not playing. Even the undefeated Knox lost some potency when it lost two of its backs for a while.
The preseason form gave an indication of how the teams were to fare.
Cranbrook and Barker struggled with some large losses. St Aloysius gained some confidence with some solid wins, Trinity had a low-key preseason;
Waverley had some close trial games but a solid work out. They looked like a team that had flair in the backs, but might struggle with size in the forwards. Knox were business-like, had solid wins and looked like the form side coming into the comp.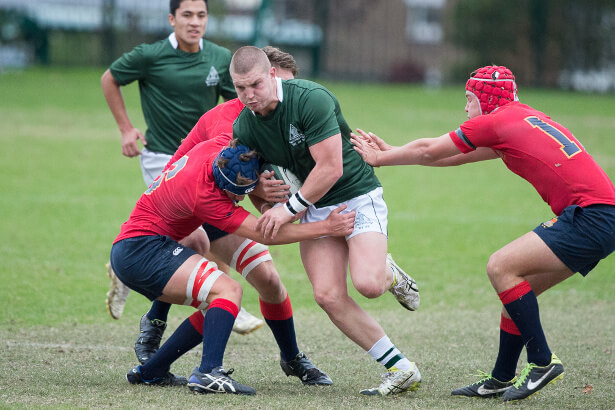 The season
Round 1
The first round started off in horrid conditions but still presented some good rugby. At Knox, Barker put a scare into many tipster's minds when they rushed out to a 10-nil lead; but that woke up Knox who powered away to a 48 – 10 win.
Against a weakened side in the mud at Queens' Park Waverley impressed with a 31-nil victory over Trinity. Their forwards did most of the damage, but their backs showed some class.
Aloys ground out a tight victory against Cranbrook 15-11, but against last year's champions that was a good start.
Round 2
Barker overcame Cranbrook at Hornsby 29 – 21; and with some of their forwards back Trinity battered Aloys 22 – 10 at Summer Hill.
Last year Knox came to grief at Queen's Park. This year they put on a masterclass and overwhelmed Waverley 41 – 0. It was only Round 2, but Knox looked to be the side to beat.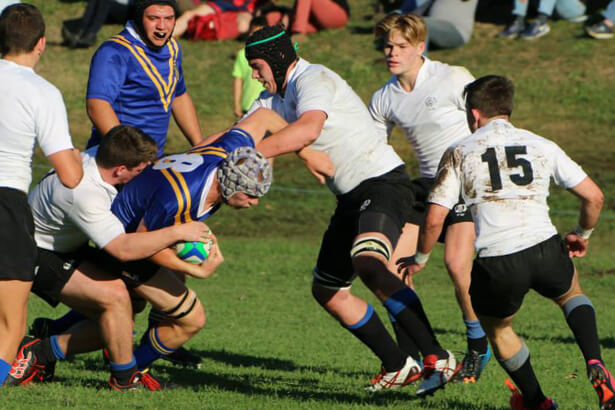 Round 3
In a game Aloys' supporters will remember for a while, their team put Barker to the sword 33 – 5. They did this even with significant injuries and also showed that their backline was class.
Waverley bounced back from the week before with a 48 – 28 win over Cranbrook. However the injury concerns started to mount for these two sides.
Though losing 17 – 8, a tough Trinity surprised Knox and showed the closeness of the competition.
Round 4
This round almost produced the upset of the season with St Aloysius going down 21 -20 to Knox at Willoughby. A last minute missed conversion was the difference with Aloys scoring three tries to two.
In a low scoring game Barker confirmed how tough they could be at home with a 13 – 10 victory over Waverley.
Meanwhile Trinity was on song with a 64 – 14 victory over Cranbrook at home, with their strong forwards setting up the win.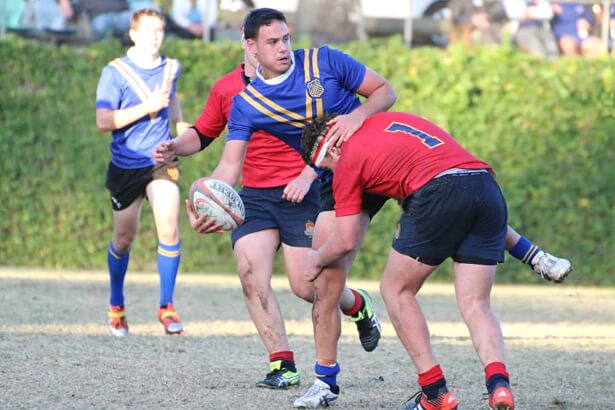 Round 5
Trinity scored an unconvincing win at home against Barker 21 – 20—three tries apiece. Though a victory Trinity proved how frustrating they could be with their inconsistency.
Aloys got a good victory at Queens Park accounting for Waverley 27 – 18. They confirmed that their back line was one of the best in the competition.
At Knox, Cranbrook led the home team for a while before getting overwhelmed 52 – 23.
At the end of the first round Knox was undefeated on 10 points. Aloys and Trinity were second on 6. Last year's winners Cranbrook were winless and last.
Though Knox were two wins free at the top of the table, Trinity and Aloys signalled that they could be a threat.
Round 6
Aloys reversed their earlier loss to Trinity (34 – 13) and played like a serious competitor. Cranbrook regained some players and form with a 23 – 17 victory over Barker. Knox did what they had to do against an injury-depleted Waverley at home with a 30 – 17 win.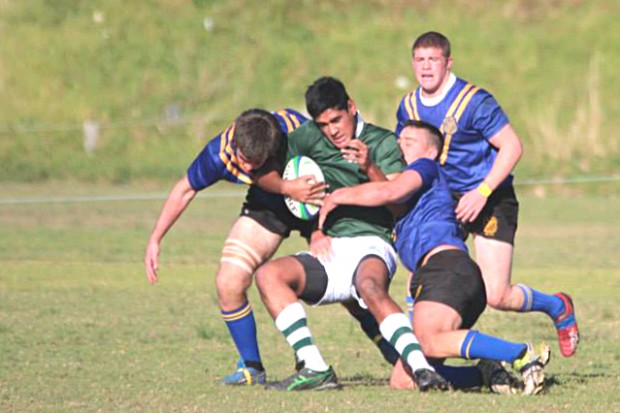 Round 7
Cranbrook made it two in a row with a well constructed 24 – 10 victory over Waverley at Queens Park. St Aloysius continued the run towards the championship with a 37 – 22 defeat of Barker.
Knox put on a workmanlike 22 – 5 victory over Trinity at Summer Hill. It could have been a 'banana skin' game for Knox, but they had too much class.
Round 8
Waverley continued Barker's woes with a 33 – 17 defeat at Queens Park. Cranbrook continued their undefeated run in the second round with a 39 – 23 victory over Trinity. Their injury issues were over and they now had one of the better forward packs in the comp.
Knox hosted Aloysius. A victory would win the competition but a loss would keep Aloys in the hunt. Aloys were unlucky to lose in the first round, but this time Knox impressed with a convincing 43 – 15 win.
Round 9
The form teams of the second half of the season met at Cranbrook. In a tight struggle Knox defeated Cranbrook 25 – 15. Goal kicking was a big difference as it was three tries apiece.
In a tight affair at Hornsby, Trinity just edged out Barker 18 – 17. And in the first draw of the season Aloys and Waverley drew at Willoughby.
Round 10
Aloysius had a close 12 – 7 victory over Cranbrook at Willoughby. Waverley scraped home over Trinity, at Trinity, 23 – 22, and Knox impressed at Barker 40 – 7 to end the season undefeated.
Knox was definitely the best side, but the completion for the minor places was intense, with some form fluctuations generating much interest.
The CAS ladder 2015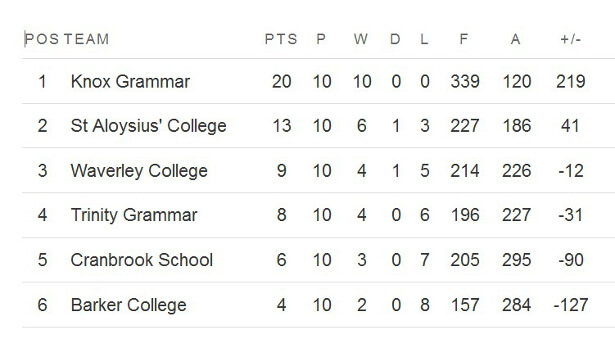 Click on Page 2 below for a review of each of the teams.