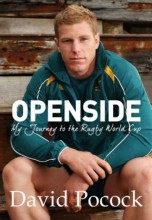 The man they call Bam-Man has finished writing and shipped his book to the printers. Openside promises us 'an insight into David as a professional athlete and as an individual'. Whether that will enable us mere mortals to get guns like his, we don't know, but to be sure you can pre-order a copy (here's the link) signed by the man himself.
All profits from its sale support David's latest social enterprise Heroes Boots, a footwear and clothing manufacturer that focusses on the fair and ethical treatment of the people manufacturing the products. It also works to alleviate the effects of poverty.
Heroes Boots has been kind enough to provide us a signed copy of Openside to give away. Naturally we're staging a competition and entry is simple: just reply to this post with an amusing caption for the photo below. The winner will be judged by David himself, so make sure your entry is a good one.