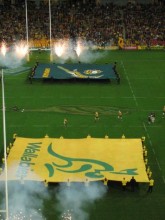 Keen listeners of our Podslam this week (it's a cracking show with Laurie Fisher, if you haven't had a chance to listen) would have heard of our giveaway. One of our great members has donated a couple of Platinum tickets for the Australia versus South Africa Test at Patersons Stadium in Perth on 8 September.
As discussed on the  show, we want to give this comp a local vibe and also give the #3rdtier a bit of time under the spotlight. Entry will be by giving us in under 100 words a summary of your Western Australian club. We want to know a little about the history, or a great tradition that is unique to your club, or, well, anything — just get creative. The best summary, as judged by us, will get the tickets. Email your entry to 3rdtier@greenandgoldrugby.com by close of business on Monday, 3 September (Western Standard Time, naturally).
While this comp is open to anyone with a knowledge of the Western Australian #3rdtier, the winners must be able to get themselves to the game.