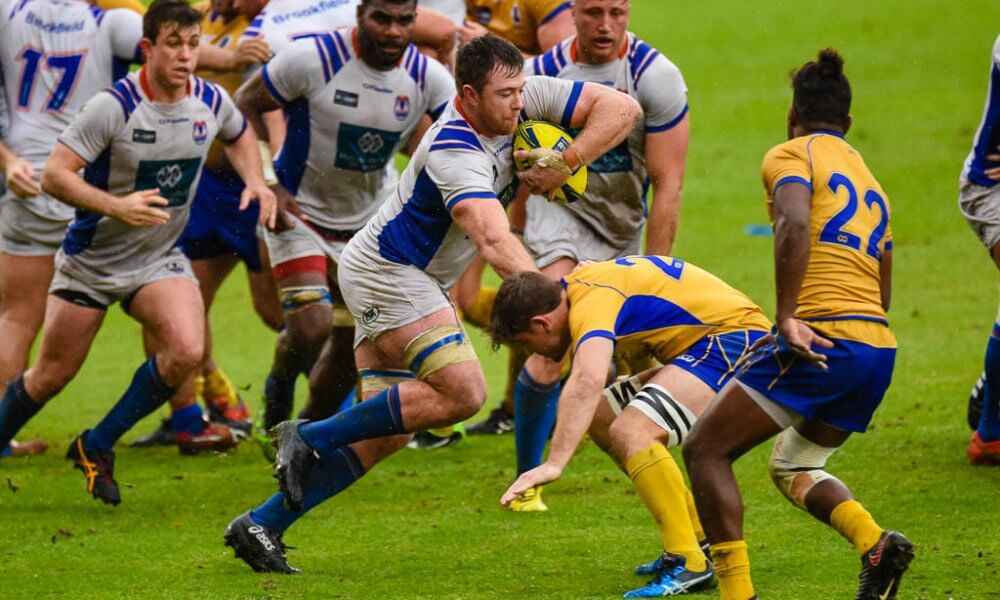 I think perhaps because this Brisbane City v Greater Sydney Rams game followed on from one of the truly great NRC matches (Queensland Country beating Fijian Drua in Fiji) and Brisbane went totally off the boil in the second half, I don't look fondly on this match at all*.
The Match
In poor weather conditions again for Brisbane City, they needed to win this one to have a solid chance of finishing in the top 4 and making the semi finals.
Dylan Riley scored early on and only minutes later Jake Strachan and Karmichael Hunt set up Ed Fidow who closed out a lovely backline try.
The Rams were starved of early ball, and City had lots of opportunities, including opportunities that proved they were a little keen with a slippery ball.
At the 10 minutes mark the Rams sustained pressure on City's tryline, but 5 minutes of attack was ruined with spilt ball.  There was a fair amount of feeling in this match, seen first with an extended off-ball tussle between Daniel Gorman and David Hickey.
CK scores in the corner. Few phases before there was great slight of hand from Cooper that saw Riley with the ball.
Lock Adrian Hall score for Rams in shadow of half time (pass from Jed Gillespie).
Rams open the scoring in the second half. Albert Tuisue scored, converted by Mack Mason.
Unusual sight of Rams taking the penalty kick which was successfully kicked by MM.
Frisby subbed at 57 mark after mostly unimpressive showing – good to have Sorovi on the field.
Rams hit the lead with a try from City's mess – playing inside our half without mastery of the ball was always a recipe for disaster. Mack Mason converted the try by Jed Holloway.
Jed Holloway score a second try and the momentum has well and truly shifted.
*Which explains this less than excellent review.
---
The Game Changer
Your game changing moment/talking point
The G&GR MOTM
Your MoTM here
Wallaby watch
Other players of note
---
The Details
Crowd:
Score & Scorers
Home Team: #
Tries:
Conversions:
Penalties:
Away Team: #
Tries:
Conversions:
Penalties:
Cards & citings
None