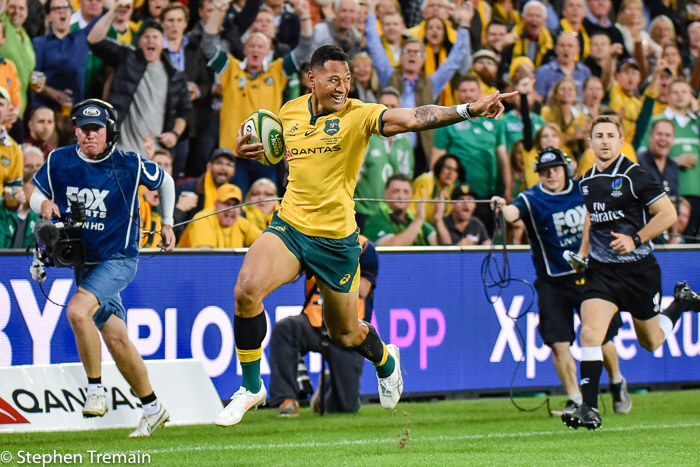 With the Northern Hemisphere teams being so accomplished in recent times it's paved way for these 3 Test Match Series and it has to be said they are a breath of fresh air in world rugby. The All Blacks v France, Wallabies v Ireland and Springboks v England…these are all mouth watering match ups and judging by ticket sales they have captured the imagination of the rugby publics in the Southern Hemisphere. In this analysis we're going to look at a number of clips from all 3 test matches.
All Blacks v France
Whilst the French ended up being well beaten at Eden Park they were in the hunt until French lock Paul Gabrillagues was wrongly yellow carded. The score was 11 v 11 at the 50 minute mark when the Frenchman was marched and it seemed to trigger the All Blacks into action. This clip is a great example of counter attacking rugby from a kick return. What's most notable is that every New Zealand back with the exception of halfback Aaron Smith work hard to get behind the ball so the Barrett brothers can spread the ball wide from the quick throw in. Even the All Black hooker, Codie Taylor gets into the action with 2 beautiful touches in the play. He must be the most athletic and talented hooker to ever play the game and he's transforming the way hookers play.

Wallabies v Ireland
The Wallabies and Ireland slugged it out in Brisbane and even though Ireland rested a number of starting players including Johnny Sexton all the big boys were on the park when the game was in the balance with 20 minutes remaining. The Wallabies defence was exceptional denying Ireland a try and limiting them to 4 kickable penalties. Australia's attack asked a lot of questions of Ireland's defence on the edges and we can expect them to continue to play with width for the remainder of the series. This clip highlights some problems in Ireland's back three pendulum defence. It's standard practice when a centre comes out of the line to spot tackle (as Robbie Henshaw did on Bernard Foley) that his winger also jams in to stop the offload or pass. Jacob Stockdale failed to react in time and was left scrambling as the Wallabies outside backs used the space on the edge beautifully and created a try for Bernard Foley. Ireland's defence coach Andy Farrell will be working hard to plug up their edges for game 2 and Steve Larkham will be dreaming up more ways to attack the edges.
Springboks v England
In Johannesburg England got off to a flyer leading South Africa by 24 v 3 after 20 minutes. Then the Springboks fired into action and this clip shows features the try they scored to go ahead on the scoreboard just before half time. It was classic Springbok rugby, a huge drive from the pack drew a penalty advantage so the backline threw a strike play at England and came up trumps. The big South African centres did enough to sit down England's midfield and Handre Pollard then fired out a pass for Willie le Roux to steam onto and crash over out wide. Eddie Jones will be fuming to let such a big lead slip and the England camp will be a miserable place to be this week as they gear up for the next test.

Summary
This week will see France try and regroup after taking a beating in Auckland. They need to hit back with something or this tour could fast become a nightmare. Ireland will no doubt start with their best team as they look to add an attacking edge for the second test in Melbourne. No doubt the Joe Schmidt and Johnny Sexton combination will be hatching some plans this week in training. In South Africa the pressure is on the visitors as England have to play at altitude for a second time. England will no doubt be wanting to bounce back and keep their series alive. There is a lot to play for across the board as the Northern Hemisphere teams look to strike back after the Southern Hemisphere are in the box position after one game.