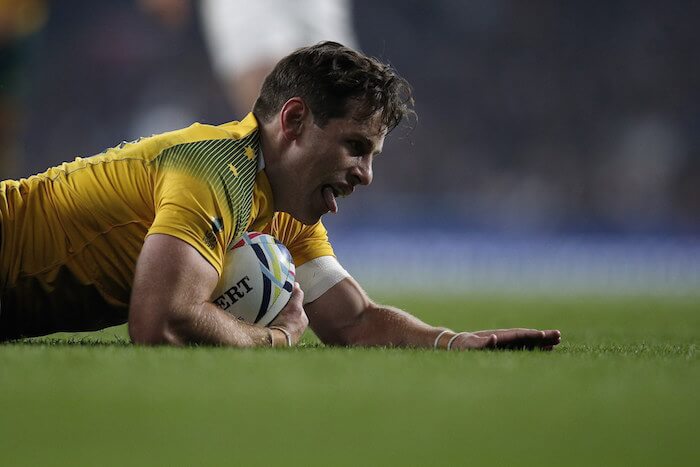 With the first of three tests between Australia and England being played this Saturday, it seems everyone has an opinion. Mine, as far as the series goes, is that Australia will win 2 – 1 at least. England may knick one game at best. But that's about it.
I reckon England probably fancy their chances of doing better than that. I was part of the England coaching staff back in 2010 when we absolutely destroyed the Australian forwards in Perth and won the second test in Sydney when we got the balance right and brought our backs into the game. We didn't fear Australia back then and I doubt the players in the current squad fear Australia today.
England recently won the Six Nations and with a new coach, in Eddie Jones, who hails from the South, they come to Australia with confidence and good momentum. I reckon many of them would be licking their chops.
So why do I think Australia will win the series 2 – 1 at least? It's because having done a coaching SWOT analysis for 'why not' sake, I found way more Wallaby positives.
Scrum
Five years ago, the Australian team fought the fight everywhere except in the pack, and no more so than in the scrum. They were still trying to play Super XV style footy in test matches, whereas the England players were used to playing test match style games on a regular basis in the English Premiership and Top 14 in France.
Wind the clock forward to today and, under Ledesma, the Wallaby scrum has become a weapon. The Wallabies proved that during the World Cup and there is no reason to believe the rate of improvement would have slowed. First points in my coaches SWOT go to the Wallabies.
Line-out
This is where the SWOT does a backflip. Australia had line-out issues in the RWC semi-final. They didn't fix them and got burnt in the final. Hopefully, they have been putting as much effort into improving the line-out as they did with the scrum this time last year. If you miss say three line-outs in a test match, that can be the difference.
The recall of James Horwill to the Wallaby squad is a sign that Australia is doing everything it can to sure up its line-out. He's been playing in England, for the Harlequins, and would have the 'intel' on England.
England's two young gun locks – Maro Itoje and George Kruis, who have the potential to rival Ben Kay and Martin Johnson as their best second row pairing in recent memory – are incredibly good at getting into the air quickly and that is the key to line-out defence. Plus their line-out coach – Steve Borthwick – is one of the best in the business. One – all.
Backrow
The SWOT flips again, but I will make this quick. Because the Wallabies will dominate this area of play, no doubt about that. Scott Fardy will be needed to help contain the English line-out. And with the Wallabies expected to play an up-tempo game, its Hooper and Pocock for mine. Enough said.
Halves
This is where things start to get very interesting.
Eddie has been talking up George Ford a lot. I reckon he will play Ford and Owen Farrell together. He did that during the Six Nations. But for mine, that would be a big mistake.
Ford is a great player, but defence is not his strong point. He's not big enough to defend in the number one channel, where the Wallabies are sure to send their ball runners.
There are too many dynamic players in the Wallabies team to carry a player like Ford, unless you use a Waratahs-like defence. This is where you put your 10 where the hooker would normally stand in the line-out. But Eddie didn't do that in the Six Nations.
If I were picking the England side, I'd go with Ben Youngs at 9. He's a big, strong athlete. And I would start Owen Farrell at 10. This would be the best combination England could pick to match Nick Phipps and Bernard Foley for Australia.
Farrell is a much stronger defender than Ford and has a better temperament for goal kicking in the big games. Ford's confidence would be down after missing 6 from 7 attempts in their recent warm-up match against Wales.
But I would have Ford, and Danny Care, on the bench. They are great players to bring on if you were down by 7 to 10 points with 30 minutes to go. They will ask lots of questions of a tiring defence.
I learned a lot about those England players, having worked with them for four years. Plus I coached in England all up for over a decade. So that's what I'd do.
But Eddie has come in and is seeing things with fresh eyes and sometimes that can be an advantage. But sometimes you have to learn these things as well.
For me, Australia will hold somewhere between a slight and significant advantage in this area depending on selections.
Attack
This is where Australia is going to have too much firepower for the Poms. Sure, England has some great players. The two guys that I had quite a bit to do with, Anthony Watson and Jonathon Joseph, have some x-factor about them.
Watson is a real talent who has this amazing nose for the try-line. And Joseph, well isn't he the 'prince of centres'? He reminds me a lot of Steve Rogers in the way he is such an unbelievably well-balanced runner. He is also an outside break 13, which is very different to the sort of 13s Australia produces nowadays. He has genuine gas and can take you on the outside, just like a Jason Little.
But Australia is blessed with too much speed, size and power and that will prove too much for England. I would be picking Christian Lealiifano at 12. Like many of our 12s, he is a good ball carrier as well as a good ball player.
Any talk of picking Israel Folau at 12 seems a bit crazy to me. He is a world class 15 and has already shown he could be a world class 13 too. I would pick him at 15. Why would you try experimenting with Izzy at 12 in a three-test series against the old enemy? Now is not the time.
I don't know who will make up the rest of the 'back four'. But Australia is spoiled for choices there. Whatever combination they pick there will have too much size and ability for England.
4–1 to Australia.
Location
While England would feel confident after their recent triumphs, lets not forget where the matches are being played. Martin Johnson summed it up best when he pointed out that England haven't done anything until they knock off a southern hemisphere team in the south.
Sure Eddie hails from down-under and with that comes a wealth of knowledge and experience. But Eddie isn't taking the field, although he probably would if he could, he is such a competitor. It's the guys that are playing that will find it tough in the, usually, much drier and quicker conditions.
Eddie has made a lot of noise about England having to be fitter and quicker to be able to keep up with the tempo of the southern hemisphere teams, but I don't think they are quite there yet.
Bottom line
So there you have. My SWOT says 5 – 1 to Australia. And that is exactly why I reckon the Wallabies will win the 3 match series 2 -1 at least. In fact, England looks like they could be lucky to even pinch one of the games. Good luck to both sides. But GO Wallabies.