Much as we hope that the Wallaby-England June series will be about technical expertise and tactical nous, I'm afraid that I think it will be about which team holds it nerve. It's personalities that will win this test series
There are three crucial areas to be considered for which team will hold its nerve and therefore execute their skills to win the test series.
First: Australia have a home field advantage that comes with history. Few sides, apart from their trans-Tasman rivals, have beaten them regularly in their own backyard. Even then, the All Blacks don't ever expect to win. That confidence allows Michael Cheika's team to play the full 80 knowing that they should prevail. This gives them the belief to continue to execute and not panic.
If that's the case, what happened on the recent Lions tour? There were so many unusual circumstances surrounding the Aussie team, with injuries, coaching problems and strange scrum laws, it can't be used in evidence for this case.
That gives the Green and Golds the first point for holding their nerve.
Second: England arrive with a bullish coach and a Six Nations Grand Slam under their belts. This has washed away much of the mental concrete that held them back in the World Cup. Though Cheika's team were a tough proposition at that time, the Red Rose wasn't close to blooming.
Muddled thinking about styles of play and selection choked them. Now, they are free to express themselves and play to their potential. Whether, on paper, they are pound-for-pound a better side is always debatable, but they have a belief they can win. This squares the points for the holding their nerve.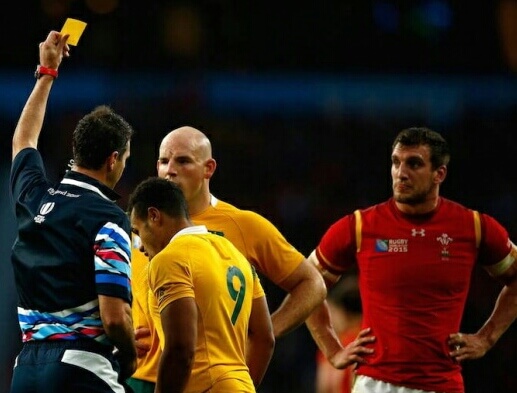 Third: Most vitally, the leaders must take charge on the field. Both sides have got plenty of experience, in both winning tight games and losing them too. Though Napoleon only ever wanted lucky generals, he also knew that once the battle begins, the chaos and speed of action means you need to captains who can make decisive decisions under pressure.
And decisive is the point. If you are going to the corner for a catch-and-drive, the captain says so straight away and everyone goes there. Any hesitancy causes anxiety on the ranks and a positive vibe for the opposition. Both Stephen Moore and Dylan Hartley lead from the front. Don't expect much consultation. They balance each other out.
I think the key lies at half back. I just wonder whether Bernard Foley has learned enough from standing next to Matt Giteau to step up as the backline general? I've no doubt that Owen Farrell, whether at 10 or 12, has.
Therefore, I give England the edge on this nerve point. So England by 3 in the first test. And then 2-1 in the series.
This article was written by the lovely Dan Cottrell, editor of Rugby Coach Weekly, a resource of more than 2,000 ready-made drills, session plans, warm-ups and fitness plans as well as in-depth coaching and training manuals. He coaches representative age-grade rugby in Wales, and supports England (quietly).
You can catch Dan on Twitter and watch some of his thoughts in video form on YouTube.