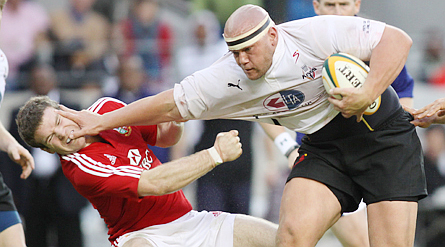 The South African Rugby Union has confirmed that the Southern Kings, based in Port Elizabeth on the Eastern Cape, will replace the Johannesburg-based Lions for the 2013 Super Rugby season.
You might remember the Kings as the franchise that, perhaps optimistically, looked to take the fifth place in the Australian conference when the 15th Super licence was awarded in 2010 — a position that, after arbitration, went to the Melbourne Rebels. Since losing the bid, they have been consistently lobbying SARU for a place in the league, which they were awarded in February of this year.
Since that announcement, SARU has kept mum on how it would facilitate such expansion, especially after having calls for a 16th licence rebuffed continually by SANZAR, the ARU and NZRU, and broadcasters reaping the benefits of the conference format. The future of the Lions franchise, in particular, had been debated, given their last-placed finish in both the South African and overall ladders. Today, the Union announced that the Lions, as the last-placed team, would be relegated for 2013, and a promotion/relegation match will be held from next season to decide who earns the fifth South African Super Rugby position.
This announcement seems to raise more questions than it answers. What becomes of the Lions players and their contracts? Will the SARU devote as much attention (not to mention finances) to a dormant Lions outfit as it did the Kings?
And when the Kings, who have failed to make even the Currie Cup Premier Division, are smashed around the park for all of 2013 and again face relegation, will all of this be worth it?
What do you think of this massive decision?