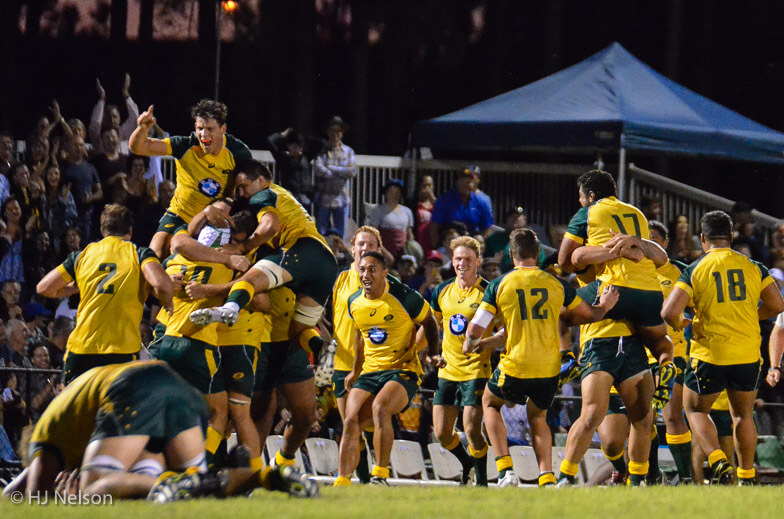 The BMW Australia Under 20s have named a 29-man squad chock-full of talent for the 2017 Oceania Rugby Under 20 Championship starting on Friday, 28th April, at Bond University on the Gold Coast.
The Championship
This will be the last series of lead-up games for the young hopefuls before they travel to the 2017 World Rugby Championship to be held in Georgia, from 31st May to 18th June.
In a sense it will also be a selection trial because some Super Rugby and Sevens players will not be available for the Gold Coast event but will be able to play at the Worlds, if selected.
In the Oceania matches the Aussies will play youngsters from Samoa, Fiji and the ever-formidable New Zealand.
Samoa did not qualify for the World Under 20s at Manchester in 2016 but were reinstated for Georgia after winning the second-tier World Under 20 Trophy in Zimbabwe last year. The exuberant Fijians were third in the 2016 Trophy event but only the winner was promoted to the Championship.
By their standards, the Kiwis had a poor 2016 Under 20s campaign, finishing fifth in Manchester after being defeated by Australia in one of the Oceania games before the Worlds.
Australia came sixth in Manchester: their results have been disappointing since being second in 2010 and third in 2011.
The players
The squad was selected on their form in the Super 20 competition.  Although nobody will care once they put on a gold jersey, Queensland, who won every match in the Super 20s including the final, had the most representatives named for the Gold Coast tournament.
Most of the 29 chosen have already attended a preliminary 48-man camp at Bond University to work on fundamentals and they will return to it on 25th April for more of the same, and other matters relating to game days.
The squad includes only eight from the 2016 Manchester campaign but there may be a few more for the the World Under 20s if players who are absent for Bond become available.
Players needed in the matchday 23 of their Super Rugby teams during the Oceania tournament were not considered for the 29-man squad.  These included Rebels' players touring South Africa now – hooker Jordan Uelese, 17-year-old lock Esei Ha'angana, and capped centre Sione Tuipulotu.
However there is a chance that they could be late starters at Bond University.
Twice-capped 19 year-old Force tight head prop, Shambeckler Vui, has also been reserved for Super Rugby, as has regular Reds' winger, Izaia Perese.
All the Super Rugby players mentioned above will be available for selection for the World Rugby Under 20  Championship whether they can play in the Oceania tournament, or not.
Sevens players, Lachlan Anderson, Liam McNamara, Henry Hutchison and Simon Kennewell will be considered for Georgia, but not for Bond.
Injured props Cody Walker (NSW) and Gavin Luka (QLD) will miss the Oceania tournament but may be able to recover early enough to be considered for the Worlds, as may 18 year-old no. 8 Rob Valetini (ACT).
However prop Harry Hoopert (QLD) and no. 8 Rob Leota (VIC) have been ruled out for the season.
The Australian squad members for the Oceania Under 20s may not be Super Rugby players nor play international Sevens, but they have a golden chance to shine in front of the national selectors—and be sure that some of them will play out of their skins and be selected ahead of more-fancied rivals for Georgia.
After the Oceania tournament a 28-man squad will be named for the World Under 20s and they will go to the Australian Institute of Sport in Canberra for their final camp, which will include a hit-out against a local team.
Oceania Under 20 Championship squad list
Forwards
Dan Matthew, NSW
Harry Johnson-Holmes, NSW
Harry Chapman, NSW
Va'auli Fa'amausili, VIC
Tom Horton, NSW
Efi Ma'afu, QLD
Sama Malolo, WA
Harry Hockings, QLD *
Angus Blyth, QLD
Ryan McCauley, NSW *
Darcy Swain, ACT
Lachlan Swinton, NSW
Angus Allen, ACT
Liam Wright, QLD *
Angus Scott-Young, QLD*
Reece Hewat, QLD *

Backs
Harry Nucifora, QLD *
Ryan Lonergan, ACT
Theo Strang, NSW
Hamish Stewart, QLD **
Nick Jooste, ACT *
Tony Hunt, QLD
Jack McGregor, VIC
Dylan Riley, QLD
Len Ikitau, ACT
James Ramm, NSW
Semisi Tupou, VIC
Jayden Ngamanu, QLD
Jack Maddocks, VIC *

* 2016 Aussie Under 20 player
** Super Rugby capped player
The forwards will have strength in the front row and back row. The second row won't have the bruising play of the unit which played in the Oceania tournament last year, but they will be athletic and skillful.
They may lack big bopper ball runners in traffic and anybody who shows otherwise will get a big tick on the clipboard.
They will have good scrum halves but their flyhalf unit may have a problem especially if the best one, Hamish Stewart, is recalled by the Queensland Reds to play. At least Jack McGregor, who was not named in the initial training squad of 48, will be available now.
The remaining backs will be the ones most threatened for spots in the World Under 20s by the "blow-ins" from the Aussie Sevens' team, but they are also the ones who have the biggest opportunity to shine on the Gold Coast because the globe-trotters won't be playing.
---
2017 Oceania Rugby Under 20 Championship
Bond University, Gold Coast
Round 1 – Fri, 28 April 2017
New Zealand v Fiji – 5:00 pm
Australia v Samoa – 7:00 pm
Round 2 – Tue, 2 May 2017
New Zealand v Samoa – 3:00 pm
Australia v Fiji – 5:00 pm
Round 3 – Sat, 6 May 2017
Samoa v Fiji – 5:00 pm
Australia v New Zealand – 7:00 pm
[All times AEST]
The matches will be streamed live on the ARU website.
.