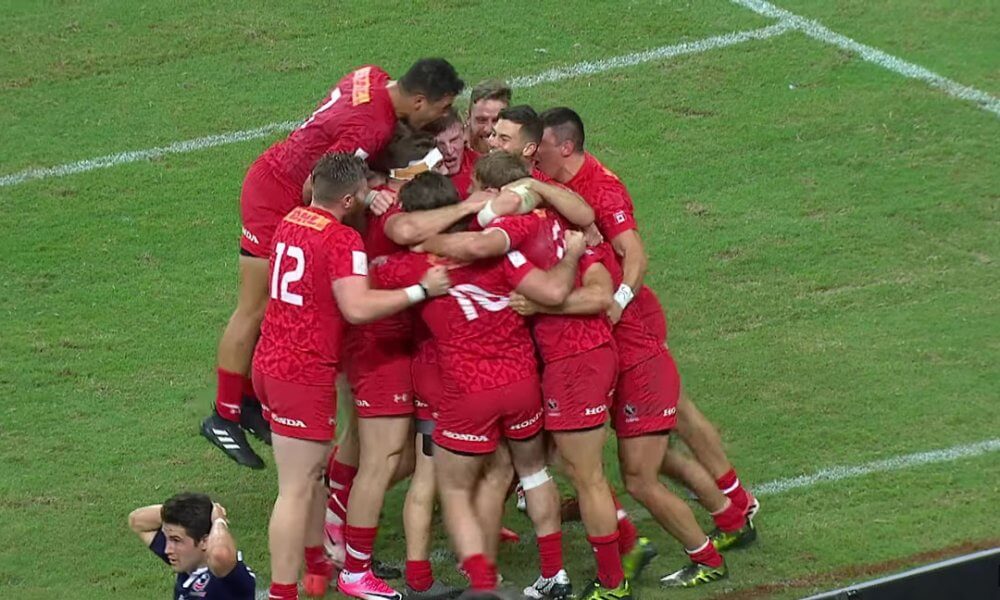 Welcome to our post Easter Tuesday Top 5. This week, in our sugar induced state we grade our teams on their performances, sneak a look at the Singapore 7's get angry with the Good, Bad and Ugly, take on MMA in Rugby v UFC and wonder … is it all really as terrible as we are being told?
Report card
Reds A-: The reds were back to their attacking best against the Kings, shaking off last week's drubbing to put on an outstanding attacking display. Kerevi was staring to look dangerous again, the Kings had more trouble containing him than recent teams have. Smith was outstanding in his milestone game and Cooper was definitely a welcome return, steering the ship well.
Rebels B: The Rebels finally got on the board with a stunning win over the Brumbies. They powered on in attack, scoring one good try to Naivalu on the wing. Their defence was immense, causing the Brumbies to drop the ball on many attacking chances. Discipline was a big problem for the Rebels, and had they been against a better team they would have paid dearly for the silly lapses.
Brumbies E: The Brumbies gave one of their worst performances of the season in their 2 point loss to the Rebels. Despite scoring 3 tries to 1 they looked inept in most areas. Their lineout was terrible, they dropped the ball more often than not and their defence was sketchy.  Even their scrum let them down at the most crucial point in the match. Something needs to change before they play the Canes or a 50-60 point margin could be on the cards.
Waratahs WTF: The Waratahs are renowned for having good weeks "on the training paddock" and this week, while they had the bye, looked to be no exception.
Waratahs arrived at training carrying a rope together. A symbol of all being attached to rope & leaving past behind pic.twitter.com/o8V64opfyz

— Jamie Pandaram (@JamiePandaram) April 17, 2017
Some of the replies are gold!
Singapore 7's
Well … I dare anyone to claim that they actually predicted this one. USA, England, Canada and Australia in the semi-finals. Kenya were insanely unlucky to miss out, losing to England after the siren due to a very questionable penalty in front of the posts.Anyway, out of those four teams you'd probably expect an Australia v England final, right? Nope! USA v Canada. An all North American final. Has that ever happened before? I'm sure I could Google it to find out, but hey, it's a public holiday, I'm stuffed full of chocolate and feeling lazy.
The final was a very entertaining affair, with Canada getting a big early lead, the USA fighting back and Canada breaking away again towards the end to win 26-19. Oh, wait, in regards to my earlier question, just came across the answer by accident while I was looking up the score. Yep, it's the first time for an all North American final.
So with teams from North America showing improvement and success, how long until we get a press release from SANZAAR saying that in order for the competition to expand into North America, 2 more Australian teams will have to be cut leaving just the Reds and Waratahs as our only hopes in the comp? (Seriously, as if the Reds and Tahs will ever in a million years be even whispered about in ARU HQ as being in threat of being considered to be put on a list of possible teams that might one day be cut?)    
The Good, Bad and Ugly
The Good Aussie teams winning!! Woot Woot!!!
The Bad Only 7,500 showed up to watch the Rebels v Brumbies. I'm not sure what their smallest crowd on record is (again, research v laziness) but I bet this weeks was close. I know … Easter Saturday, other footy codes on etc etc. I imagine they had the same problem over at Etihad. Easter Saturday, other footy code on at the same time … the Blues are probably pretty disappointed at their 24,968 crowd.
The Ugly This week for some reason I have noticed more and more arguments breaking out on Social media and in the Forums of this very site. One commenter in a forum thread summed it up well … Aussie Rugby fans are turning on each other and to be honest I'm downright sick of it. Rather than get behind each other there is an all-out fight going on between fans of the different franchises. Whether it's an attempt to make their team look like it should be saved by rubbishing other teams, or just pointing out every negative thing that has ever happened at the franchises, it's all being brought out now. This should be a time when we are united, but instead the Rebels should go be because they can't compete with the AFL, cost the ARU millions and keep losing, the Force should go because they are too far away, don't have a rich owner backing them and keep losing, the Brumbies should go because they had inept management and dodgy dealings, oh and because they are the Brumbies and no-one likes them, The Tahs should go because they are losing and have terrible crowds and are the Teacher's Pets and the Reds should go because they have dropping crowds, poor results and encouraged Richard Graham to keep thinking he was a coach. Australian Rugby fans are in a pretty Ugly state right now.   
What? There's rules?
So, after a few incidents over the weekend it's always good to look back and clarify the rules so we can get our heads around what happened, especially with new rules coming in constantly and the ever changing TMO protocols. Let's start with the Timani v Arnold matchup.
Looks like a deliberate kick to the head from @MelbourneRebels Lopeti Timani, received a yellow card after #TMO review. #REBvBRU pic.twitter.com/O2kGyrwQby — Patrick Yuen (@PatrickYuen_36) 15 April 2017
At about mid-point of the first round we saw Timani strike Arnold with a knee to the head while he was grounded. Looking at the rules it clearly states that if he is grounded, kicks or knees to the head will not be allowed.
I must say I was really impressed that we went to review on this one to avoid the controversy of a few weeks ago when the bout was stopped after an obviously illegal knee was ruled illegal by the referee, but then went unpunished in error – and it did affect the outcome.
Oh, wait! Sorry, that's UFC rules. They have this thing about keeping it legal and protecting the heads of their fighters including having rules about contact with the top and back of the head. (ironic I know).
Shame rugby doesn't have similar laws to protect players heads from foul play resulting in intentional contact with a player's head. Really makes a mockery of the HIA protocols to protect players from head injuries.
I must say I really am a fan of the of the TMO review on Saturday night on how hard the contact was.  When UFC goes to replays for referees in the near future I am hoping George can get a gig. I can't wait to hear Bruce Buffer saying "After referee review, it only grazed him even though it floored him; so as it wasn't that hard and only little bit illegal, scrape him up and fight on – he didn't hit him hard enough!"
But in all seriousness, it does bring in to question about the role of the TMO in the review process. Beyond confirming that the incident has occurred (identifying the elements of the offence), how much more should they contribute? The TMO comments proved to be highly influential on Saturday in mitigating the severity of the offence; incorrectly. It does draw in to question if such comments in fact intrude into the jurisdiction of the judicial process that evaluates the evidence of the offence including severity and mitigating circumstances.
But the Foul play review committee demonstrated their lack of understanding of protecting players from head injuries with this description of events:
"The Foul Play Review Committee deemed the act of foul play, which involved an intentional, but glancing, strike to an opponent's head… merited a mid range entry point of 8 weeks,"
For those unaware, a quick bit of Google research of glancing blows and the potential to knock out a fighter will reveal a long list of instances, even videos; and also reveal a glancing blow can be much more damaging compared to that of a direct one.
But alas, this is old news: http://www.smh.com.au/sport/us-sports/in-defence-of-ufc-a-respectful-sport-and-safer-than-the-rugby-codes-20151116-gl0hjy.html
The other incident that has got a few talking is Mafi taking a leaf of Owen Franks' playbook and playing peek-a-boo with Sio.
Mafi should send a few chocolates the citing commissioners way for not picking this 'contact with eyes or eye area' up pic.twitter.com/AgbuC2ENrz

— Steve Lenthall (@steve_l15) 16 April 2017
It's really interesting to compare rules / laws on this one and who is really "protecting the players". So apart from Sio, I think we all saw the incident. Now believe it or not UFC actually works to prevent potential dangerous actions that may lead to contact with the eyes:
A fighter that moves their arm(s) toward their opponent with an open hand, fingers pointing at the opponent's face/eyes, will be a foul.
Rugby allegedly has an "after the fact" law about contact with the eyes (Law 10. 4 – contact with eyes or the eye area of an opponent) but apparently, it's hard to see (pun intended) if someone makes contact with the eye area of a player even with TMO review available.
For an allegedly cerebral sport, the fact that a thug sport such as UFC seems not only more aware of the dangers but also endeavouring to protect its employees more than Rugby is really disturbing. Even more disturbing is that the career ending injury of Benn Robinson has failed to serve as sufficient warning to rugby about the dangers of even accidental eye contact.
It horrifies me to think that in the midst of that melee Sio potentially could have easily suffered the same fate as Robinson.
Can't see the forest for the trees?
After watching some of the games on the weekend it got me wondering is the "game of rugby" the real innocent victim of this Super Rugby civil war, and have we now subscribed to the rhetoric in fear and started looking at things with preconceived ideas.
Over the weekend there were some cracking games of Super Rugby. The Hurricanes v Blues was a tight affair, the Brumbies v Rebels was ugly but tight, the Stormers v Lions was a really good game, the comeback by the Chiefs against the Cheetahs; all decent and entertaining games. It's what Super Rugby is about and what we all want to see. The SANZAAR teams going hard at it.
But Fox Sports has already got an article up demonstrating that the preconceptions are part of the reason for Super Rugby struggling.
Two weeks ago I watched the Kings play the Force and it was a really good entertaining game between two competitive sides that was a close-run thing.
This weekend I watched the Kings play the Reds and it was a really good entertaining game between two competitive sides that was a close-run thing.
But already we know via Fox Sports that the Tah's v Kings game is a crowd write off. Why? Reputation.
The fact that the Kings have scored more tries than any Aussie team doesn't even get a mention. The fact that they have only conceded 2 more tries than the Tahs won't get a mention, nor the fact there is one point different in the for and against. Be honest, did you know that? If you don't then who does? Certainly not the general public we want to attract to the games.
There is no doubt that Super Rugby is currently flawed, has issues and needs rectification. But are we, the supporters half the problem? We can't deny that most of the games were pretty good over the weekend.
So is this less about good rugby "games" and something else?
It's interesting to consider that the AFL, NRL and even the FFA had to step away from their history and traditions and make significant changes, in the NRLs case, it was partially forced to make sure they could move forward, establish their product and compete in the Australian sporting landscape.
It's interesting to ponder if Rugby in Australia is now here on this precipice and unable to let go of the past (history) and too paralysed and indecisive to move forward or able to clearly identify what direction it wants to go?
One thing I will say is if it's a good game of rugby, regardless of who is playing I will watch it. Even better is it's my team playing.