It's being lauded as the gutsiest and most impressive defensive effort of this World Cup and perhaps any other – the Wallabies holding out Wales on their line with only 13 men  for seven minutes. It was all a bit of a blur on Sunday morning, so with the benefit of the freeze frame, in this article we'll investigate what transpired over those precious minutes.
You'll see two forces at play in this analysis: a Wallabies team that executes skills under pressure and fatigue almost flawlessly and a Welsh team making poor decisions and simple errors when they matter most. On such things are World Cups won or lost.
60th minute
This is an opportunity well and truly butchered by Wales in numerous ways.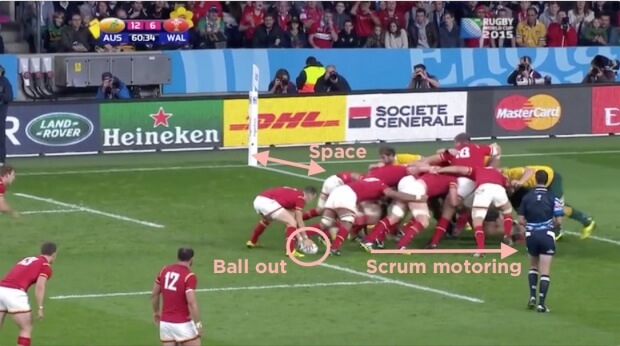 The Wallabies are packing a seven man scrum 5 metres out from their own line. The Welsh get a shove on, but just as they're headed toward the Australian line for a pushover or penalty try, the Welsh 8 Felatau loses control. The ball squirts out the back to Davies the 9. A try goes begging.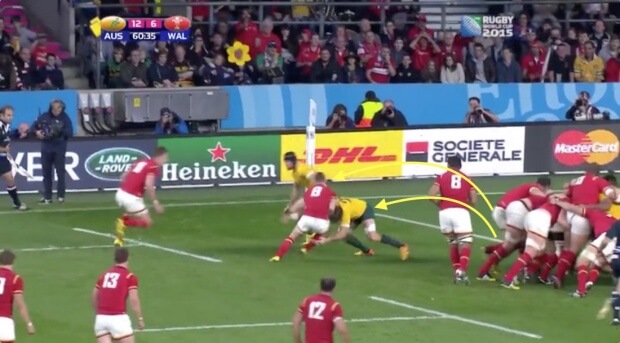 Davies picks up, sees space on the short side and makes a dart. The Wallabies could easily have been caught out here, but McCalman is quickly off the scrum and Giteau appears from no where outside of him to cover Williams the Welsh winger. Quick thinking from Davies and Felatau could have seen an inside ball to the Wales 8 for a certain try, but it doesn't seem to be a consideration.
The move breaks down when Foley comes to help. Big Dog (McCalman) then gets up, forms a pillar at the ruck and takes down the next drive.
61st minute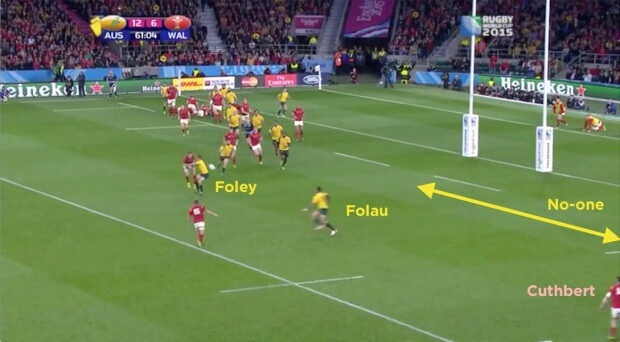 A few pick and goes later and the Welsh spin it wide – they have a three on two overlap with quite literally half the try line wide open to Alex Cuthbert. The two Wallabies defenders Foley and Folau come up as one and as fast as they can. Foley pressures Biggar into a looped pass and Folau almost intercepts. Wales goes backwards 30 metres, but somehow Joubert calls advantage over from the knock on.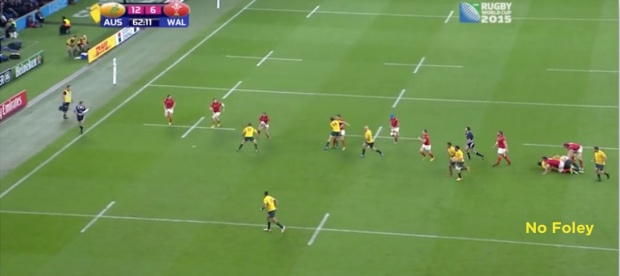 Two phases later the Welsh have managed to create a very useful three on one down the short side using Biggar, their centres and Cuthbert. AAC hammers Biggar, Mitchell poleaxes Roberts and a covering Folau collects Cuthbert.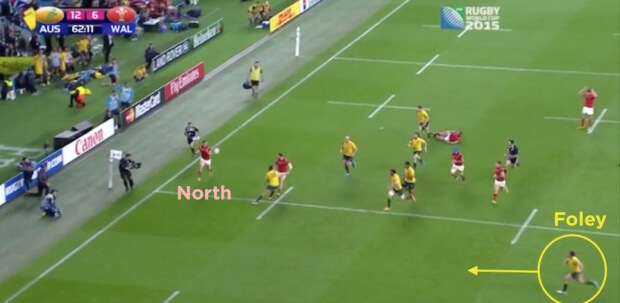 That leaves the try line open for the 192cm 107kg wing/centre North, except that is for the 182cm, 89kg Bernard Foley who has come haring in from midfield in a sweeper's role.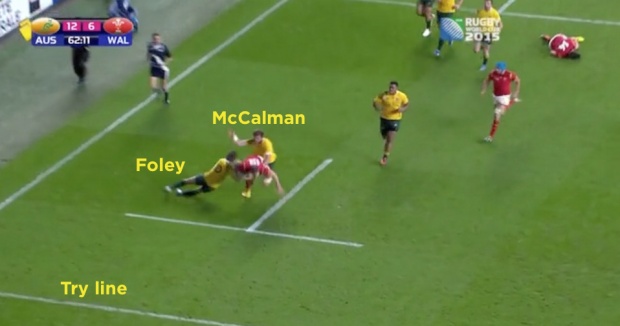 Foley gets enough of a shoulder on North to bring him down allowing McCalman to get in front of the Welshman and hold up the otherwise certain try.
63rd minute
From North being held up, a scrum is set on the Australia 5m line. The Wallabies have seven men in it and are determined not to yield an inch. There are two collapses before Wales clear the ball from the final attempt.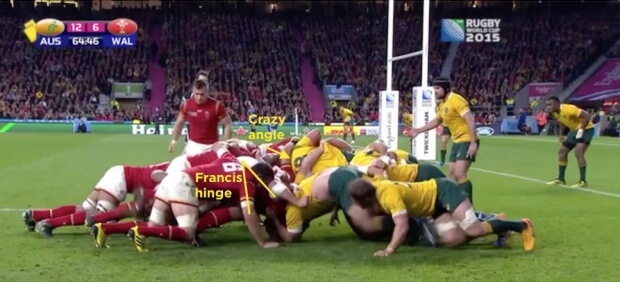 In this third scrum Wales put on the first shove after the feed to little effect. Then it's Australia's turn to put on the pressure. On the far side of the scrum the Wales loose-head is coming in at a crazy angle. While it's not clear who started it from this view, Holmes is unlikely to be boring in, tilted up as he is.
On the near side Wales tight head Tom Francis is struggling to keep his footing from going backwards. He hinges and Slipper goes to ground as a result. Australia may be unlucky to not get the penalty but more importantly the scrum has gone no-where despite them being a man down.
65th minute
The next 10 phases are nothing short of heroic textbook try-line defence. Yes, all tackles need to stick in this situation – and they do. But to be in position to make them requires time for the defence to re-adjust and number up, especially when you're two men down. This means slowing the ball down just that second or two longer to buy the team time, but not give away yet another penalty and quite possibly another man to the bin.
There are two key points at which the Wallabies do this.
The first is seven phases in. Wales has gone to the left edge and are now working their way back right. Throughout this sequence they use their strike ball carriers Roberts and North extensively. This is Roberts' second carry and he charges back from deep on an inside unders line from Biggar.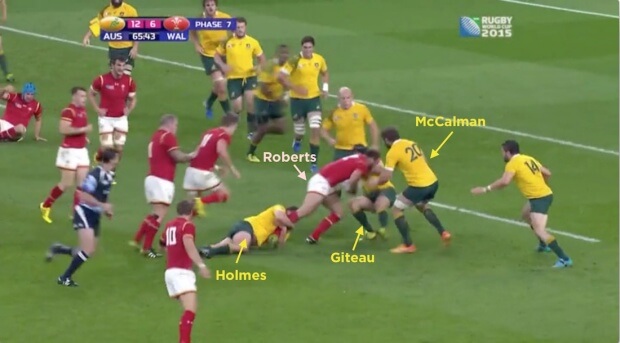 As they do throughout these phases and the match, the Wallabies double tackle; Holmes goes low around the bootlaces and Giteau high around the chest  – which results in him bouncing onto his arse from Roberts' 110 kilos. Neither tackle sticks, but it's enough to bring the Welshman down.  McCalman arrives almost immediately and the Big Dog goes to work on Roberts who's working on a squeeze ball between his legs.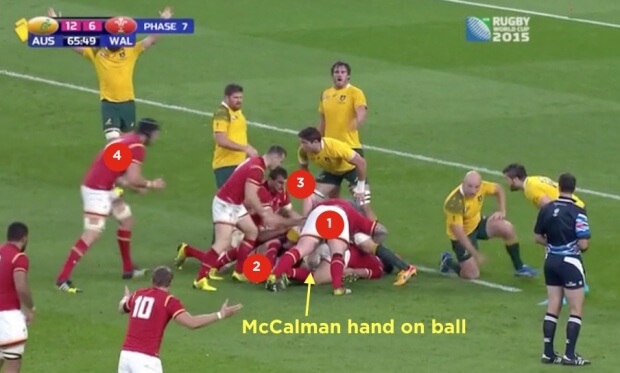 North is screaming for the ball on the open wing as three Welsh cleaners try to shift the West Australian. It's not until a fourth cleaner arrives that he rolls off the ball which is probably also half a second before Joubert reaches for his whistle as McCalman is clearly no longer supporting his own weight. Wales gets the ball back, but by my count, McCalman bought the Wallabies between four and five precious seconds.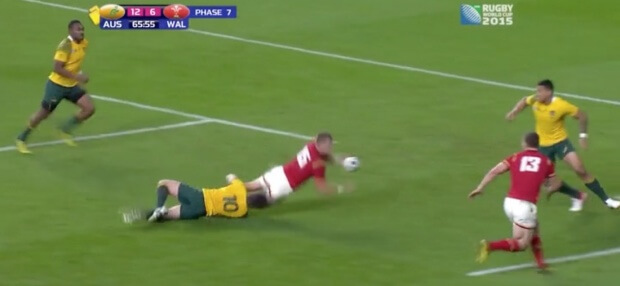 Eventually the ball goes wide where it's two on two in plenty of space. Foley executes a textbook grass-cutter on Anscome and Folau brings down North with help from a scrambling Kuridrani.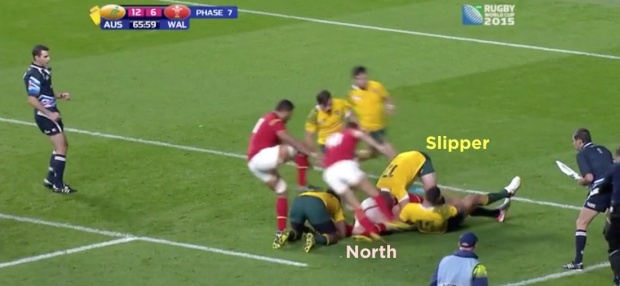 Impressively, Wallaby Loose-Head James Slipper is first to the scene and he latches on to North's squeeze ball buying vital seconds for the Wallabies. It takes two goes but the Welsh cleaners do their job just in time.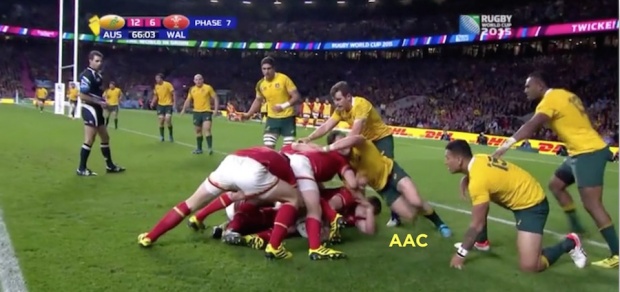 Ashley-Cooper lends his shoulder to the effort, adding another second to what turns into a 5 second clearance. Looking up, this means that the Wallabies have managed to number up again…..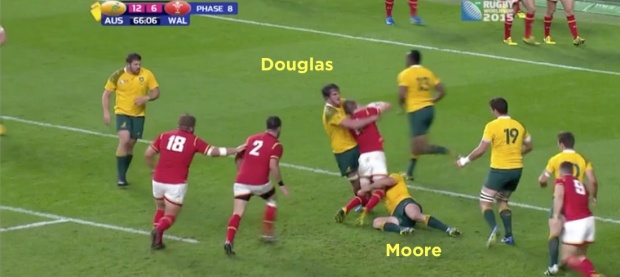 …so that when Liam Willams attacks the line, Douglas and Moore are able to hit him high and low, forcing the ball to be held up. Take a bow Nathan Grey – those drills have paid off!
At this point Beale, Toomua and Polota-Nau replace Mitchell, Giteau and Moore.
66th Minute
The next scrum is a mess, lurching forward, back and then side to side before the Wallaby tight five look to walk through the middle. Joubert however penalises Fardy for early disengagement.
67th Minute
Genia's yellow card expires and Phipps come onto the field – the Wallabies are now just one man down.
Wales go for a 6-man lineout which Simmons unsuccessfully contests.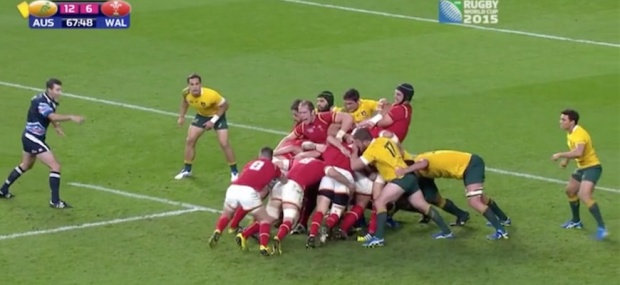 Wales win their own ball, but the ensuing maul is poorly formed with Felatau and Charteris being caught upright. Worse, there seems to be no drive coming through and eventually Joubert tells them to use it for a second time.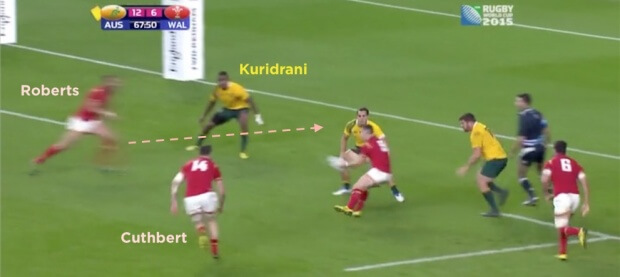 From the maul Wales run a scissors play where Roberts comes at an unders line and Cuthbert, who had been lurking on the short side behind the maul, offers himself as a threat to the Wallabies midfield. Either Kuridrani makes the read of the century and decides Roberts is a decoy, or he just plain misses the Wales 12, distracted by looming Cuthbert (the image above seems to say the latter).
Either way Roberts goes steaming through untouched, but without the ball as Davies the Welsh 9 decides to go wide to Biggar. Roberts however was a viable option and his remonstrating later would suggest he thought so too. Another try goes begging.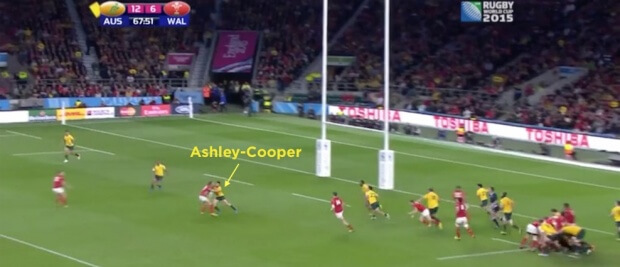 Instead, Biggar gets caught ball and all by Ashley-Cooper shooting out of the line.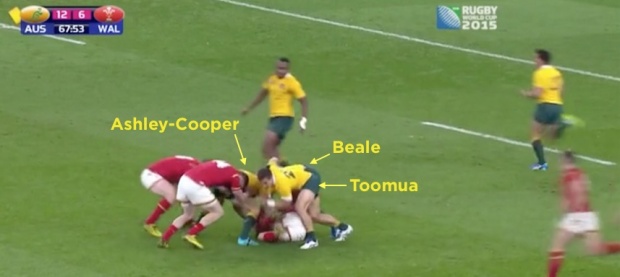 As we've seen him do so many times before, he's back on his feet and over the ball instantly, forming a shield between the arriving cleaners and Kurtley Beale who's come to help and winds up pulling off most probably his first, but most definitely his most important, turn-over of his career.
And that's it. The Wallabies are down the other end of the field, on the attack and within a minute or so back to fifteen men. The match is on its way to being won and two very different World Cup destinies being unfurled.