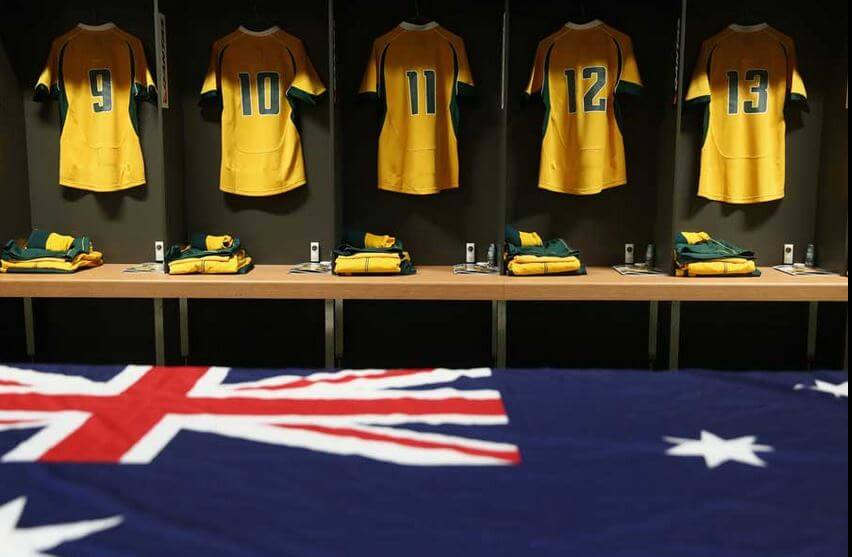 The Wallabies survive the Welsh flood
Matt Rowley in his "Guts gets the glory" article gave a good summary of this game:
Wales had done their homework on Australia and used rush defence together with flooded breakdowns to disrupt the Wallabies pattern of play. Aerial bombardment got the men in red the territory they needed and if it hadn't been for another monumental scrummaging effort from both Australian front rows they might have been able to make that pay.
Wales dominated Possession (60%) and Territory (63%) throughout the game but didn't score after the 33 minute mark.  In the second half, with even more dominance (Possession 64%/Territory 68%) and the Wallabies down to 13 men for 8 minutes and 14 men for an additional 6 minutes, they were unable to breach the Wallaby defence.
The Wallabies made 134 tackles and missed only 11 (92%) against Wales 84/15 (85%).  Wales disrupted the Wallaby maul to the extent that it was ineffective and the Wallaby Lineout seemed always under pressure.
The "battle at the breakdown" was a key feature of this match.  The Wallabies won 52 of 56 rucks (93%) and Wales 77 from 85 (91%).  Total Turn Overs were Wallabies 11:9 Wales.  Turn Overs by Forwards were Wallabies 5:3 Wales.  The Ruck Involvement statistics show how Wales was committed to not giving the Wallabies any easy ball and the Wallaby playmakers little time and space.
RUCK INVOLVEMENTS
Remember:
Early means 1st or 2nd of player's team AFTER the ball carrier has been tackled and brought to ground.
Impact means active engagement: strong physical contact, changed shape of ruck, clean-out, protecting ball etc. (more than hand on someone's bum or arriving after the hard work has been done). Yes it's subjective – but as I collect all data at least it's consistent.
Impact DOES NOT equate to Effectiveness. I've concluded that coming up with an effectiveness measure is just too hard in the time that I have available – but open to suggestions.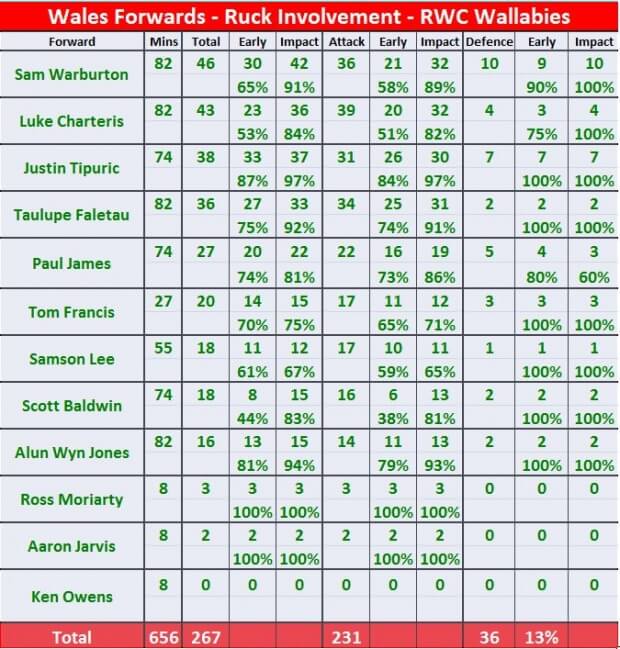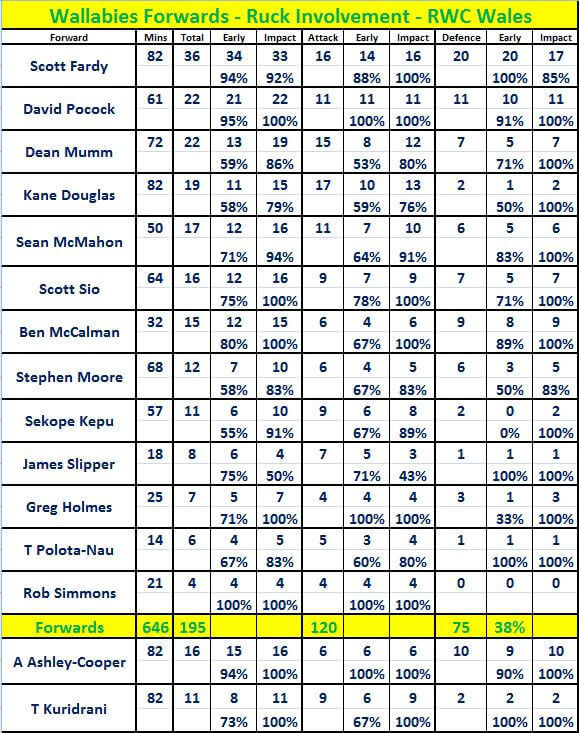 Comments:
Over the match the Wales Forwards had 40% more Ruck Involvements than the Wallaby Forwards.
Wales had a specific focus of protecting their own ball carriers and negating the impact of the Wallaby "fetchers" while being very selective in Defensive rucks in order to strictly maintain their own defensive line.
Wales Forwards Defensive Ruck involvements were only 13% of Total Ruck Involvements. The half-by half breakdown was 20% and 7%.  Wales standing off Defensive Rucks was very noticeable after the main break.
By comparison, Wallaby Forwards Defensive Ruck involvements were 38% of Total Ruck involvements. This level was maintained throughout the match. This is the highest level of engagement under Cheika.
Wales Backs contributed only 16% of their teams Total Ruck involvements.
Wallaby Backs contributed 23% of their teams Total Ruck involvements.
Defensive Ruck involvement was the clear focus of Fardy, Pocock, Sio and Moore and Ashley-Cooper. Both Fardy and Pocock earned 2 TOW.  Mumm 1TOW.  Replacements McCalman and Holmes maintained this pressure.
For Wales Defensive Ruck involvements were from Warburton (1 TOW), Tipuric (1 TOW), Charteris (1 TOW) and James.
Both Front Rows contributed about 32% of their team's Total Ruck involvements.
Four Wales players had same/more ruck involvements than the Wallaby best. Tipuric also had top tackles for Wales (13/1).
Douglas (15/0), Fardy (13/0), Pocock (10/1) and Mumm (9/1) were the Wallaby top tacklers.
All of the Wallaby Forward replacements made strong contributions. However, McCalman put in a mighty defensive effort for his 32 mins off the bench with 15 Total Ruck involvements (6D/9D) and 9/0 tackles. He also had 6 runs for 10m.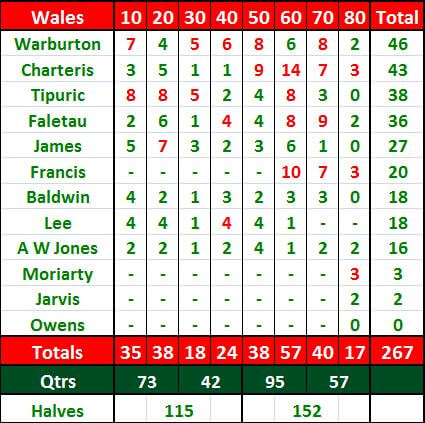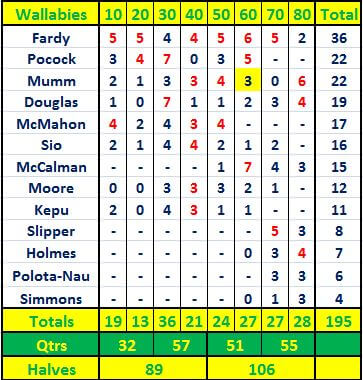 Comments:
The Wallabies were obviously initially rattled by the intensity of Wales after the opening whistle.
Wales had more than double the Wallaby Ruck Involvements during the opening 20 minutes.
The Wallabies were struggling to get their hands on the ball and were being worked-over at set pieces.
However, by the 2nd quarter of the game, the Wallabies had gained scrum dominance and were out-rucking Wales. By 36 minutes the Wallabies were ahead 9:6.  Wales did not score again.
Wales attempted to fight back in the 3rd quarter and with strong possession worked hard to protect their ball carriers. Again their Ruck involvements were nearly double that of the Wallabies.
The Wales onslaught during the period of the Wallaby Yellow Cards (56-70 minutes) is clearly evident with some mighty efforts by the Wales Forwards. Big efforts from Charteris, Francis (from off the bench), Tipuric Felatau, Warburton and James.
Fardy, Pocock and Ashley Cooper and replacements McCalman and Slipper were standouts during this period.
The Wallabies increased their Ruck Involvements in the 2nd half by 20% in response to Wales lifting theirs by 40%. For Wales this was due to possession.  For the Wallabies it was through stoic defence and hard work.
Douglas, Mumm and those off the bench led the Wallaby effort for the final 10 minutes.
Looking Ahead
With wins over England and Wales, the Wallabies are entitled to consider Twickenham as home turf for this RWC.
The Wallabies are likely to have to defeat all 4 "Home Nations" if they are to make the final.
Other teams will learn from the Wales game plan as a way of countering the Wallaby play-makers.  However, once Wales lost any scrum dominance it was never going to hold back the Wallabies.  But, the Wallabies will need to develop counter measures more quickly.
I am still concerned about the relatively low ruck involvements of the Wallaby Front Row compared to other top-tier teams.  In my view this places an unreasonable work load on our Back Row and restricts their opportunities for more linking/open play.