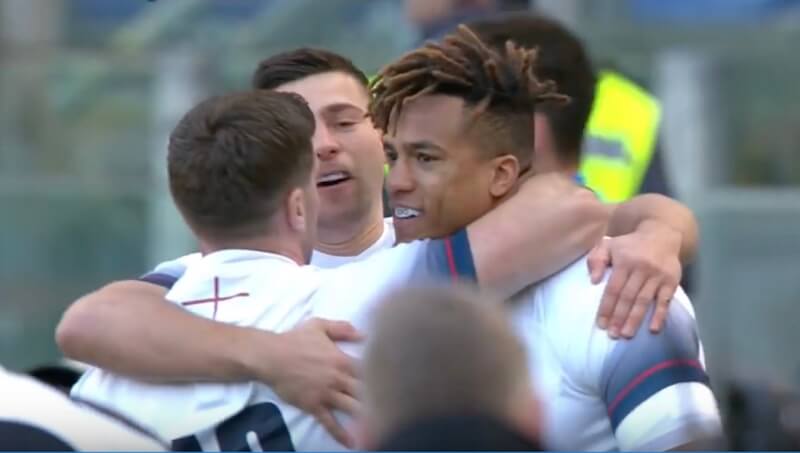 England were far too classy for the brave Italians in the opening round of the RBS 6 Nations and they enjoyed a 40 point thumping of their hosts. Eddie Jones has discovered another absolute gem at number eight with Sam Simmonds scoring 2 super tries in debut. The Ford and Farrell combination in midfield was superb creating time and space for their gas men on the wings. It was a cracking start for England but there was one small weakness that they will need to address.
Watson's Wheels
I had a little bit to do with Anthony Watson as he broke into international rugby so it's pleasing to see him getting better with every international season. He shows electric speed scoring this try early in the game on the right edge. It started from a scrum on the left as Ford ran around Farrell with Ben Teo on the burst. Teo held up the Italian midfield and Johnny May chimed from the blind side taking a pass from Ford. May's speed created space for Watson and he ignited his jet shoes to out-pace the flying cover defence. It was a simple run around play but the speed of May and Watson is breathtaking.
Back Row Discovery
England may have discovered another Lawrence Dallaglio and his name is Sam Simmonds. The young tearaway back rower is blessed with outstanding power and acceleration and that was on display with both of his tries on Saturday. The try we are about to started with a solid English scrum on the right edge. England had a crack at Italy through the midfield then Simmonds ran a good line off Danny Care. The Italian defenders were more concerned with defending Otoje but they'll not make that mistake again. Simmonds still had work to do but he's very comfortable in space. He's not unlike the rampaging Angus Crichton.
Ford & Farrell Show
A number of times in this game England played really quick tempo "Keep Going" rugby to drag the Italian pack across the pitch before sending Farrell and Ford down the blind side to play havoc against Italy's big men. This clip is a good example of that. It sees England run a simple and direct 31 pattern that exposes the Italian defenders on the blind side. Ford and Farrell have plenty of tricks when they hit back. These boys from Wigan are a class act. They've grown up together in the same street and now they're both world class ball players.
Italy Find a Weakness
As you will see from these 2 clips England can get caught on the edges when they are defending their try line. The Italians got them twice by quickly getting to the middle of the park then pinging the ball to the far edge. Both these clips tell a similar story. If Italy can expose this weakness Johnny Sexton and a few of the other ball players in this championship will be licking their lips.
It's early days in the 2108 RBS 6 Nations but already Wales, Ireland and England look like the real deal. Scotland were disappointing after the beating they gave the Wallabies and France cannot afford to lose at home because they're not a great force on the road. It's really going to be another cracking championship in the northern hemisphere.