New Year's recently celebrated, new year's resolutions probably already broken. So it seems a good time to think about what the 2013 season seems likely to hold for the Waratahs in the Super Rugby competition.
2012 wasn't a good season by any stretch of the imagination, and this for a team that seems to specialise in being talked up by all and sundry in the media (and it seems their own ranks), before disappointing itself and its fans, being eviscerated by hostile media, and turning on itself in the usual round of recriminations, sackings and back-biting. Just another year at Tah central….
2012's particular horrors? Massive injury toll, worst season in years, coach walking, crowds down.
However, the darkest time of day is always just before the dawn, they say. So with the eternal optimism of a Tahs fan who has seen this all before over the last 20 years, let's consider the coming season.
Head Coach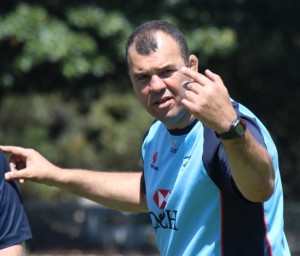 Michael Foley departs for the Force, and we welcome Michael Cheika. Many fans won't have shed a tear for Foley, who by all accounts was and is a good forwards coach, but seemed to continue the lack of any real excitement or winning nous in the team that had been seen and complained about under Chris Hickey. Cheika has been talked about for a number of years as a possible coach for the Tahs, having enjoyed succeed with Randwick in the Shute Shield before venturing to Europe initially in Italy, then transforming Leinster (the perennial underachievers of Ireland— sound familiar?) into a lean, mean European winning machine, and a brief sojourn at Stade Français replacing Ewen McKenzie (déjà vu?).
The last move seemed to see Cheika getting the punt before he could really come to grips with the team, or at least we hope that's what went wrong. Cheika appears to have all the features NSW has been lacking for years – a mongrel spirit that wants to win, a my-way-or-the-highway approach, an unwillingness to suffer fools, an apparent commitment to developing local talent, a belief in basic skills. All the traits that seemed to scare the pants off the NSWRU in previous years. I am hopeful that Cheika is the man we need to kick NSW rugby back into winning shape. If not, he seems the bloke who'll drag it out the back of the milking shed with the .303 to put it out of its misery….
Assistant coaches
The last few years have seen a number of assistant coaches who, to be brutally honest, didn't seem to to be assisting much, and with a high turnover rate to boot. Wisemantel was replaced by Bowen, with neither seemingly capable of sparking the backline. Gaffney was hired, but not put in charge of the backs, when he is meant to be one of the best backs coaches in the world. The defence coach spot seemed neglected before hiring one of the best around, John Muggleton, in only a part-time role, who was then allowed to go to the Rebels while the head coach role flopped about like a whale beaching itself.
Foley coached the forwards well before taking over as head coach, which seemed to distract him. Cheika seems to have the coaches he wants, as most of those there from Foley's days were punted quick smart. There's nothing worse than a head coach being stuck with a bunch of asssistants he didn't want or inherited, or yes men (not that we've apparently seen that in recent years in the gold jersey mob or anything).
Head office
The source of much angst for fans (and coaches and players) has always been the goings on at head office. The tweed jacket/leather elbow patch brigade in charge, as generally for rugby internationally, seemed to be the last the professionalise, and committed most to their own agendas and aggrandisement rather than looking after rugby first and foremost. The NSWRU hived off the Tahs into their own corporate structure two years ago, albeit with much the same bodies involved. However, the old faces have been slowly departing, there seems to have been a commitment to employ more staff, and the place slowly seems to be transforming itself into a corporate sports team rather than the previous apparent holdovers of the amateur era.
If nothing else it is a matter of pure survival, because if they don't pull their fingers out with the team results tanking and crowds plummeting, they'll all be out of jobs! They also have the example of the Reds having turned their fortunes around in short order, as a counterargument to any whinges that it takes time to change things, etc. The faecal matter has hit the fan, and they've put a head coach in charge with apparent licence to do what needs to be done. So batten down the hatches, hope the wins start coming, and ensure there's enough hot pies and cold beers for those who turn up. At this rate, we might even get some attention to junior rugby some time soon….
Backs
NSW churns out a boatload of talented backs with talent and pace to burn. So of course they all rack off to the other teams (Beale, anyone?), we've got Queenslanders coming out our ears (McKibbin, Barnes, Mitchell, some bloke called Folau), and we can't seem to score tries to save our lives (can we call it Wallabyitis?). The backs have been a focal point of complaint in the last few seasons. They don't seem to have any structure or flair, they kick the leather off the ball, and badly, and basic skills seem in the toilet.
Apparently Cheika has a commitment to basic skills and playing more entertaining rugby, and Gaffney is in charge of the backs now, so hopefully NSW can start putting some razzle-dazzle in the backline and entertaining those still turning up to games. If they can, they might start rebuilding their supporter base. Sticking with a pragmatic 'winning ugly' approach was never going to set the Sydney market, one of the most competitive sports markets in the world, on fire.
Forwards
NSW used to be be a feared pack. How so? Because you'd read the South African rugby sites and they rated us as a pack, and they don't do that lightly. However, the wheels seemed to fall off last year, whether it was Foley losing focus due to having the head coach gig, or simply not getting their heads around the latest rules interpretations, or part of the general malaise in the team. The Tahs have much the same cattle as previous years, and plenty of Wallabies (much to the whining of some other teams' fans). So the pack is hopefully an area NSW can quickly regain its previous strength in, and provide a platform for that razzle-dazzle backline to start running off.