You guys have spent the past 12 weeks ranking The Wallabies against one another – here are the results
The first chart is the player's rank. The second chart shows the  the player's thumbs up to thumbs down ratio, with less than one being a bad performance. This is the blue line.
The column represents the volume of the votes that were garnered both positive and negative.
I draw a line in the data at midday (AEDT) on the Monday following the game.
Here are some Numbers for the past 12 games Rankings (I don't have the data for the Lions series)
Total Votes cast: 100571
[checklist]
Total Up votes cast: 62235
Most Up Votes received – Israel Folau – 5786 – 12 Games – Quade Cooper – 5532 – 10 Games – Michael Hooper – 4804 – 12 Games
Highest Average Up Votes received – Quade Cooper – 553 – 10 Games – Matt Toomua – 536 – 6 Games – Scott Fardy – 528 – 9 Games
Highest Ratio (Up Votes : Down Votes) Matt Tomua – 8.2:1 – Quade Cooper 7.8:1 – Scott Fardy – 6.98:1
[/checklist]
[badlist]
Total Down votes cast: 38336
Most Down votes received – Ben Alexander – 3250 – 8 Games – Ben Mowen – 3238 12 Games – Will Genia – 3125 10 Games
Highest Average Down Votes received – Sita Timani 522 – 2 Games – Jesse Mogg – 417 2 Games – Ben Alexander 406 8 Games
Lowest Ratio (Up Votes : Down Votes)  – Sita Timani – 1:5 – J Mogg 1:4 Ben Alexander 1:3
[/badlist]
The forwards
[tabs tab1=" Slipper" tab2="Moore" tab3="Kepu" tab4="Simmons" tab5="Horwill" tab6="Fardy" tab7="Hooper" tab8="Mowen"]
[tab id=1]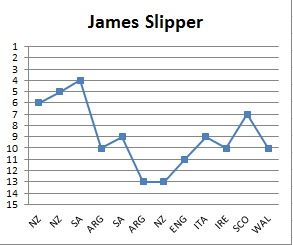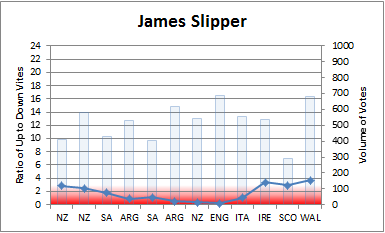 A good consistent last 3 weeks. Strong scrummaging against the Irish, Scots and Welsh seems to have lifted him out of the Red Waste.
[/tab][tab id=2]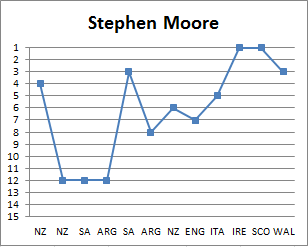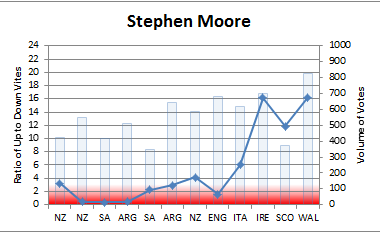 For a forward to have a ratio this far above the red speaks volumes. The last 4 games were some of his best in Gold. Seems to be flourishing under the new Regime. We haven't seen this form a couple of year. Running and passing like Jeremy Paul used to.
[/tab]
[tab id=3]

Forwards don't get the votes – its a fact.  But this front Row combination seems to have peaked your interest. Andrew Blades should be pretty with this three. The Welsh game was his best a for long time, even at Super Rugby level.
[/tab]
[tab id=4]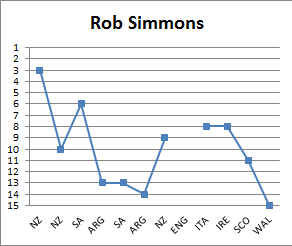 Wouldn't be happy with the way he finished the season with poor Ratio and a poor ranking against the Welsh. But when your side plays well someone has to be ranked at the bottom.
[/tab]
[tab id=5]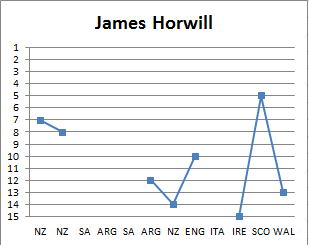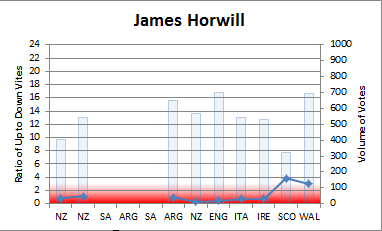 Finished the season out of the Red which is good. Considering he used to be a fan favourite he'd want to get back to the form that saw him get the captaincy.[/tab]
[tab id=6]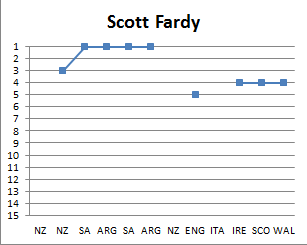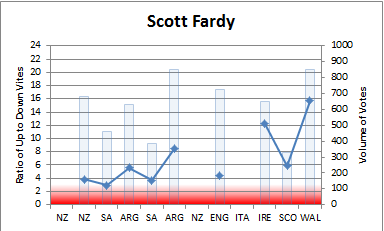 Australia hasn't had a Blindside enforcer with this much Mongrel for a long time. He didn't put a foot wrong in your eyes. When it comes down to it – he doesn't do anything 'spectacular' he just does the Hard work a blindside break away should. Do the simple things Brilliantly as they say.[/tab]
[tab id=7]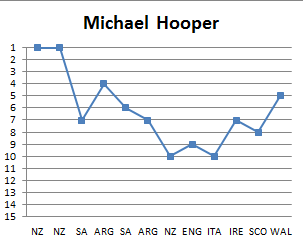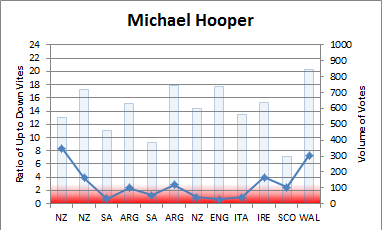 I'm pretty sure the 40 or so people who invariably down vote this guy are Kiwi's or David Pocock. Didn't have a bad game.

[/tab]
[tab id=8]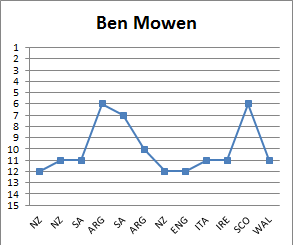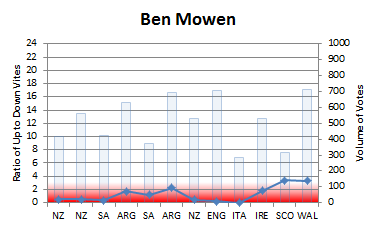 You guys know what to expect from Mowen and he rarely exceeds expectations or falls short. He's the sort of player every team needs. Didn't let the Leadership effect his performance either.
[/tab]
[/tabs]
The Backs
[tabs tab1="Genia" tab2="Cooper" tab3="Cummins" tab4="Lealilifani" tab5="Ashley-Cooper" tab6="Tomane" tab7="Folau"]
[tab id=1]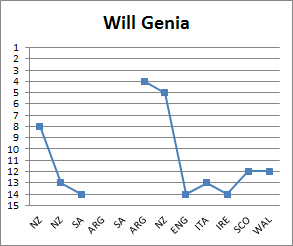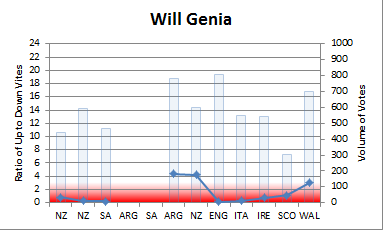 The World's best are able to perform at the top for continuous periods of time. The troughs should be short and shallow. 2013, in your opinion has been a long valley of form for one of the world's best.
[/tab]
[tab id=2]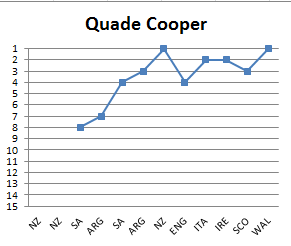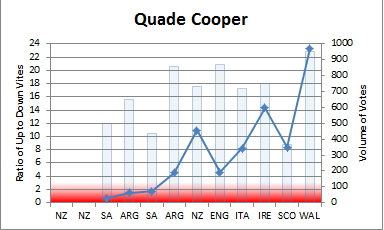 The tour VC didn't miss a beat, continually improving. Had a good ratio against England and kicked on from there. With him at 10 and Folau at 15 it brings back memories of Burke and Larkham.
[/tab]
[tab id=3]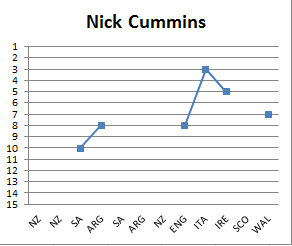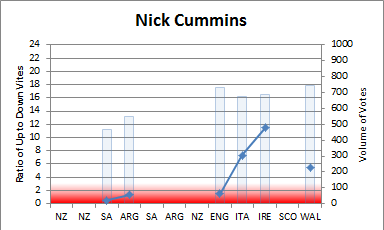 Doesn't garner the volume of votes as the more flashy backs, but has finished the season well in the Black. Seems to have gone to the same school as Fardy – Do the Simple things brilliantly and don't stuff up (on the field)
[/tab]
[tab id=4]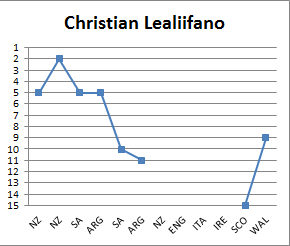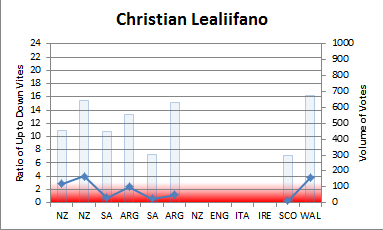 Bounced back well from the poor kicking last week against the Scots. With Toomus and he battling over the 12 jersey it boads well. This is a channel that cops a lot of traffic and Australia needs depth there.
[/tab]
[tab id=5]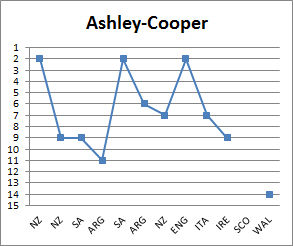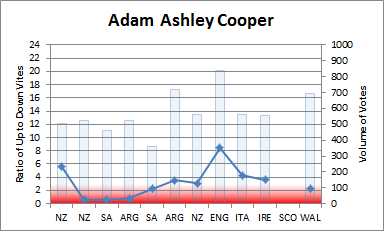 Didn't enjoy the rest. Maybe you expected him to bounce back from the 'Drinks' set back. Anyway he didn't do enough against Wales to warrant a solid finish. The ranking trend at the back end of the season wasn't what you would expect.
[/tab]
[tab id=6]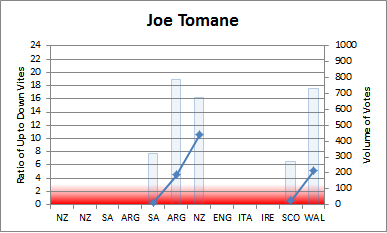 Inconsistency when compared to some of the more fancied backs is probably the reason he hasn't locked down the position. Only 5 games out of the 12 so he needs to meet your expectations a bit more often.
[/tab]
[tab id=7]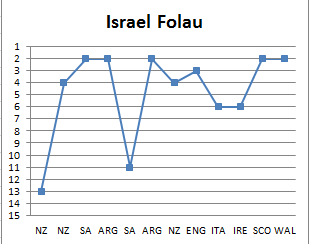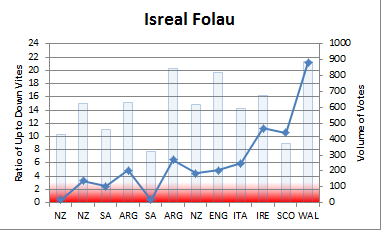 Get's more up-votes that "Izzy-Good" puns in the paper. Cooper and he have certainly set the benchmark for the backs with ratio's of positive 20+ in the game against Wales. Showing a bit of agro towards Mike Phillips didn't hurt either.[/tab]
[/tabs]