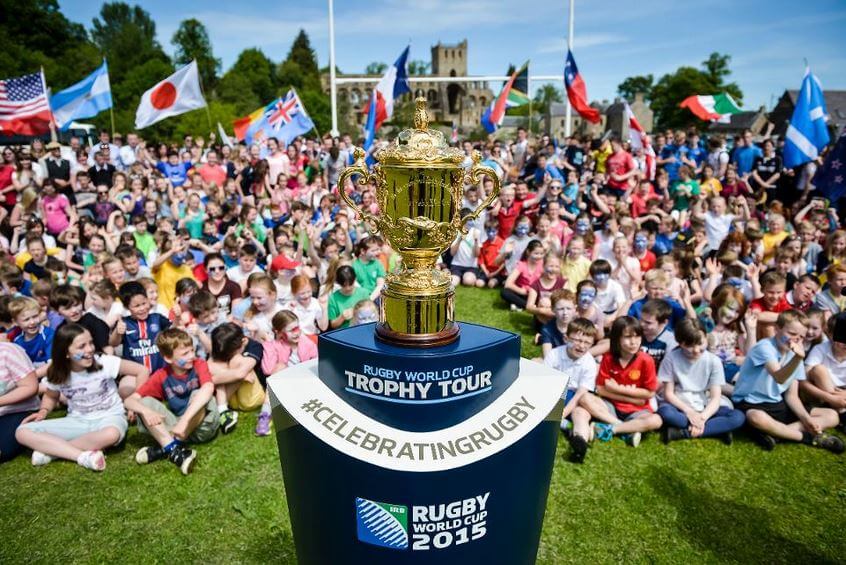 After some odd stalling from World Rugby, the Rugby World Cup draw is out, and not a minute too soon. We are now a full two (2) years away from the next World Cup. Just made it in time.
However, it was worth the unacceptably long wait. Each pool has its' own integral intrigue to it, which should produce plenty of storylines from now until the World Cup, and beyond.
The pools are as pictured below.

Although we are two years out from the RWC, and with only a vague idea of what the rugbysphere may look like in the year 2019, let's pluck some winners and losers from this drawing.
Winner: Scotland
Being perhaps the weakest of the band two nations, Scotland can count their lucky stars that they were drawn perhaps the weakest of the band one teams in Ireland.
Obviously, we have no idea how strong either country will be when the WC rolls around, but it's probably fair to assume it wont be dramatically different to the status quo now, which I predict will see the Scots finish 2nd in their pool.
That is, unless the host nation has some more Cup in store for us.
Winners: South Africa
Given they were drawn in a pool with New Zealand, you may have expected to see South Africa in the "losers' column. Think again.
No, the Saffers have been rewarded with the ultimate prize of the Rugby World Cup draw – missing out on their old foes the New Zealanders until the Final. The Springboks will also get a free hit against the Kiwis during pool play.
If South Africa is good enough to win the Tournament, or come within spitting distance of doing so, then it will of course be optimal to avoid the All Blacks until the Final.
If they're not good enough, then who really cares where they finish? As a wise man once said, "if you're not first, you're last".
Losers: France
You could argue Argentina as the big losers of the RWC draw, given they are considered by most to be the best band three nation.
However, we are going with France here as likely the most disappointed party to wind up in the quadrennial Hunger Games of rugby – aka, the "pool of death".
Given England are currently by far and away the best team in Pool C, France the second best and Argentina the third, the weight of expectation here lies with the French to survive and to prove themselves worthy of band two status.
Despite their own personal prospects, the Argies will go into this World Cup as the underdog to advance, with no real public outlooks hanging over their head like some sort of sadistic mistletoe.
Sorry Les Bleus, you got screwed here.
Winner: Australia
Let's not kid ourselves here fam – we got lucky.
Let's do a little exercise, placing Australia as the band one team in each of the other four pools. This is how the outlook shapes up:
Fictional Pool A: Australia, Scotland, Japan,
Fictional Pool B: Australia, South Africa, Italy
Fictional Pool C: Australia, France, Argentina
It gets even worse if we had of accidentally slipped into band two.
Instead, we wound up with an ageing Wales that seem to have played the WC cycle completely wrong, and an intimidating but ultimately flatlining Georgia, who by the way, just lost their own Richie McCaw.
Now, let's hope that this stanza has not completely ruined our Cup odds.
Loser: England
Bear with me on this one, as I had to draw a slightly longer bow, but it's a far from unthinkable scenario.
Obviously, being in the pool of death presents a decent amount of danger in and of itself. Eddie Jones' men would be wise to watch out for their white be-hinds.
But a much greater danger presents itself after the pool rounds – the New Zealand All Blacks.
Currently sitting second on the WR Rankings, it would be a disappointment for the Red Rose to not make the Final, and although they haven't played in recent times, I'm taking the Blacks in a hypothetical RWC Semi-Final.
Unfortunately, the English exit lose an era of dominance without even making a Rugby World Cup Final.