Thursday's Rugby News has an EGM to be hopefully held soon, Simon Cron and his charges optimistic, and Will Genia not snubbed.
---
[one_half last="no"]
EGM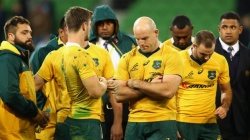 The VRU and RUPA have joined together to issue a demand for an EGM at the ARU, reports rugby.com.au.
The ARU has responded, scheduling a special meeting in 7 days. EGMs have to have 21 days' notice, hence why it's a special meeting.
"We acknowledge the request by the VRU, supported by RUPA, for a special General Meeting," said ARU chairman Cameron Clyne.
"We must provide 21 days notice to voting members to convene a General Meeting, however in order to prevent further delays the Board is willing to meet with the major stakeholders within a shorter time-frame to detail as much information as we are able on the current process regarding Super Rugby.
"We will aim to hold this meeting within the next seven days."
RUPA boss Ross Xenos has also had his say.
"The ARU's intent to axe an Australian Super Rugby team has lacked transparency and consultation with key stakeholders," he said.
"Today's unanimous RUPA Board resolution illustrates the commitment of players from all across the country to take action towards a constructive solution to this ongoing fiasco. The ongoing uncertainty and secrecy of this process continues to do unprecedented damage to the reputation of the game and has placed unacceptable distress on players and their families.
"In every Australian team there are players and staff whose livelihoods and wellbeing have been compromised through this protracted process.
"If there is no clear way forward for Australian rugby that provides the necessary cost savings to justify altering our current professional rugby footprint in the middle of this broadcast cycle, then it's about time we stopped uppercutting ourselves, backed the retention of five Super Rugby teams and got on with fighting our common enemies outside the tent."
The RUPA board voted unanimously to demand this meeting. On that board? Stephen Moore, Dean Mumm, James Slipper, Matt Hodgson, Bernard Foley and Scott Sio.
[/one_half][one_half last="yes"]
Cron Positive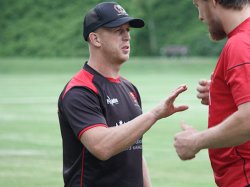 Australian u20s coach Simon Cron reckons Australia will be a-ok when his crop comes a-cropper.
"My belief is that all of these guys in the under-20s have the capabilities and potential to be professional athletes," Cron told the Canberra Times.
"However, as I explained to them, they've got to do a lot of things before that happens. They've got to earn the right. They've got an opportunity to play now but being in a gold tracksuit doesn't make you a great player. They've got a lot of work to do to prove they're good.
"In terms of Super Rugby, I think there are a lot of really good players sitting in club competitions who have the potential to walk in. We just need to identify that so we're not rushing the under-20s boys in.
"The odd kid can handle it, but I think there should be a process for them to make that transition."
Cron, who ruled himself out of contention for Stephen Larkham's job earlier this year, is looking forward, not backward, but always twirling towards the U20s World Cup to be held in Georgia next month.
"My main focus at the moment is obviously the under-20s and I think the [Super Rugby] franchises have processes of what they want and how they evolve," Cron said.
"I'll just see how things pan out for everybody. I've got to push my case by working with these under-20s boys more than anything.
"Every game for these guys is so important and it's a growing experience for them. Some of these guys didn't even know each other's names. But this will make them better rugby players in the long run."
His charges were in Canberra to take on the Brumbies u20s in a practice match at Viking Park last night.
[/one_half][one_half last="no"]
Genia Not Snubbed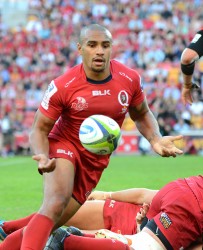 The Courier Mail yesterday reported that the Queensland Reds had "snubbed" Will Genia.
"Genia is believed to have been rocked that there is no room for him in the squad or under the team's salary cap," said the report.
"Those who are shaking their heads at the Reds' 3-8 record in Super Rugby will find it hard to believe the club can knock back a 116-game club legend of such game-changing sparkle.
"If proof of his standing is needed, he is a certain call-up to the Wallabies squad for next month's Tests against Fiji, Scotland and Italy while Frisby's erratic form means he will forfeit his status as a Wallabies reserve.
"Genia's desire to keep performing at the top level is guaranteed because the 75-Test stalwart is deeply motivated to help the Wallabies reach the summit at the 2019 World Cup in Japan."
Well, the Reds have come back (in a way), with insiders whispering to rugby.com.au that their decision to not sign Genia was far from a "snub" (or "snrub").
"[Genia] initially signed with Bath for the 2015-16 season before moving to Stade Francais," says this report.
"That means any potential release would have to be ticked off by his Paris-based club as well as Bath, which is no cheap venture. That is, of course, questionable to begin with considering Genia is contracted until the end of 2018 and still at the peak of his powers.
"Should both clubs release Genia, the next box that would need to be ticked is finding a Super Rugby club that has the cap room to meet his salary demands. The Reds' salary cap has very little wiggle room to begin with and they have Nick Frisby, James Tuttle and Moses Sorovi contracted long term.
"It's also understood Genia has not even approached the QRU to discuss a potential return and he isn't interested in playing for another Super Rugby club.
"That means any return to the Reds would be contingent on ARU money and given Genia already qualifies for Michael Cheika's Wallabies side under the Giteau Law, coughing up the kind of coin the 29-year-old's management is asking for is a bridge too far."
[/one_half][one_half last="yes"]
McCauley Positive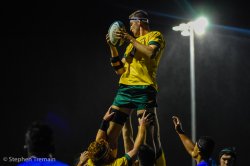 Waratahs youngster, lock Ryan McCauley, is raring to go at the u20s World Champs, his second crack at the annually-held tournament.
"It's a great stepping-stone. A lot of the guys playing Super Rugby now were playing in this tournament not long ago, guys like Issak Rodda, Andrew Kellaway, Mack Mason," McCauley told Rugby News. "You can see the pathway and that's exciting but it's going to be a really good test to play against the best 20 year olds in the world."
Australia was toweled up by New Zealand 43-6 on the Gold Coast earlier this month, but McCauley isn't much phased.
"We had Mario Ledesma and Mick Byrne down for the first few days of camp and we worked really hard on our basic skills and changing some of the bad habits some of us had," McCauley said.
"Obviously our skills let us down on the Gold Coast so we've been working hard to sharpen up in those key areas. We start every session with a habit changing activity and we've been working a lot on our skills under fatigue.
"Cronny (Simon Cron) has challenged us to be the best Australian U20s team ever. That's been a bit of a theme," McCauley continued.
"As he (Cron) said, Georgia isn't exactly a holiday destination, so we're preparing to go over there to get a job done. It's a bit of a joke but I think it's a perfect metaphor because we're not going over there for a holiday, we want to win and if we keep progressing as we have been, I think we can."
Australia has been drawn in a group with the Soap Dodgers, Wales and Samoa in the 12-team tourney.
"Wales are going to be tough but it gives us a really good chance to make a statement early in the tournament with a good performance. Then we've got Samoa and England and they'll both be very tough," he said.
"That loss England last year really hurt, I think we left a lot out on the field that day and it's something that has stayed on my mind since so I'm really looking forward to getting another crack at them. Plus, England won it last year so it would be great to knock them off."
[/one_half]