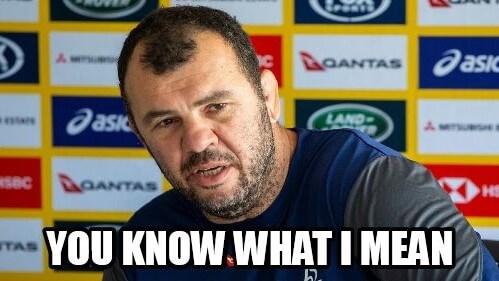 It's been well documented that Michael Cheika will step down as coach IF he fails to secure a World Cup in next year's tournament. Is this just a throwaway line and will he go when he can no longer give 'full credit to the boys'? Or was this a deliberate attempt to scramble up a logical reason for him to keep his job?
The latter scenario has merit due to a cash strapped ARU – I mean Rugby Australia (how much did that cost?) – not being able to both pay him out and to afford another coach of a decent calibre. Apart from an internal promotion (unlikely due to current results) there are no obvious alternatives that are logical fits – even when taking into account that the selection pool could be larger due to the idea that Dean's failed tenure would now be seen as adequately successful.
The former idea, although just linking to a satirical website, delves deeper into the rationality of the human psyche. Most sports people or coaches alike want the "fairy tale finish". We lost three cricketers, two of whom were once in a generation after beating England 5-0 in The Ashes Final. Could Warne and McGrath have played on? You bet, they were close to the top of their game. Would they have a better occasion to retire? Only the illusive Warne century could have added something to the already sweet revenge on the old enemy.
My own view is that Cheika would be retrospectively wishing he stepped down after last year's win against New Zealand and is likely to go, even without Rugby Australia intervention, if we beat England on the 25th of November (a match which looms as a mirror to the win against them in 2015). Much like Ange Postecoglue stumbled over the last hurdle of a hideous World Cup qualifying campaign and bowed out, a win of some note (not Italy) may be all it takes to make Cheika leave on his own terms. Something he and most rugby fans would value.