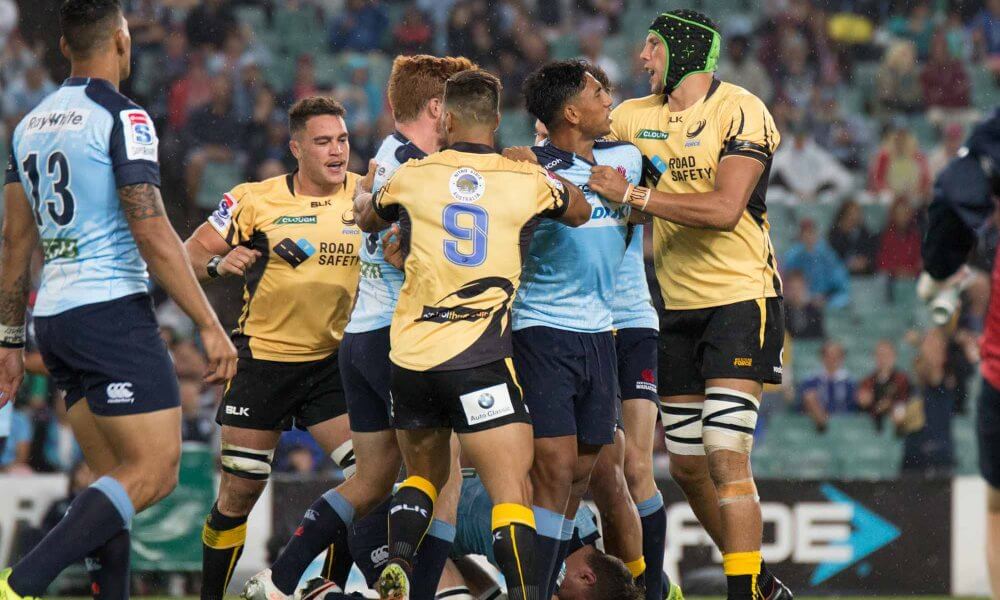 Yep, we've come to the big one. The lads in the podcast have been talking about this match for a while. While this match means next to diddly squat for Super Rugby finals calculations, for the Western Force and the Waratahs, this match means a little more than that. 
The Big Picture
Need I say it? I hope to god it isn't true, but this may be the Western Force's last ever game. I seriously hope it isn't, because they've been the only Aussie side even remotely worth watching this year, and have, through their efforts of the team and the fans, really reminded all of us about how important it is to preserve the game in this country. The number of fans coming through the gates in Perth has gone up. TV viewership in Force games has gone up. People actually are showing how much they care about this club.
Saturday's match is going to be an emotional time for rugby in the West. While they can't catch the Brumbies, a win here would see them consolidate second place, which would be the first time the club has ever finished runners up in the Aussie conference. Add in the fact they are farewelling the life and soul of their club, Matt Hodgson, and the fact they are fighting for their survival, and I can't think of many better reasons to be emotionally pumped for this one (And I seriously hope Hodgson's retirement is not a symbolically foreboding moment either!).
And then, you have the Waratahs. Even Tahs fans won't be afraid to admit it: they've played like garbage for pretty much the whole season. If they lose this match, it will cap off what will be officially the worst season in Waratahs history. If they win, it will be a rare moment of sunshine and cap off their second worst season in their history. This match will also be a chance to farewell club stalwarts Dean Mumm and Rob Horne.
The Form
The Force have won two out of their last three matches, being a big win away against the Reds and a decent home win last week against the Rebels. Their loss was a 12-34 defeat to the Hurricanes at home. Overall, The Force currently are sitting on five wins and 22 points, and sit second in the Australian conference.
The Tahs? God, please don't remind me. They haven't won since round thirteen when they beat the Rebels. They had a lot of encouraging moments against the Highlanders and the Chiefs across the ditch, but didn't take any wins. But let's be frank. They currently sit in fourth on the Aussie conference with four wins and nineteen points, and more recently have become well known for serving steaming piles of s#*t up to their dwindling fan base at Allianz Stadium. Their notable performances included last week against the Jaguares, or earlier in the season against the Kings. Call me savage. But I've got to the point in this god-awful season where it's time to call a spade a spade.
Key Players
For the Force, there will be three major changes to the side. The biggest and most influential is captain Matt Hodgson, who will come in to his number 7 jersey to play his 140th and final cap for the club. The man is a machine. From start to finish, you can see he inspires everyone else around him. Just having him on the field is going to be a motivator for the entire Force team. Aside from that, the other major player is going to be Michael Ruru. He carved up the Rebels last week and combined well with Billy Meakes to give the Force the win. If he turns up again this weekend the Force will be hard to stop.
Bernard Foley has been off form the last few weeks, and it's unsurprising that his lack of form has meant the Tahs have been out of sorts. He plays well, and the Tahs will be in it. Nick Phipps will also be returning to the side and starting from the bench. He has the potential to really give the Tahs some go forward in the final twenty minutes if he plays smart.
Prediction
All jokes aside, this is going to be a good match. It will be an emotional event for all concerned. It will come down to who wants it more. The Tahs can win this. So can the Force. And I think the men from the west can bring this one home and give their inspirational captain the send off he deserves.  Force by 7. 
---
 Force 
1. Pek Cowan
2. Tatafu Polota-Nau
3. Tetera Faulkner
4. Matt Philip
5. Adam Coleman
6. Ross Haylett-Petty
7. Matt Hodgson (c)
8. Isi Naisarani
9. Michael Ruru
10. Peter Grant
11. Alex Newsome
12. Bill Meakes
13. Curtis Rona
14. Marcel Brache
15. Dane Haylett-Petty
Reserves
16. Anaru Rangi
17. Francois van Wyk
18. Shambeckler Vui
19. Lewis Carmichael
20. Richard Hardwick
21. Ian Prior
22. Jono Lance
23. James Verity-Amm
Waratahs
1. Tom Robertson
2. Damien Fitzpatrick
3. Sekope Kepu
4. Ned Hanigan
5. Dean Mumm
6. Jack Dempsey
7. Michael Hooper (c)
8. Michael Wells
9. Jake Gordon
10. Bernard Foley
11. Cam Clark
12. Dave Horowitz
13. Rob Horne
14. Taqele Naiyaravoro
15. Israel Folau
Reserves
16. Hugh Roach
17. David Lolohea
18. Angus Taavao
19. David McDuling
20. Ryan McCauley
21. Nick Phipps
22. Mack Mason
23. Andrew Kellaway
Match Details
Date: Saturday, 15 July.
Venue: Force Field (nib Stadium), Perth
Kick off:  5:45PM AWST, 7:45PM AEST
Referee: Nic Berry (AUS)
Assistant Referees 1: Will Houston (AUS), Graham Cooper (AUS)
TMO : Ian Smith (AUS)