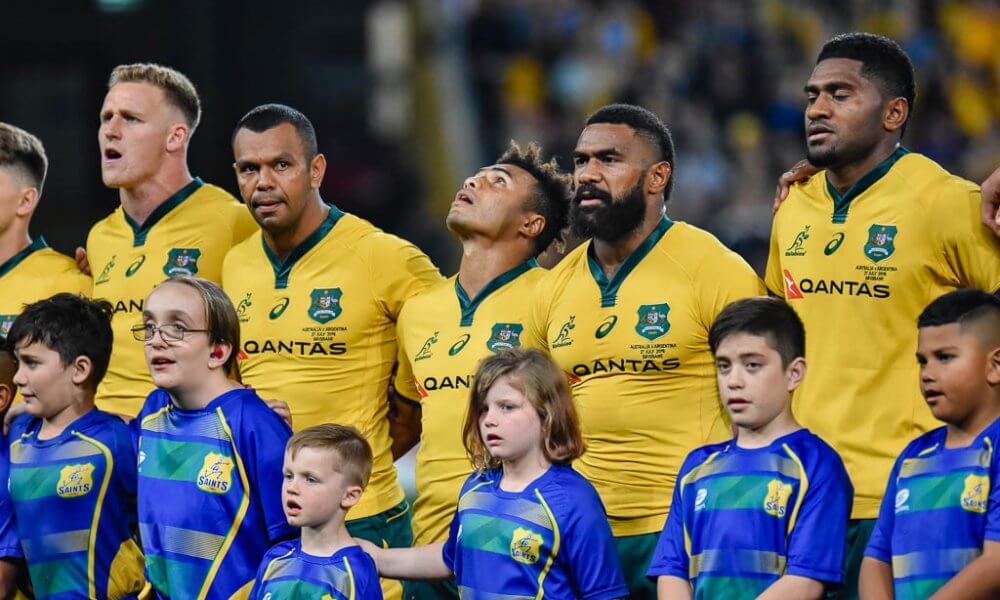 Wednesday's Rugby News looks at the Wallabies touch down in Japan, a legendary Wallaby raises concerns after their Samoan win, the 2020 Super Rugby draw and the Fijians hunting for Wallaby blood.
---
Wallabies take Japan
The Wallabies have finally landed in Japan after suffering through a 16-hour delay due to Mother Nature.
The delay was caused by Typhoon Faxai, which has shut down airports and trains in Toyko and cut power to more than 900,000 homes.
The full squad started their departure on Monday afternoon along with outside backs Tom Banks and Jack Maddocks, who will stay and train with the group until Saturday before shadowing the squad in case of injury.
Amongst the 31 players arriving on QF25 to Toyko, 17 were heading to their first World Cup.
One of those people is loose forward Jack Dempsey, who has revealed that centurion Adam Ashley-Cooper (both in caps and age) has given the young squad a crash course on what to expect.
"At the end of the day it's just words, you have to go out there and experience it yourselves," Dempsey said.
"But the guys we've got from London in '15 have said it's just like any other spring tour but on steroids, because it is all buzzing constantly for the six, seven, eight weeks.
"I'm pretty excited to see what it's going to be about, especially in Japan, because it's such a big rugby fan base."
Dempsey was one of the standout performers during the win over Samoa, with the Gordon product pleased to get more strength and contact onto his injured shoulder.
"I wasn't stoked with my defensive performance, so I think I'm going to try to focus on that and keep getting that strength in that shoulder," he said.
"We trained really hard over the last few weeks and I did everything there, so in terms of running fitness I'm fairly confident.
"The next week we've got in Japan before the first game I'll look to get that contact fitness up – that's the missing piece of the puzzle."
Dempsey has been the latest inductee into the BRB (Back Row Brigade) and he says that the intense competition has brought the mini group together.
"I've never been a part of a group, a back-row group, that is not only so diverse, with so much variety in the game styles, but also that we're all aware of that," he said.
"We all know what each other can bring and it bonds us a bit. It's just up to Cheik to reach into the toolbox, depending on the game, to pick who he wants to pick. It's very exciting."
Not so Sterling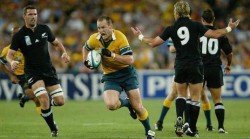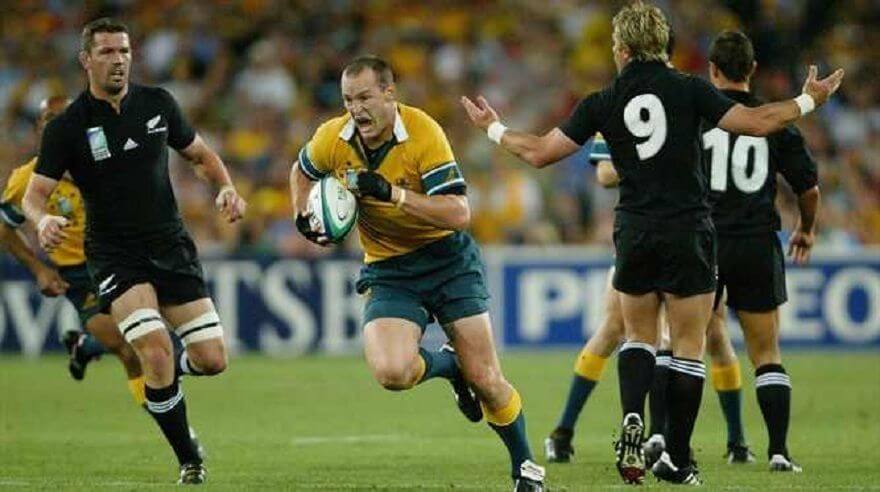 Everyone's favourite bald centre Sterling Mortlock has expressed his concern at the "one-dimensional" attack that the Wallabies showed during their win over Samoa.
Despite running in six tries, Mortlock was unimpressed with the lack of spark and variation in attack as compared to previous matches this year (which is generally what happens when you remove most of your starting team and play a glorified 'B' team).
"I wasn't that impressed with the Samoa performance," Mortlock told the Herald.
"In the first half it was a pretty decent performance but we didn't assert ourselves in the second half. What I wasn't impressed with was in attack we looked very one-dimensional.
"Perhaps that was an extension of the fact the guys have been on tour away and have had a pretty heavy workload during camp.
"When you do that you're not as polished and likely to chance your arm but certainly most of the Test matches this year we've seen the Wallabies attack really throw caution to the wind with ball in hand and use a lot of width and lots of passes.
"Whereas against Samoa, I didn't sense that was the case. That was my disappointment, I just found it hard to follow to be frank.
Despite the worry, Mortlock is still confident that the side can put a strong performance come World Cup time, convinced by their impressive win in Perth a month ago.
"In 2015 I was pretty optimistic leading into it but this year I wasn't until I went across to Perth," Mortlock said.
"I can definitely see this Wallaby outfit surprising a lot of people with a strong championship-style performance in the World Cup.
"That's why I'm a little bit frustrated by the Samoan performance. I expected to see a really expansive attack and a different attack to what we've seen to the last few years. I didn't think it was as high-risk high reward as we've seen in Tests before that.
"I'm hoping we get our set-piece right, which we've done in patches, and if we do that I think we can go deep into this tournament again with that attack."
He couldn't nail down just one team as his favourite, believing that this is the most open World Cup in recent memories.
"England in my view have always been a dark horse because I've got no doubt Eddie [Jones] is going to get them to peak at the right time … they can beat anyone quite easily," Mortlock said.
"New Zealand are in great form and South Africa under Rassie Erasmus have got their act together.
"Once it gets to the quarters it will be must-watch."
Super Summer
The Super Rugby draw has been announced for 2020 with the main taking point coming from its starting date.
The competition is set to kick off on the 31st of January, with the Blues kicking the season off against the Chiefs.
The move to a January start will represent the first time (in recent memory) that Super Rugby will not stop for an international test window, with the test matches for Southern Hemisphere nations shifted to July.
"Super Rugby is one of rugby's premier tournaments and features many of the best teams and players in the world," SANZAAR chief executive Andy Marinos said in a release.
"In 2020 the movement of the inbound Test window from June to July does allow for Super Rugby to be played uninterrupted.
"However we have to kick-off earlier than in the past to accommodate the 21-week tournament prior to the July window. With all this in mind, we have again worked with the national unions and teams through this complex logistical process to provide a draw that is fair and equitable."
The opening round for Australian teams will commence with a clash between the Brumbies and Reds, otherwise known as the Henry Speight revenge game, which will be held on the same weekend as the Sydney Sevens.
The other significant change is that evening games in Australia will start 25 minutes earlier, moving from 7:40 pm to 7:15 pm in an attempt to make the games more appealing to families.
As part of this push, the Brumbies and Reds will both play games throughout the year on a Sunday afternoon.
The nomad Waratahs will continue their bold strategy of a state team playing games outside of the capital city, with games set to be played in Newcastle, Wollongong and a game in the country which will be announced soon.
"After one of the closest Aussie Conference races on record last season, we are looking forward to seeing our teams take their performance to another level in 2020," said Raelene "Queen of the" Castle.
"One of the key changes for the 2020 season is the introduction of earlier kick-off times for night matches in Australia, which we believe will be widely welcomed by Rugby fans and will give young families an opportunity to get out and enjoy the night at the Rugby and be able to get the family home earlier, or to tune in earlier on FOX SPORTS if they can't make it out to the ground."
To see the full draw, click this link.
Fijians eyeing off big scalps
Fiji coach John McKee has reaffirmed that Fiji have their eye's on making the World Cup knock-out stages and are looking to cause some upsets, starting with knocking off the Wallabies.
The Wallabies and Fiji will replicate the previous World Cup with both teams set to start their campaigns against each other when they meet in Sapporo on September 21.
McKee believes that the side has transformed since their last World Cup encounter, with the flying Fijians sending over a much deeper squad led by the likes of Semi Radradra and Leone Nakawara.
"The team (in 2015) was nowhere near as settled," McKee said.
"Having been through a few cycle, we have had consistency in selection and we have brought on some younger players. So the platers have got more combinations through playing together.
"Also our depth has improved. When you look across our squad we are pretty strong 1 to 31, and there are now some pretty tough selection calls.
"In 2015 probably 1-20 were pretty strong but when you went 21-31, we started to drop off a bit. So you would be pretty nervous if you got an injury in some key positions. This time I am confident on our depth."
He pointed their competitive 35-17 loss to the Wallabies two years ago as a sign of improvement in his side.
"Having played Australia in 2017 is helpful for us. There were lessons from that game that we can use going into this game," McKee said.
"If we hadn't played since the game at Cardiff in 2015, it would be a distant memory. But for a lot of the squad, the 2017 game is relatively fresh in our minds and that for us is more of a focus point than the 2015 match."
McKee pointed to Radradra as the not-so-secret X-factor, believing that the "special" talent can help takeover and transform a match.
"Everyone will be watching out for Semi, that's for sure," McKee said.
"He is not going to be able to catch people by surprise. There won't be any "who is that guy you've got playing no.13?"
"He is quite a special rugby player and he has some great qualities. He is one of the players in the squad who you'd say is a genuinely world class player. He would play for a lot of the tier one teams, they'd like to have a player of his quality.