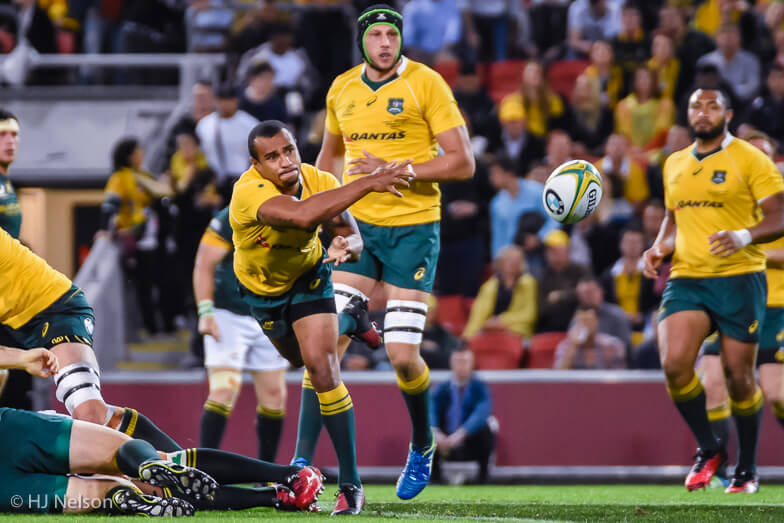 Wednesday's Rugby News sees Will Genia demand more effort from the Wallabies, the Springboks fire the first verbal shot, a pair of Wallaby Lock's commit to their future and the NRC squads for NSW Country and Sydney Rays have been named.
---
Good Will Hunting for greater effort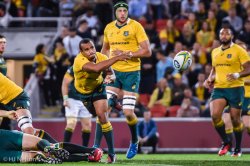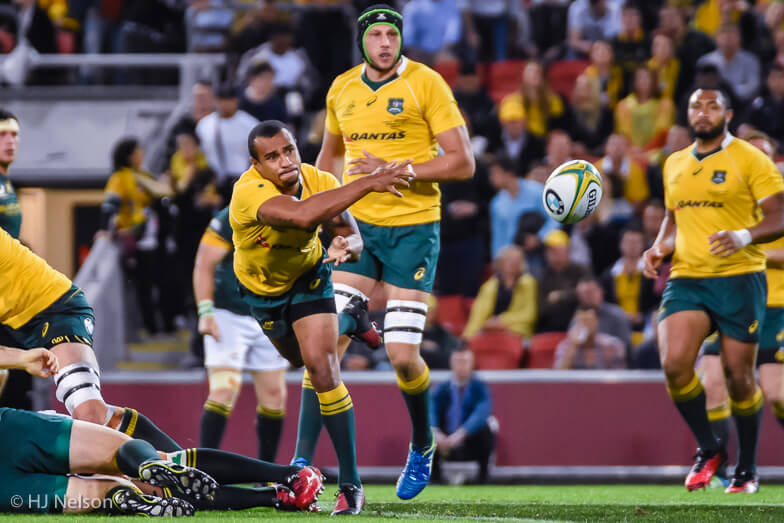 Will Genia has blamed a lack of effort on the Wallabies lacklustre start to The Rugby Championship, believing that the Wallabies simply did not try hard enough.
After losing the Bledisloe Cup series for the 16th consecutive year, Genia believes that blames for the side's poor performances should rest on the players' backs, stating that some were not doing their 'individual jobs' and this contributes to their misaligned defensive structure.
"We did it well for 40 minutes … it's just moments of lapses and in concentration that lets us down," Genia told reporters on Tuesday. "In the heat of the battle, not listening to that voice in your head which tells you to give up or not chase, it's just things like that"
"In some of the reviews we have done, if we work half a second harder or half a step earlier we (will) go a long way to solving those problems in turnover D."
To hear Genia place the blame on a lack of effort is quite concerning and hard to swallow as a fan that couldn't imagine doing the same if they were in the same position.
Genia conceded that it was "fair enough" that the side's performance had warranted the intense scrutiny and backlash that it has received, given the talent that the side has at its disposal.
"I guess the important thing is that as individuals we are asking those questions (as well)," he said. The biggest thing for us is that we just have guys who are – in moments during games – just not doing their jobs."
"Whether that is role clarity or knowledge in not understanding the detail, we are just trying to figure that out."
Let's hope that the Wallabies can dig deep and bounce back with a strong and successful performance against the Springboks.
Wallabies "worse off" than struggling Springboks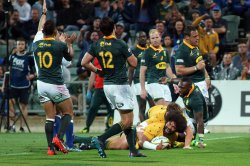 Springbok coach Rassie Erasmus has fired the first shot (sort of) before the upcoming clash with the Wallabies, believing that the Australian side is in a worse off position than the South Africans after their two crushing defeats to the All Blacks.
Both sides suffered losses in the last round of The Rugby Championship, making this match is must win and Erasmus tried to say that the Wallabies were in a bigger hole than the Springboks currently, although his choice of words suggests he did not believe what he's saying.
"Australia are very much, maybe in a worse position than we are with the two games they have had," he told South Africa's SuperSport. "Very much, maybe", not the most convincing statement.
Regardless, Erasmus believes it will be a fiery clash with both sides desperate to rectify and salvage their campaign.
"They are desperate but we are desperate as well" he said. "We lost against a team who we didn't want to lose against so I think it will be two teams trying their best to rectify the previous weeks' mistakes and them playing at home will just make it tougher for us."
"We are ready and up for the challenge and we know the only way to get last week's result out of our heads is to win."
Erasmus states that nothing but a win will be accepted for his side, admitting that he would fall under significant pressure if they came up short.
"When you lose the pressure is more. We are here to build and everyone always says those things," he said. "We must win, that's the end of the game. And if you lose there is pressure, every game you lose, it doesn't matter when."
Erasmus had been considering making a host of changes to his team against the Wallabies but he said that will scale that idea back after their Argentina loss.
"If we won in Argentina, we were going to make quite a few changes in this match to test a few things without disrespecting Australia" he said.
"We put ourselves in a position now where we have to win at all costs, which is always the case in a Springbok jersey but we will experiment much less than we would have. But we will make a few changes."
Wallaby forwards Lock down their future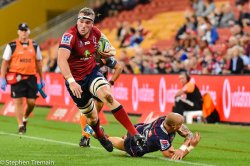 Izack Rodda is set to commit to Australian Rugby and the Queensland Reds for the next two years.
The massive lock all but dismissed any rumours of a move to the NSW Waratahs by saying his heart was with the Reds, which he has been a regular starter for over the past two years.
Rodda has been a prominent figure through the Queensland development pathways, having been signed for the Reds after solid performances for their under 20's side and Queensland Country.
"I'm still in talks but I'm definitely getting closer (to an announcement)," Rodda said. "Staying in Queensland is definitely enticing.
"I love all the boys there and the culture that's growing and it's close to home as well."
In other signing news, former Wallaby and Rebels forward Luke Jones has returned to the Rebels for the 2019 season.
Jones had been plying his trade with French side Bordeaux for the past two years and was contracted with the French side until 2020 before getting an early release.
Jones played three Tests for the Wallabies in 2014 and has featured twice under Michael Cheika and he most recently played in Australia for Alan Jones' coached Barbarians in an unofficial Test against the Wallabies last October.
He received rave reviews from his fellow Jones after that performance, with Alan Jones likening his play to the work of Brodie Retallick and Sam Whitelock- a bit of a stretch there.
Cheika stated after the Barbarians Test on home soil that he would be pleased to see Jones return to the Australian fold.
"We never wanted him to leave initially," Cheika said. "I was surprised that Bordeaux would be releasing him to come back to play in this game and It'd be good to see him back here and I'd love to see him back here playing Super Rugby."
John Folau(ing) in his brother's footsteps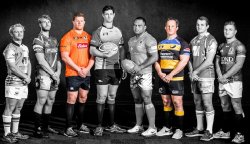 The NSW Country and Sydney Rays have announced their squad for the upcoming season and the most interesting signing comes from a brother from a Wallaby's mother.
Israel Folau's younger brother John has been signed by the Sydney Rays for the upcoming season and has set out his dream to play rugby union with his older brother.
"For me, coming over here it's like a fresh start, something I think I needed," John said "I've always wanted the opportunity to one day play alongside (Israel) on a team and he says he loves it in rugby union," he said.
"So having the opportunity to come over, God willing, the opportunity does arise and that makes the journey a bit more exciting for me."
Rays coach Chris Whittaker praised the league convert for his commitment to the game and his willingness to adapt and learn.
"He's good, he's quiet, he's encouraging and he's just like a regular big brother, always looking out for his siblings and things like that," he said. "He knows a lot more than a lot of the other guys who have come over before, obviously his brother's playing.
"He can tell you things that are happening in a game and things like that. I daresay for him picking up the game's going to be very easy."
The sides for both teams are as followed:
NSW Country: Paddy Ryan (c), Charlie Abel, Nick Champion de Crespigny, Matt Gibbon, Alex Gibbon, Denny Godinet, Jake Gordon, Jaline Graham, Jack Grant, Jed Holloway, Tom Horton, Alex Humfrey, Harry Johnson-Holmes, Robert Lagudi, Apolosi Latunipulu, Mack Mason, William McDonnell, Emmanuel Meafou, Will Miller, Alex Newsome, Rohan Saifoloi, Angus Sinclair, Mick Snowden, Tom Staniforth, Rory Suttor, Patrick Tafa, Christopher Talakai, Sam Thomson, Mahe Vailanu, Cody Walker, Samuel Ward, Sebastian Wileman, Brad Wilkin.
Sydney Rays: Damien Fitzpatrick, Cameron Betham, Harry Burey, Cam Clark, Tim Clements, Tyson Davis, Jack Dempsey, Nick Duffy, John Folau, Pama Fou, Will Harrison, Maclean Jones, Josh Kemeny, Latu Latunipulu, Ryan McCauley, Enoka Muliufi, Rory O'Connor, Nick Palmer, Guy Porter, Kiernan Rabie, Curtis Rona, Matt Sandell, JP Sauni, Mitch Short, Pat Sio, Hugh Sinclair, Theo Strang, Lachlan Swinton, David Vea, Connor Vest, Shambeckler Vui, Michael Wells.