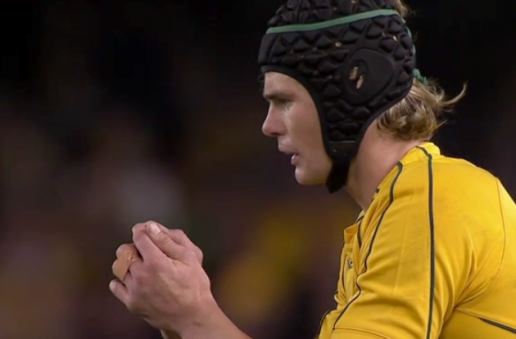 Today's back page of the local rag, the Herald Sun, said all that needed to be said about last night's Melbourne Test. 'Wallabies Over Wales. WOW'. In front of 33,888 at Etihad Stadium, the Wallabies retained the James Bevan Trophy, but the Welsh won plenty of fans with their enterprising and clever play.
It was the kind of game that lives in the memory not for the technical skills on display (there were errors a-go-go from both sides all through the game), not even for a career-defining performance or a single moment of brilliance (though it had both). From start to finish, it was just a brilliant contest, complete with running rugby, tight defence, and a shoot-out to boot.
It was the kind of game you needed a cigarette after. The kind of game that could sell this fine city on this incredible sport.

Player Ratings vs Wales
| Player | Rating | Comments |
| --- | --- | --- |
| Benn Robinson | 6 | Only played for about an hour, was serviceable without setting the world on fire. Scrums seemed a lot better in the first half of the game compared to last week. Replaced by Ben Alexander in the 65th. |
| Tatafu Polota-Nau | 8 | Refused to go for the business mullet look this week, no doubt affected by the ravaging derision in GAGR's First Test PlayUp forum. With the 'fro flowing in the wind-free Etihad Stadium, he improved on last week, getting a solid 8 runs in for 31 metres, over his 50 minutes. Replaced by Stephen Moore in the 50th. |
| Sekope Kepu | 8 | Had an excellent defensive game, running out the full 80+ and making 8 tackles. Was great in scrums and ever-present in the contest. |
| Rob Simmons | 6 | Improved on a rough game last week, but still leaves himself too open at the contest - he got smacked around a lot in rucks and mauls. 7 tackles is nothing to scoff at, though, hopefully he continues to improve. Replaced by Michael Hooper in the 69th. |
| Nathan Sharpe | 8 | It's amazing to think Sharpey didn't think he'd be selected, after announcing he'd retire at the end of the year. It's even more amazing that he's in the form he's in with the finish line in sight. Played all game, making 36 metres from his 11 runs. He was at more rucks than anyone else on the field, and has not lost his skill of eking out metres where nobody else can. Supreme. |
| Scott Higginbotham | 7 | Higgers started well, his flowing, questionable mane eagerly attacking contests around his new home. He was mixed with the ball in hand, however, turning it over three times. Played the whole game. |
| David Pocock(c) | 9 | Ten tackles. Eleven rucks. An average of just under 5 metres gained whenever he had the ball. We are not worthy. |
| Wycliff Palu | 7 | Had the ball often enough, and always found a way into the contest. He led the tackle count with eleven, but also topped the missed tackle count with three. Still, Australia could use more players who carry his influence around the ground. Replaced by Dave Dennis at 54 minutes. |
| Will Genia | 7 | Willy G had a serviceable night, not matching his heroics in Brisbane but still getting the job done. Still kicks it away far too easily, but was saved by the Welsh doing the same thing. |
| Berrick Barnes | 9 | Sweet Lord. This man had a child yesterday, flew straight to the game, and, worst of all, had to rely on a Melbourne cabbie to get him to the stadium on time. You wouldn't blame him for having an off night, but, no doubt exhausted already, turns on one for the ages. Seventy-six metres gained, five tackles, a line-break, a try assist and 17 points. This was a performance they will still be talking about when Archie is all grown up. Replaced in the 73rd by Mike Harris. G&GR Man of the Match. |
| Digby Ioane | 7 | Notching up 10 runs for 74 metres with a line-break, Digby was his enigmatic self. For a winger, though, he's really not a fan of staying on the wing. Two turn-overs. |
| Pat McCabe | 6 | A good game without being great for McCabe. Five tackles, and five runs with the ball. |
| Rob Horne | 8 | The try-scorer had a very good game. 72 metres gained from six runs, with seven tackles to boot. Always seems to be in the right place at the right time. |
| Cooper Vuna | 4 | Poor Coop. He looks so good with ball in hand, but is still too intimidated to get himself into the contest. Maybe we've been too spoiled by inside runners like Ioane. His yellow card for a silly attack on Halfpenny was the cherry on top of a forgettable homecoming for the Rebel. Replaced by Anthony Fainga'a in the 69th. |
| Adam Ashley-Cooper | 6 | Had an alright night down back. Got the ball 8 times for 53 metres, three tackles and one missed. Could have done more late in the game. |
| Stephen Moore | 5 | 32 minutes, 1 tackle. Never really got into the contest. |
| Ben Alexander | 7 | Got 2 runs with the ball for 12 metres, not bad for a prop in 17 minutes. Not bad for a prop in general, really. |
| Dave Dennis | 5 | 28 minutes for 2 touches and 9 metres gained. |
| Michael Hooper | 4 | Played 13 minutes, costing two crucial turnovers, including one in the 79th that almost cost the Wallabies the game. Sometimes it's just not your night. |
| Nic White | - | Did not play. |
| Anthony Faingaa | 6 | Had one good run, getting 17 metres. Need him to have a bigger impact off the bench. |
| Mike Harris | 9 | One for every minute he played, yes, but as LeBron James would couldn't tell you, the great players are the ones that can deliver in clutch moments. Mikey Mike stepped up after the siren, following up one of the great #10 performances in Berrick Barnes, and never looked like missing. |
The patented G&GR ratings guide:
10 – A legendary performance to go down in the history books
9 – Outstanding performance: Man of the Match shoo-in
8 – Excellent all-round game
7 – Good game with a few sparkles
6 – Solid performance
5 – Average – ho hum
4 – Below par
3 – Had a bad game
2 – Tell your story walking pal
1 – A complete joke