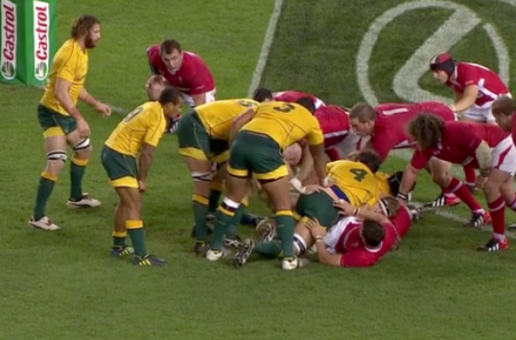 I saw the game live at Etihad Stadium and I had lousy seats – side-on and low down. I'm now travelling in Tasmania and I've been unable to watch any replays, so I've some difficulties in writing an accurate assessment of the match. (Let's not play the obvious game here!)
I'm going to give my summary impressions now and, if anyone's interested, I'll add more later in the week, but probably not until Friday.
Here goes!
This was a valuable series win for the Wallabies. They are playing the Six Nations grand slam champions, who had also won many fans with the quality and style of their play at the World Cup. The Wallabies were without their three backline stars – Beale, O'Connor and Cooper – plus Mitchell and Turner. A few injuries up front — Horwill, Elsom, Vickerman, Timani — added to the selectors' woes. On top of this, there have not been many displays during the Super Rugby season that have given us grounds for optimism. So, all in all, the coaches can take a bow, I reckon — and it's a while since I've said that.
I thought that we played better again, following our first Test win. We all thought that Wales would improve over their shoddy first game – and they did! We needed to get a late, flip-the-coin penalty, as the ref was handing them out, to get the result, but, overall, I thought that we deserved it. We were always more likely to score tries, I thought. Our play was more constructive — and it's a while since I've said that also.
My specific impressions were:

Our forwards were industrious and accurate and provided enough, quick ball from the tackle. Higginbotham was much more involved, but still goes missing when the hard yards are needed. Kepu is showing more signs of his ball-carrying ability and made some great, difficult tackles. Robinson was more involved also, but could still carry more in the closer channels. Still more required, if we are to challenge NZ, and even SA.
Our slow ball, however – and there will always be some slow ball — is frequently , ponderously slow. This makes the job of the forwards – to regenerate front-foot ball – too difficult. We have to be better in this area.
We must now move forward to provide alternative tackle-contest options, other than the ruck. More urgent, accurate tight support will provide opportunity for the latch-and-drive (like Hooper with the Brumbies), off-loads (like NZ), pop-ball and immediate pick-and-drive. These will be match-winning moments for the likes of TPN, Kepu, Palu and Higgers. They will all need to be running tight lines with real desire to contribute.
Our set plays were good, but we cannot persist with Alexander at loosehead off the bench. We nearly lost the match because of his inability to bind and stay upright. Surely Slipper would be better in the scrum and more industrious in the tight-loose.
Barnes played his best Test. He attacked the advantage line, ran straightish, got a couple of second touches, broke the line four or five times, made his usual high number of tackles. His kicking out of hand was a little inconsistent, but, for the posts, he was excellent. A well-deserved player of the match.
Genia profited from the good work in front of him and was again dominant. Like all great players, he has lots of time. I can't remember any of his passes missing the target either. Not before time!
Passing and running lines in the backs were generally pretty good. Accurate passing, in front of the receiver, was much more consistent. Our attack was therefore generally more threatening than that of the Welsh. One error from Ioane cost us dearly – on a switch-pass, the ball-carrier changes his angle, not the receiver. A lack of urgency in cover didn't help either.
AAC and Ioane were both great – one a picture of solidity plus skill, the other a constant threat anywhere on the pitch.
Both centres were OK – excellent in defence and continuing to show more in attack, little by little.
Our defence was very good. We offered Wales virtually nothing and this has been a very good attacking unit, albeit now without Roberts. We had urgency and initiative, with a number of great reads to get off the line to snuff out potentially dangerous attacks, way behind the advantage line. One scramble back, with Kepu especially prominent, was top class.
Vuna's brain snap could well have cost us the match. This was inexcusable and I'm guessing that we won't see him next week. I hope this will be a memorable lesson for him – he has some rare qualities.
I suggested that I would take a good look at Simmons and I'll do that later, but I thought that both the locks, especially Sharpe with his effective carries, contributed well.
We're making progress and, if we keep going, we'll eventually reach our destination. We have the potential, with all hands on deck, to be very good.
More later!