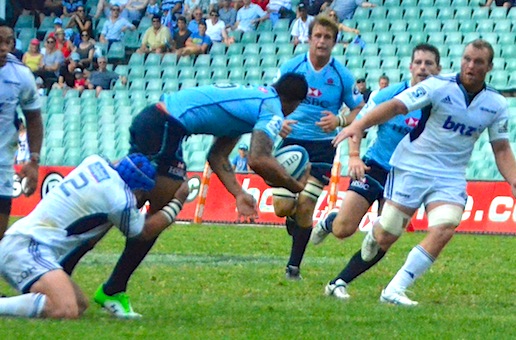 You can tell a lot about a team's attacking intent by what they do on first phase. The best attacking teams recognise that first phase presents an opportunity to try and break the line when many of the defenders are occupied elsewhere in a scrum or lineout.
We don't see a lot of first phase plays from scrums these days because only a small number of scrums are completed and teams tend to focus on developing and practising plays from lineouts, which occur nearly twice as often as scrums.
A first phase play doesn't have to include decoy runners, players looping around or even cut-out passes – it can be as simple as players catching the ball, running at their defender and committing them before passing to their support runner. Of course, first phase plays that do include decoy runners, cut-out passes and other deceptions can be a thing of beauty.
The Waratahs showed an intent to use first phase ball more expansively in the Blues match, rather than kicking it away or using short lineouts with forward runners in mid-field to punch the ball over the gain line. They were also prepared to run the ball from within their own half and they kicked on just six occasions in the whole match.
The breakdown numbers reflect the fact that the Waratahs were playing a more expansive game. Two of the top four players first into breakdowns were outside backs – Israel Folau and Drew Mitchell, with Adam Ashley-Cooper being first into just one fewer breakdown than those two.
In recent weeks I've been making the point that the Waratahs' back-rowers (particularly Dave Dennis) weren't getting into the breakdown quickly enough. It seems Cheika has been giving the players a similar message because the performance was a lot better this week. The player getting into breakdowns first more than any other was Dave Dennis, who hit 10% of breakdowns first – double his average so far for the season. It's a simple game, isn't it, when everyone is doing their job? Well done, Dave Dennis – nice to see you back.
Handling also improved with only seven handling errors in the match.
I'm looking forward to seeing this attacking intent continue from the Waratahs. Who knows – maybe it will inspire Robbie Deans to have the Wallabies play with some attacking intent later in the year.
[youtube id="v3KUv_U-Dl4″ width="600″ height="480″]