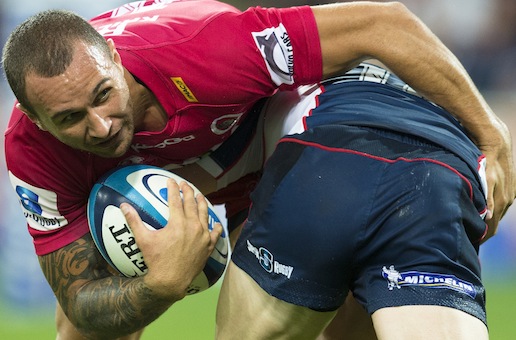 Some will say that Quade Cooper lost his mojo at RWC 2011 and hasn't found it since. My answer to the question is yes and no!
I think Cooper has been playing reasonably well in 2013 until he hit a speed bump in last week's match against the Force, when  the Reds' attack struggled. Those struggles weren't all a result of Cooper's performance but the more his runners failed to get into good positions and dropped the ball, the less confident Cooper looked.
Cooper is the best fly-half in Australia for spotting opportunities and being able to execute the play to take advantage of those opportunities. Or, he was.
In the match against the Rebels two weeks ago his vision was really good but his execution wasn't good enough to take advantage of most of the opportunities that arose.
His first-half performance against the Force was passable but in the second half as mistakes started to flow it seemed to me that his confidence dropped to the point that he became very conservative with his calls, as you'll see in the video below.
In the 62nd minute, with the Reds trailing by four points, they had a scrum on the Force 22 in a great position for the backline to attack from, but Cooper instead called for a crash ball run by the blindside winger and then let the forwards take the next phase, in which the ball was lost.
In the 71st minute, with the Reds now needing a converted try to level the score, they had a lineout 15 metres from the Force try line. The forwards tried to drive the ball over the line on the first phase, Ben Tapuai tried to rumble his way through the defensive line on the second phase, and by the time Cooper got the ball on the third phase any space out wide was gone.
In the 73rd minute the Reds had a scrum five metres out from the Force line after James Hanson had been held up over the line. Jake Schatz ran off the back of the scrum and after three phases of forward play the ball was lost.
Whilst using your backline isn't the only way to score tries I think that a confident Cooper would have demanded the ball early from these set pieces and called one of the Reds' trademark first-phase plays that used to excite us all so much.
So yes, you could say Cooper has lost his mojo but I'll say no, as I don't believe it's lost, just misplaced along with the Reds' attacking prowess. The success or failure of the Reds' season from here on depends on his finding it again, and quickly, as does any chance for Cooper to earn a Wallabies recall.
What do you think?