Tuesday's Rugby News looks at Melbourne's Bledisloe, the Rebels making the finals, Positive virus tests in South America and, that tackle.
---
Melbourne's Bledisloe test Re-scheduled
Remember that thing where the All Blacks and Australia play rugby every year and we lose a lot? Well, they were supposed to play in Victoria this year but a pandemic stuffed that upso, instead of just cancelling on them RA have negotiated a do over next July.
Here's the media release.
Rugby Australia today confirmed that the Bledisloe Cup Test between the Qantas Wallabies and New Zealand that had been set down for Melbourne this year will be rescheduled for 2022.
The 2022 Test match against New Zealand will added to the calendar for Victorian rugby fans with the state set to host a Test in July 2021 as well as the touring British and Irish Lions in 2025.
Rugby Australia Interim Chief Executive Rob Clarke said: "Victorians are sticking together as the state works to slow the spread of coronavirus and it's not possible to play this match in 2020."
"The decision to swap the All Blacks Test to 2022 is a sensible one and I thank Premier Daniel Andrews and the Victorian Government for their flexibility and support."
"Rugby Australia will continue to support the Victorian Rugby community over the coming months.
"There is an exciting Test schedule ahead for all of our Victorian Rugby fans and I know that the Wallabies players, as well as players from around the world, are always extremely excited to play in Melbourne due to the terrific home support and the wonderful hospitality of all Victorians," Clarke said.
The new location for the Test against New Zealand in Australia will be announced in the near future.
Rebels Unshackled?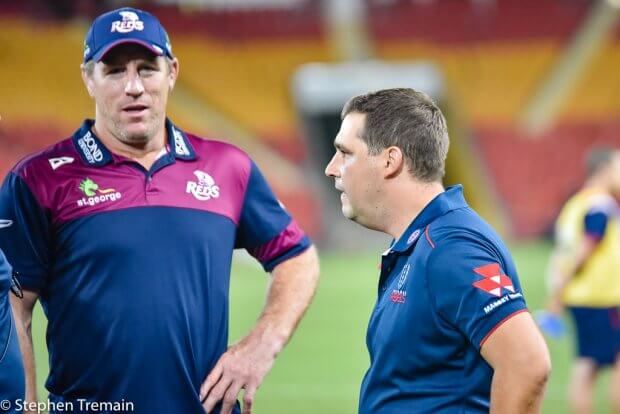 Melbourne Rebels head coach Dave Wessels reckons his side will play with freedom against the glorious Reds after lifting their finals hoodoo by limping past the Force and squeezing past the Tahs by one point on for and against. Yah…
 "I'm really proud of the boys for hanging in there," Wessels said. "Maybe in previous years or different situations we wouldn't have hung in there and got the outcomes we needed. We stayed in the game and fought our way back into it.
"Even the last movement of [final try-scorer] Cabous [Eloff] is pretty reflective of that. Rather than just stopping, he thought to put the ball down. I thought Matt Toomua showed a lot of courage to manage that last minute and kick it over right on the siren so that we wouldn't have to receive a restart."
The Rebs first taste of finals footy is against the red hot Reds unit that took apart the top of the table Brumbies 26-7 a couple of hours later.
Wessels believes that although there are plenty of things to improve on from the scrappy performance, they will be firing when it matters.
"Making the play-offs has been a bit of a mental hurdle for the team and sometimes that's bigger than the actual game," he said. "Now we've got that monkey off our back, I think there is a lot of good energy in the team and the guys will play for the joy of winning rather than the fear of losing.
"I think the shackles are off now which is good. We feel we've got what it takes to be successful."
Six Argentinian Players Test Positive.
SANZAAR's rugby Championship plans have been thrown into disarray after six Argentinian test players tested positive to COVID 19.
The likelihood of New Zealand hosting Australia, Argentina and South Africa for Tests in November and December had already been fading fast due to logistical hurdles, but the latest news will mean the tournament is highly unlikely to go ahead as initially planned.
Pumas players have been training in Argentina in anticipation the Rugby Championship would go ahead – they were set to find out officially this weekend – however their hopes of being involved were put in doubt due to half-a-dozen of some of the country's biggest stars testing positive.
"After completing a new batch of PCR tests, in order to minimise the risk of contagion and be able to start the health bubble, the results yielded six positive cases of COVID-19 in the campus," the Argentine Rugby Union (UAR) wrote on Twitter. "All of them [are] asymptomatic and already fulfilling preventive isolation."
 The UAR listed Juan Cruz Mallia, Emiliano Boffelli, Bautista Delguy, Rodrigo Fernandez Criado, Bautista Pedemonte and Lucas Bur as the six players who tested positive.
SANZAAR officials will meet to discuss the latest developments and ascertain if they have to pull the pin on the tournament. The New Zealand government was already wary about hosting the tournament with players from four countries in a hub.
It would be an economic nightmare for all four southern hemisphere nations if the tournament was to be cancelled, given they would lose broadcast revenue.
In the very likely scenario the Rugby Championship is called off, Australia could play four or five Bledisloe Cup Tests against New Zealand on either side of the Tasman.
Owen Farrell Can't Tackle!
Owen Farrell has a problem with tackling. But because he has got away with taking players heads off for years he's never had to deal with it. Well, hopefully, times up and he's about to feel the full wrath of the judiciary for this tackle.

Pundits are calling for a ten-week ban such was the ferocity of the tackle and it's hard to disagree.
This from Andy Goode on Rugby Pass.
World Rugby changed its high tackle sanction framework precisely for incidents like this and it's the type of tackle that they are rightly trying very hard to eradicate from the game.
Farrell is upright, out of control and flies in with a swinging arm intended to put Charlie Atkinson into next week or take his head off. It's not just a mistimed tackle, it's a horrific looking hit. He's completely blindsided him.
You can look at it from every angle possible in terms of the incident itself and the regulations and framework but there is just no mitigation whatsoever.
It was reckless, it was intentional and premeditated to a certain extent because you could see his eyes lining him up. Atkinson was also in a vulnerable position and wasn't dipping. All in all, it was a horrible looking tackle.