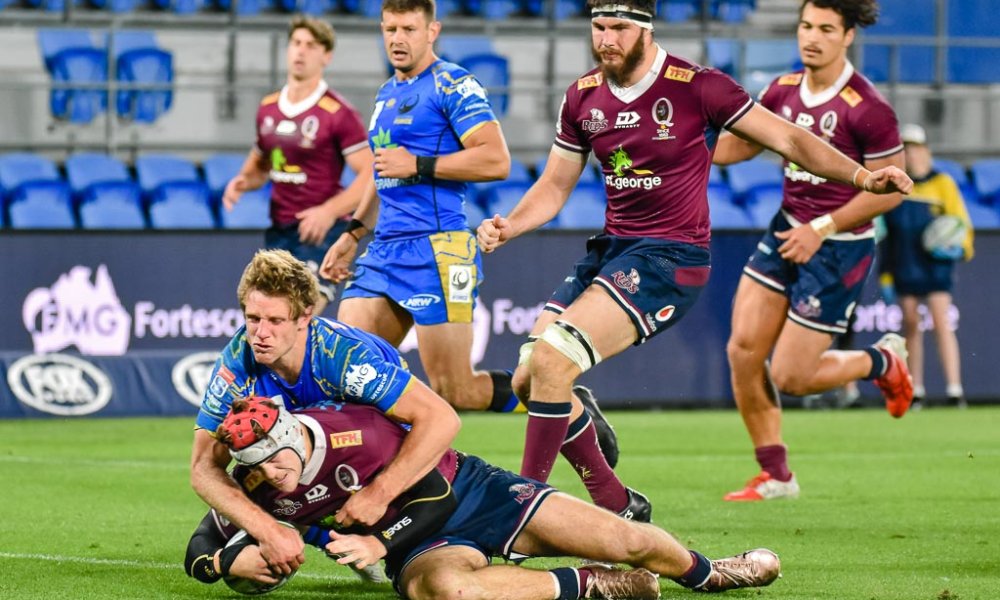 Tuesday's Rugby News looks at The lack of a Wallaby captain, the All Black's coach talking up Super Rugby AU, a history-making former wild child, no crowd for north v south game.
---
No Skipper Yet
New Wallabies coach Dave Rennie hasn't named his Wallaby captain yet! And you know what? I'm okay with that. In fact, I'd be happy with the captain being named after each matchday 23 was named. I don't believe a representative side should be tied to a player no matter what and that seems to have been the case in recent times.
Now, I'm a pragmatist and I know RA needs someone to sit in press conferences and do media calls. But surely we could pick a squad for each campaign and pick leaders from the players picked? Right now, for the Bledisloe series, we'd probably end up with Michael Hooper and next year for the mid-year tests probably still Hooper but as we move forward things get murkier. Why lock ourselves into one person when we can pick the best guy multiple times a year.
Rennie has stated that he will pick a captain when he picks his squad and not before and that he holds the current Wallaby captain, Michael Hooper in high esteem.
"I've spoken lots to Hoops and he's an impressive man and playing really good footy.
"But from the start we've always said that you've got to earn the right to play for the Wallabies, so we want to pick guys who are in form and then we'll pick a skipper and leaders from that group.
"There's no hurry to do that and I just think from our perspective if we pick a captain early it gives a bit of a signal to other guys that we've already made up our mind over who is number one."
While Hooper is favourite to once again wear the No.7 jersey, Reds duo Liam Wright and Fraser McReight are two players in form that are also in the frame to play for the Wallabies in 2020.
Hooper, who has led the Wallabies 46 times since first skippering Australia in 2014, spoke last month of his desire to continue leading his country.
"We're trying to keep pressure on everyone," Rennie said.
"The greatest thing from our perspective, Hoops has made it clear he wants to be skipper and enjoys the role and he did a pretty good job the one time he was skipper this year with the Waratahs -had a big win – which is great from our perspective.
"Once we name our squad we'll name our skipper and leaders at the same time."
Ian Foster Talks Super Rugby
After the initial bullshit offer from NZ rugby to chuck a team or two in their comp there's been a softening of the talk coming from across the ditch.
Since then Australia and New Zealand have run their own comps and by all accounts, our comp is chugging along swimmingly.
The latest person to speak up is none other than the new All Blacks coach Ian Foster.
"The difference between their first couple of rounds to their last couple has been dramatic," Foster said.
"From an All Blacks coach's perspective we've seen a significant rise in standard in their competition.
"That bodes well for a Super competition but also for us as we head into a Bledisloe series."
While New Zealand's Super Rugby Aoteroa was hugely popular with fans, it is not seen as sustainable.
Foster said a new format is needed and Australia should be part of any solution
"A lot of work is in place saying 'what does a really sustainable competition look like?'," he said.
"Everyone is taking their time to get that right.
Rugby Australia has stood firmly behind all five of our franchises. whether the Kiwi's are interested in that remains to be seen.
JOC Makes History
James O'Connor has become the first Australian player to score more than 100 points for three franchises. After O'Connor's firsts stint at the Reds many punters couldn't see it ever happening.
James had had stints at both the Western Force and the Melbourne Rebels before coming home to Queensland to have a crack at a World Cup spot but his body wasn't up to it. When he came back for his second stint at the Reds he was a changed man both spiritually and physically.
The Wallabies star brought up the milestone with a first-half penalty to match the feat he achieved during stints with Force and the Melbourne Rebels.
O'Connor dazzled on the Gold Coast, scoring a try, setting up three others with deft passes and booting 17 points as the impressive Reds embarrassed the Perth club and soared, temporarily, to the top of the Super Rugby AU ladder.
North-South Hits Another Hurdle
New Zealand Rugby's already delayed North-south match has hit another hurdle with the Kiwi governments new CIVID 19 restrictions forcing the game to be played without a crowd.
On Monday the New Zealand government extended the lockdown in Aukland until Sunday while the rest of the country continues with social distancing rules.
These rules mean that while the game can be played, unfortunately, no one can attend.
A NZR spokesman said they were working through the government's decision and should be able to make an announcement on the fixture on Tuesday.
It was unlikely the game could be pushed back any further than September 5, NZR's head of professional rugby Chris Lendrum said last week.
He added that it could cost NZR upwards of $NZ1 million ($A910,000) if the game was not played.
Wellington Regional Stadium was earlier placed on standby as an alternate venue for the game.
The relaxation of Auckland's lockdown from Sunday, however, should allow players to enter or exit the city, allowing teams to assemble for training if the game goes ahead.