Tuesday's Rugby News has Leali'ifano Leale'eaving, the u20s semi-final pre game news, Latu sentenced for drink-driving, and surprising Super stats.
---
[one_half last="no"]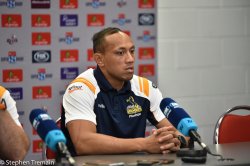 Arigato Leali'ifano
Christian Leali'ifano has announced he's taking his scrumcap to the Top League's NTT Communications Shining Arcs next year. After 12 seasons with the Brumbies – with a stay at Ulster last year – Leali'ifano has decided to not re-sign and get that deserved dollar dollar.
He said he did for the famalam.
"Dan (Brumbies coach Dan McKellar) sat down and offered me another contract extension and I had to look at that and I had to factor in all my goals for the next little while and think about my family," the capped crusader told rugby.com.au.
"Then I got an offer from Japan as well (and it was) probably too hard to turn down with my young boy and my wife and not getting any younger as well, so I thought it was time to think about them rather than myself.
"A really difficult decision – it took me a long time to be comfortable with it and Dan and myself had plenty of conversations going back and forth and that's something I'm grateful for – the support that Dan gave me through that and the whole club gave me the time that I needed."
Coach Dan McKellar sez:
"For me to work so closely with "Bruz" (Lealiifano) over the last two years has been a real pleasure and I think just the person as well, the character, very selfless, just cares about others," he said.
"When we were having the conversations about his future, he's always thinking about the Brumbies and others and the players that he'd be leaving behind and that sort of thing, I think it was time Christian made a decision for him and his family and we're really comfortable with that.
"We're grateful for what he's brought to this club and he'll be a legend. We talk about Larkham, Gregan, Roff, these guys. Bruzzy's right up there."
The Brumbies also recently commemorated the 10-year anniversary of the death of Shaun Mackay, who was hit by a car in South Africa in 2009.
[/one_half][one_half last="yes"]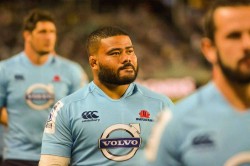 Latu Charged
On Friday, Tolu Latu was charged for drink driving without a licence. He was fined $1300 – just over 4x that for failing to stop at a stop sign, which is a stupid amount thank you very much – and suspended for 3 months, reports ESPN (via Reuters).
Latu had pleaded guilty to the charge earlier, but was only sentenced last Friday. His case will now be looked at by the RA integrity unit.
Latu was found asleep at the wheel, after his car had rolled forward through a red light into an intersection. A passerby, who attempted to stop the vehicle found Latu asleep, and couldn't wake him.
After police were called, they finally woke him up and found him "'well intoxicated', with 'extremely slurred speech' and having no knowledge of his whereabouts", according to the article.
Hours later, Latu rocked up at Waratahs training and didn't mention a thing to his bosses.
The court was told that Latu had been having a rough time recently, with the end of a six-year relationship and the recent death of his uncle.
"Really bad things could have happened," magistrate Daniel Covington reportedly said.
"Thankfully, you were caught… Go away and think about it and speak to others."
[/one_half][one_half last="no"]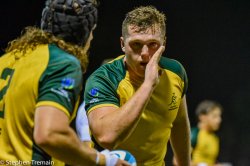 U20s semi-final
There's three things good with Australian rugby. I can't say this website, even though it's true. It's not you, the fans; you're all too smelly and ugly. This is the definitive list: the Brumbies; Angus Gardner; and the u20s.
The young lads are playing at 2am Official Super Rugby time (aka 12am Official Global Rapid Rugby time) against Argentina in Argentina, in the SEMI-FINAL of the u20 World Cup.
But there's bad news – playmaker and next Quade Cooper~Stephen Larkham, Will Harrison, has been ruled out with concussion. In his place will be Ben Donaldson.
It's ok though. Donny was part of the last world cup campaign (there's an u20s World Cup every year) so he should slot in seamlessly.
"Benny was a part of our program last year and camps and started at five-eighth for us at Oceania (against Fiji), he's come off the bench twice here at five-eighth and looked really comfortable in that last 20 minutes against England, so we've got every confidence that Benny will do the job," coach Jason Gilmore said, according to rugby.com.au.
To ease the burden of carrying the nation's rugby hopes and dreams, Gilmore has surmised the tactics that the canny Argentine team possesses.
"They're always a tough team to play, it's a bit like their national team or (Super Rugby's) Jaguares as well but obviously playing at home when you've got that crowd support behind you and there's expectation for them, it's certainly lifted them to get into the semis and they've certainly deserved their spot," he said.
"We'll back our defence, that's been the backbone of our footy team. Obviously being a man down against England threw a spanner in the works but we weren't happy with how we defended in that first half even though we were a man short.
"It wasn't what this team's about. We picked it back up in the second half but we take real pride in how we defend and we want to put a marker in the ground tomorrow."
Defence! That's a good start Gilly. You gotta tell the boys the right things.
"It's been excellent, we've got great support from the families that have travelled to Argentina with us and the boys are aware of everything that's going on back home," he continued.
"The boys are really proud to play for their country and they want to represent the people well."
Kayo Sports, 2am (East Coast Elite) 12am (West Coast Plebians), Argentina vs Australia.
Team: Lonergan, Bell, Nasser; Wood, Hosea, Wilson, McReight (c), Harris; McDonald, Donaldson, Nawaqanitawase, Lolesio, Tupou, Tui, Lucas.
[/one_half][one_half last="yes"]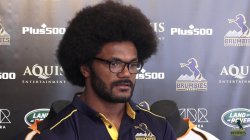 Super Stats
Time for the nerdlinger in us all to come out – with some Super Stats. These are 100%, A-grade stats, courtesy of this website.
13 – The Crusaders true blue Kiwi (soon to be) Sevu Reece scored the most tries. The Real Folau, Fainga'a that is, came up short (=2nd) with 11. 1 behind him (=5th) with 10 was Jack Maddocks – wow!.
32 – Anton Lienert-Brown wins the contest for most offloads. But our man again, Kerevi, is 2nd with 26. The Shitposter manages to come =6th with 19 offloads (along with Kurtley Beale) despite only playing half a season.
69 – Rory Arnold roared to the top of the lineouts won stat. Pal Sam Carter came equal 2nd with 64 wins (shared with Pagadizaval of the Jags).
71 – Kerevi again tops the leaderboard for defenders beaten (9 ahead of the next best, Laumape and Lienert-Brown)
210 – This is an impressive and distressing stat. Michael Hooper made the most tackles…followed by 4 Australians. Wright (180); Fitzpatrick (175); Carter & Scott-Young (166). Rob Simmons also features at 10th, with 154. The Tahs came first comp-wide, with a tackle-rate of 86.7% – the Crusaders were 86.6%.
220 – Krusher Kerevi topped the leaderboard, by some distance, with the most carry. Kurtley Beale came 6th, with 168.
1,240m – Melani Nanai wins the award for most carry metres, but Tom Banks (=3rd, 993m), Kerevi (8th, 861m) and Beale (10th, 844m) repping the Australian sides. Interesting to note that Beale's crabbing gives him more metres per carry than the Krusher.
Brumbies stats – As the only dignified Australian team, here are some team stats. Best at: tries (2nd, 65); scrums (=2nd, 95%). Worst at: clean breaks (14th, 138); carries (15th, 1610); metres carried (15th, 5825m); defenders beaten (=14th, 306); offloads (=15th, 108).
[/one_half]