Tuesday's Rugby News has two whole bits of Scotland chat, the Wallaroos squad for their NZ game, and Matt Lucas might be going and Rob Simmons might be coming.
---
[one_half last="no"]
Pre Scotland 1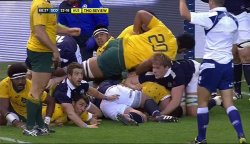 Lots is being said after the Wallabies win over Fiji on the weekend, so a quick wrap-up is in order. Scotland beat Italy in Singapore(!) 34-13 on Saturday night.
Scotland's defence coach, Australian Matt Taylor, is very impressed with Karmichael Hunt (rugby.com.au):
"I've been really impressed with his competition over the ball," he said. "For someone to be that committed around the breakdown, we're going to have to be very good at cleaning them out and getting our support for the ball.
"I've been impressed with that and his confrontation in terms of his tackling. I think it strengthens their midfield in terms of their defence. It's  a bit of a change from where he's playing but certainly those aspects I've mentioned, we're going to have to be very good."
Allan Ala'alatoa talks scrummaging, and mentor Sekope Kepu (rugby.com.au):
"We just have to go back at them" Ala'alatoa said. "We see our set piece, we're trying to go towards the best in the world.
"At first I was kind of stand offish with [Kepu] because I've always looked up to him as a player, growing up and watching him play for the Waratahs and stuff and he's always been around as a veteran.
"So for me now just to go up to him and feel comfortable to ask him about little issues that I'm having in the paddock, he's huge for me as a young player growing up.
"The more I can build that connection with Keps, i can feel like I'm comfortable to go to him, even ask him when I'm having problem."
[/one_half][one_half last="yes"]
Pre Scotland 2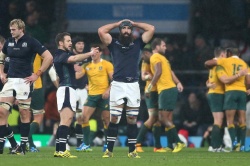 Cheika talking Moore and Hooper (rugby.com.au):
"Maybe ([Moore] could start). We haven't had a look at the game in detail yet but we'll just see," Cheika said.
"We'll consider everyone again for selection. Raw slate and we'll just go from there."
"Michael stayed in charge when Stephen went out there because he had the flow of the referee, who I thought was very good last night too," Cheika continued.
"I thought that dynamic was  good and they managed it themselves pretty well and that's how they should be doing it really. They've been leading the team for a while together."
Ned Hanigan wants more, more MORE (rugby.com.au):
"As soon as you get a little bit of a sniff, you want to stay in it," Hanigan said.
"Hopefully I've done enough to get there but if not, you're striving to get back in that jersey. You don't know what it's like until you're there and then when you get a bit of a feel for it you want to stay there for plenty more.
"I'm standing next to 'Keps' when the anthem was being sung and he was getting right into it," Hanigan added.
"(It makes) you think how proud he is to still be in the jersey and he's played there before.
"(And) There's been so many great players who have worn that six jersey and just to be a part of just such a history of a player that's been in the jersey, I think that was something I got taken back by and I really enjoyed it."
[/one_half][one_half last="no"]
Wallaroos Squad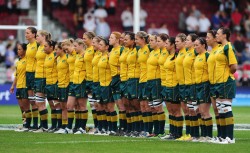 The Wallaroos squad, to play New Zealand's Black Ferns at 1pm (east coast elite time) today, has been announced.
It's not something you really want to know, but the Wallaroos have never beaten NZ. Nevertheless, they will be buoyed by the return of 7s captain Sharni Williams at outside centre.
There's been 10 changes to the Wallaroos team that 53-10 to England on Friday. The Wallaroos are currently in New Zealand, doing a whirlwind 3-match tour alongside England and Canada before the 2017 Women's World Cup in August.
"It's been awesome to get amongst some different faces and to see the culture side of things," Williams told rugby.com.au. "Being amateurs, it's been really good to see these girls step up and be professional and to take this in their stride.
"It's going to be a massive test for us. But we've got the ticker and we've got the desire to go out and give it everything that they can.
"We're always the underdogs – we know that – so it's all about the intent and desire to be ready to go out there and rip in.
"I'm so psyched to get out there with the girls."
Squad:
Forwards: Hana Ngaha, Cheyenne Campbell, Caroline Fairs, Millie Boyle, Alexandra Sulusi, Chloe Butler, Vesinia Schaaf-Taufa, Victoria Latu.
Backs: Katrina Barker, Fenella Hake, Samantha Treherne, Kayla Sauvao, Sharni Williams, Cobie-Jane Morgan, Ashleigh Hewson (c)
Reserves: Liz Patu, Hilisha Samoa, Alisha Hewett, Kiri Lingman, Ashleigh Timoko, Sarah Riordan, Nareta Marsters
[/one_half][one_half last="yes"]
Ins and Outs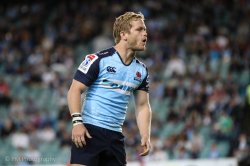 Waratahs' scrumhalf Matt Lucas, stand-in captain during the club's June trip to Japan, is set to leave the club in search of more game time.
"It's definitely on my mind," Lucas told the Daily Telegraph, from Tokyo.
"We have two quality halfbacks here at the moment that are both currently in front of me. It begs the question that I probably have to try and look elsewhere to try and get some game time. At the moment I am just concentrating on finishing the season and then I will try and figure out what's best for myself moving forward after that."
Stuck behind Nick Phipps and Jake Gordon, Lucas hasn't featured much for the Waratahs this season. With both those players now with the Wallabies, Lucas has been playing 80 minutes on the tour, with winger Reece Robinson the backup option if something goes wrong.
"Daryl always instils confidence in all of us, particularly myself," Lucas said. "He is always saying there is not much between us.
"It is ultimately a goal and a dream of mine (to play for Australia) but I am a way off there yet. I just need to get some good footy and consistent minutes and see what comes of it. I just need to keep my head down."
Daryl Gibson is also looking at poaching the off-contract Rob Simmons from the Reds, given the lock's newfound contractual freedom and the Waratahs newfound lack of locks.
"We will certainly do our homework on Rob," Gibson said.
"He has had an extensive international career and given where we are at in that we're not sure which franchises are going to remain is yet to be decided, we are very much in a holding patten until we understand what's going to go on."
The Tahs are also apparently looking at Force pair Adam Coleman and (former Waratah) Matt Philip. Coleman, reports the Daily Telegraph, is an unlikely capture.
[/one_half]
---
 RIP Lachlan Ward