The Brisbane comp is on holiday this weekend. Sydney and Canberra plough on…
Queensland Premier Rugby
Round 9 Results:
Sunnybank 47 def. Easts 10
Brothers 39 def. Wests 15
GPS 38 def. Souths 17
University 29 def. Norths 7
Six tries to two tells the story of Sunnybank's mighty win over the previously unbeaten Easts. That result overshadowed the rest of the round, which saw the top end of the table belting the bottom end, as expected.
Ladder: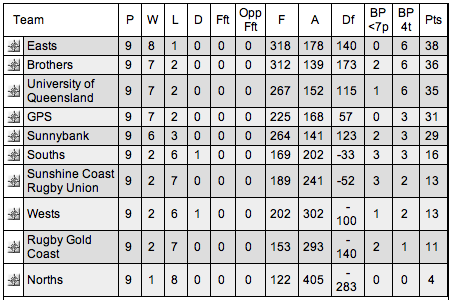 The City XV v. Country XV match is the curtain-raiser for the Reds' SupeRugby semi-final at Ballymore this evening. Gold Coast and Sunshine Coast players dominate the Country lineup while there's a good spread from the other clubs turning out for City. Team lists here.
Sydney Premier Rugby
Round 12 Results:
Manly 16 def. Gordon 14
Sydney University 65 def. Parramatta 7
Northern Suburbs 29 def. Eastern Suburbs 15
West Harbour 49 def. Penrith 24
Eastwood 37 def. Southern Districts 22
Randwick 29 def. Warringah 27
The big news last weekend was Norths' win over Easts, not just because it breathed new life into the Shoremen's season but because it found the Beasts lacking in attack. They had all the possession and territory but couldn't generate points, either via the pigs or by spreading it. Norths were opportunistic and bold and used their rare opportunities with the ball to run in tries and pot penalties. The Rats came close against the Wicks and the Marlins and Highlanders wrestled in another close one.
Ladder: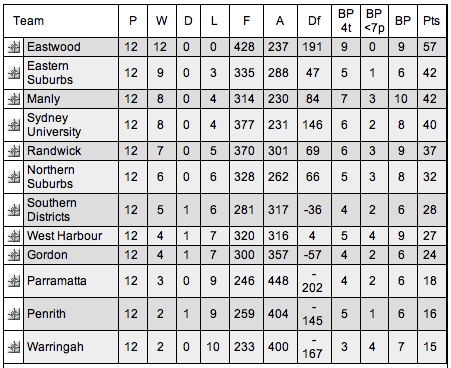 Round 13 Fixtures:
West Harbour v. Northern Suburbs at Concord Oval, 3:00pm
Gordon v. Penrith at Chatswood Oval, 3:00pm
Eastern Suburbs v. Southern Districts at Woollahra Oval, 3:00pm
Eastwood v. Sydney University at T. G. Millner Field, 3:00pm
Parramatta v. Randwick at Coogee Oval, 3:00pm
Warringah v. Manly at Pittwater Rugby Park, 3:00pm
Team lists
The Woodies and Students meet in the match of the round, and you can watch it live (or near enough) on ABC1. Dan Vickerman saddles up for the visitors and Chris Alcock for the home team. The other games of particular interest see the Pirates hosting the Shoremen (can Norths maintain their astonishing defensive level from last week?) and the Beasts (will their attack be back online?) receiving the Rebels. The Rats have Cipriani, Pyle, Luke Holmes and Gerrard up from Melbourne and will be hoping that their 2011 season takes off from here.
ACT & Southern NSW Premier Division
Round 12 Results:
Tuggeranong 47 def. Uni-Norths 24
Royals 32 def. Wests 24
Gungahlin 38 def. Easts 17
Royals handed the Lions their second successive defeat at Jamison and seem to be really building some momentum. The Eagles took top spot with their win over the Tricolours but the match was closer than the final score suggests. The Owls… meh.
Ladder:

Round 13 Fixtures:
Royals v. Uni-Norths at Phllip Oval, 3:05pm
Gungahlin v. Queanbeyan at Nicholls Oval, 3:05pm
Tuggeranong v. Easts at Viking Park, 3:05pm
Team lists
I'd love to say the Owls are going to turn their slide around this week but they're facing the wrong team in the surging Royal Blues. The Eagles probably have the form, in both the forwards and backs, to shut the Whites out of that game, while Easts should carry some form and confidence over from last week, though the Vikings should prevail. The Lions are licking their wounds this weekend. There's a showdown with the Eagles coming up…